Chandler Holiday Event Guide
In Chandler, Arizona, it really is the most wonderful time of year and is especially inviting to visitors with its mild winter weather and plenty of decorations, activities and festive events that feature holiday music, dazzling lights, amazing food, and tumbleweeds (it is Arizona, after all!).
In addition to great shopping and the wonderfully decorated hotels, spending the holidays in Chandler is sure to get you into the holiday spirit when you are attending one of the many uniquely, Arizona holiday traditions that are perfect for a family outing, a date night, or a fun outing with friends. Be sure to check out our Chandler hotel deals page for current discounts and special offers.

Christmas Lights in Chandler
Chandler Tumbleweed Tree Lighting
Dr. A.J. Chandler Park, Downtown Chandler
December 5, 2022 7:30 p.m.
You do not want to miss this Chandler, Arizona holiday tradition. Schedule a visit to see Arizona's most iconic holiday tree, the famed Tumbleweed Tree.  Located in the historic square of Downtown Chandler, the tree has been a hallmark of the holiday season, standing over 50 feet tall, and has been a Chandler tradition since 1957. Chandler's beloved Tumbleweed Tree will be lit the first Saturday evening in December and is a unique southwestern tradition drawing holiday visitors from far and wide.
It all starts with the 'holiday tree' that begins with 2,000 tumbleweeds, a 35-foot tall wire-framed Christmas tree, 25 gallons of paint, and dusted with 65 pounds of glitter. The tree is later adorned with thousands of holiday lights that give it a spectacular look, day or night. Lively entertainment, savory and sweet food vendors and a charming parade are hallmarks of the lighting festival and are sure to put you in the holiday mood.
Downtown Chandler Sugarland
Are you a fan of the Candyland board game? Well, you're in luck! Experience a life-sized sugar-filled experience. Snap a selfie in the candy sleigh, slide down the fruit roll-up slide, climb over giant marshmallows spilling out a life-size cup of hot chocolate, and dance through the candy canes any time of the day or night-- the perfect backdrop for family holiday photos.

ZooLights at the Phoenix Zoo
Each year the Phoenix Zoo celebrates the holidays with ZooLights, a bright Arizona holiday tradition perfect for a family outing or a romantic stroll.  Fun for all ages, ZooLights is a dazzling display featuring millions of lights and more than 700 dazzling light displays, and several music and light shows synchronized to 15 thousand lights. This year, ZooLights at the Phoenix Zoo offers two ways to experience the event - the traditional walk-thru or a drive-thru experience, Cruise ZooLights on designated nights.  ZooLights is open nightly to the public from November 23, 2022 - January 15, 2023 from 5:30 - 10:30 p.m. General admission for the walk-thru is $30 for ages 3 and up when pre-purchased, and $35 per person at the door.

Las Noches de las Luminarias
Each year, the Desert Botanical Garden features a southwestern holiday tradition, Las Noches de las Luminarias. Visitors make their way through the 140-acre garden guided by 8,000 hand-lit luminarias while enjoying live music played by local musicians staged throughout the garden trails for an event you won't want to miss. The 2022 Las Noches de las Luminarias will be held on selected days, December 9th - December 31st. The garden will close at 4:00 p.m. on each day of Luminaria. Advance reservations are required. Adult tickets start at $39.95 and $16.95 for children.
Santa Visits in Chandler
Santa at Chandler Fashion Center
The magic of the holiday season comes alive with a visit to Santa's winter wonderland at Chandler Fashion Center. Santa will be there starting November 10th and is located at the Macy's Court. A visit with Santa is always free and photo packages are available for purchase. 
Schedule Your Spot to Meet the Big Guy
Pre-Booking your visit is recommended to help reduce wait time and it's easy:
Pre-book now and received a FREE personalized call from Santa powered by the Portable North Pole. All guests who pre-book and purchase a photo package get a free, personalized video from the North Pole after the visit.
Show up at your designated time.
Share your wish list with Santa and his helpers.
Make a lasting memory and get your photo taken with Santa.
Chandler Fashion Center Santa Hours
Pet Nights (Nov 14; Nov 21, Nov 28 & Dec 5) : 4 p.m. - 7 p.m.
Sensory Santa- with Autism Speaks (Dec 4): 9:00 a.m. - 10:00 a.m.
November 10-30th:

Monday - Saturday: 11 a.m. - 7 p.m.
Sunday: 12 pm - 6 pm

December 1 - 18: 

Sunday - Friday: 11:00 a.m. - 7 p.m.
Saturday: 10 a.m. - 8 p.m.

December 19 - 23:

Monday - Friday: 10 a.m. - 8 p.m.                                                                                                               

December 24 (Christmas Eve): 10 a.m. - 5 p.m.
CLOSED Thanksgiving and Christmas Day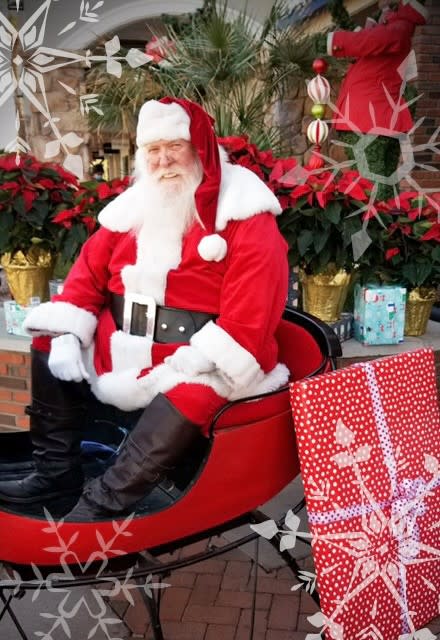 Santa at The Shoppes at Casa Paloma
Santa visits The Shoppes at Casa Paloma - Please join Santa and his Holiday Crew from 10 a.m. to 2 p.m. on Saturday, November 26th & Saturday, December 3rd, 10th & 17th. Located near Bath & Body Works. Photo Packages are available.
Sippin' Santas Pub Crawl in Downtown Chandler
Downtown Chandler
December 11, 2022 -  self-guided pub crawls starting at noon
The Sippin' Santas Pub Crawl takes over Downtown Chandler on Saturday, December 10th from noon to 6 pm and features more than two dozen Downtown Chandler hot spots.   Enjoy $4 drink specials, food, and fun at Arizona's jolliest bars and restaurants in town. Tickets are just $20 or be on Santa's VIP list for $40.  Enjoy live entertainment, endless Santa selfies with the "Sugarland" holiday decorations, and the best specialty drinks in town on this self-guided pub crawl with your friends. 
There are two sessions with staggered registration taking place in New Square.
"Nice List" 12 p.m. – 3 p.m., with registration from 11:30 a.m. – 12:30 p.m.
"Naughty List" 3 p.m. – 6 p.m., with registration from 2:30 p.m. – 3:30 p.m.
Must be 21+ to participate. Please drink responsibly.