Chandler Holiday Event Guide
Let the festivities begin!  In Chandler, Arizona, it's the most wonderful time of year and is especially inviting to visitors with its mild winter weather and plenty of decorations, activities and festive events that feature holiday music, dazzling lights, amazing food, and tumbleweeds.  Yes, tumbleweeds!   
In addition to great shopping and the wonderfully decorated hotels, spending the holidays in Chandler is sure to get you into the holiday spirit when you attending one of the many uniquely, Arizona holiday traditions that are perfect for a family outing, a date night or a fun outing with friends. 

Tumbleweed Tree Lighting Ceremony & Parade of Lights
Dr. A.J. Chandler Park, Downtown Chandler
December 7, 2019
This holiday season; mark your calendar and join in the fun for the annual lighting of the Tumbleweed tree in Downtown Chandler. The tree has been a hallmark of the holiday season, standing over 50 feet tall and has been a Chandler tradition since 1957. Chandler's beloved Tumbleweed Tree Lighting Festival is held the first Saturday in December and is a unique southwestern tradition centered on family fun that draws holiday visitors from far and wide.
It all starts with the 'holiday tree' that begins with 2,000 tumbleweeds, a 35-foot tall wire framed Christmas tree, 25 gallons of paint, and dusted with 65 pounds of glitter. The tree is later adorned with thousands of holiday lights that give it a spectacular look, day or night. Lively entertainment, savory and sweet food vendors, and a charming parade are hallmarks for the lighting festival and sure to put you in the holiday mood.

The Nutcracker presented by Ballet Etudes
Chandler Center for the Arts
Various show times,  November 29 - December 8, 2019
Feeling nostalgic?  Make plans to take in a holiday favorite at the 33rd Anniversary of The Nutcracker at the Chandler Center for the Arts! Clara's sweet and magical journey will surround you as she encounters life-size mice, swirling snowflakes, dancing confections and the Sugar Plum Fairy. A feast for the eyes and ears with colorful and imaginative costumes paired with Tchaikovsky's original score, Ballet Etudes' 33rd annual production of The Nutcracker is the perfect way to celebrate the holiday season with the entire family. Backstage tours are available following most performances.  

Sippin' Santas Pub Crawl in Downtown Chandler
Downtown Chandler
December 14, 2019 -  self-guided pub crawls starting at 1:00 p.m.
Enjoy live entertainment, endless Santa selfies, and a costume contest for cool prizes when the Sippin' Santas Pub Crawl takes over Downtown Chandler on Saturday, December 14th at 1 p.m.  Featuring more than a dozen Downtown Chandler hot spots, early-bird tickets are $10 when booked in advance and $20 day of the event.  Admission includes an event beanie and wristband that gives you a $3 special* at each participating venue. The self-guided pub crawl is for those 21+ and purchase your ticket by Friday, December 6th to guarantee yourself a hat.
Show up decked out in your best Santa costume and cruise around on a self-guided pub crawl with your friends- because you can never have enough Santas. Registration will be held at the Crowne Plaza Phoenix Chandler Golf Resort Hotel from 1-3 p.m. This event is for those aged 21 and up.
*Christmas Spirit not included.* 

The Zoppé Family Circus  
Chandler Center for the Arts
December 26-29, assorted show times
An age-old Italian tradition featuring a one-ring circus for the whole family featuring acrobatic feats, equestrian showmanship, canine capers, clowning and plenty of audience participation. While the circus comes to town each holiday season, each year the performance is new and original providing previous attendees with a whole new show.  The Zoppé Family Circus is a once-a-year show you won't want to miss!

Santa Visits
Planning a visit to see Santa? He will be busy visiting multiple locations throughout Chandler – so save these dates and plan your visit.
HGTV Presents Santa HQ at Chandler Fashion Center, located in the Macy's Court
November 8th  through December 24th, parents and guardians may make an online reservation and schedule their visit, but reservations are not required. 
November 11th - December 8th Monday - Thursday: 11 a.m. - 8 p.m. and Friday - Saturday: 10 a.m. - 9 p.m. Sunday: 11 a.m. - 6 p.m. 
CLOSED Thanksgiving Day, Thursday, November 28th
December 9th - December 23rd Monday - Thursday: 10 a.m. - 9 p.m. and Friday - Sunday: 9 a.m. - 9 p.m. 
December 24th (Christmas Eve): 8 - 6 p.m. 
PET PHOTOS for pet parents - special times are available for your favorite, furry pet to get their photo with Santa! November 11, 18 & 25 and December 2, 9 &16 from 6 - 8 p.m. ---Cats and dogs only. Please be sure to have your pet on a leash or in a carrier. ---
Santa's House in Downtown Chandler will offer free visits with Santa on the following dates:
Saturday, December 7th from 4:30-9 p.m. (Pictures will be closed from 6:30-8 p.m. during the parade)
Thursday, December 12th  from 5-7 p.m.
Saturday, December 7th & 14th from 9 a.m. to 2 p.m.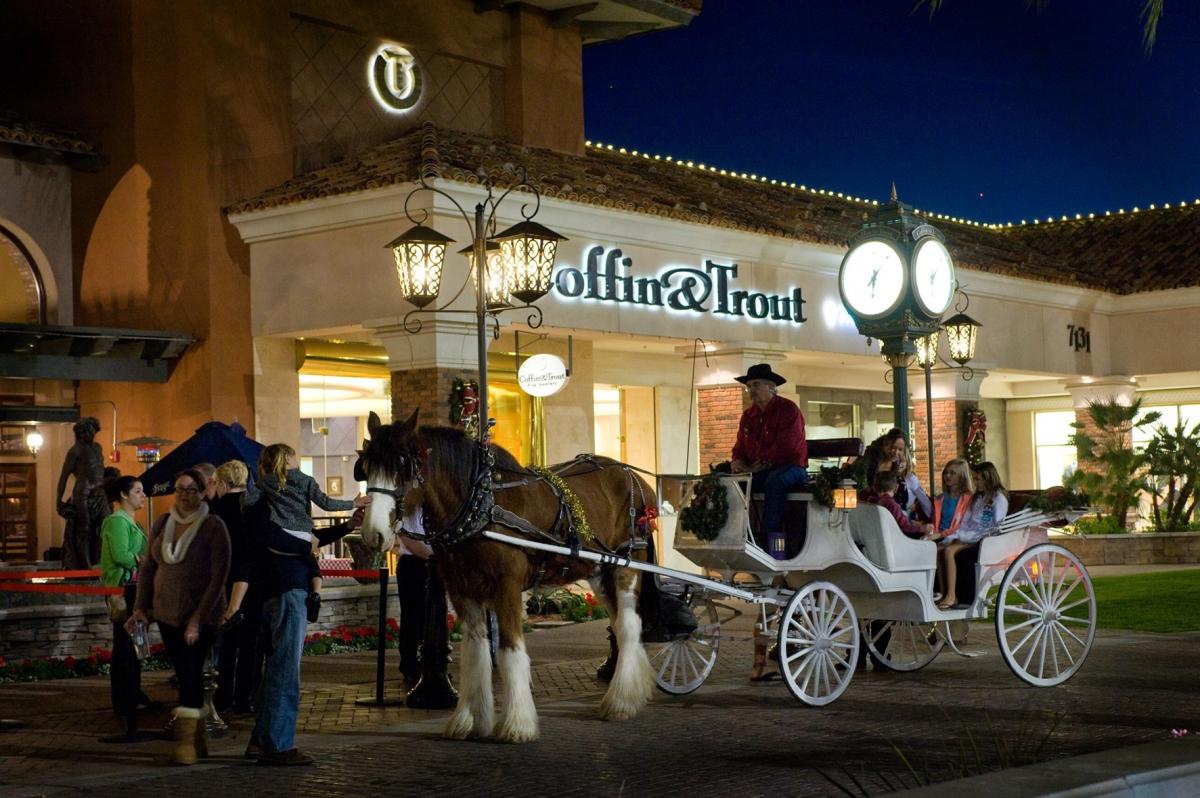 It's a holly, jolly holiday at The Shoppes at Casa Paloma!
Santa Visits November 30th - December 22nd, Saturdays from 10 a.m. - 2 p.m. and Sundays 11 a.m. - 2 p.m.  Photo packages are available.
Carriage rides offered December 14th and 21st from 4 - 8 p.m.
Dickens Carolers on December 15th and 22nd from 11 a.m. - 2 p.m. 

ZooLights at the Phoenix Zoo
 Each year the Phoenix Zoo celebrates the holidays with ZooLights, a bright Arizona holiday tradition perfect for a family outing or a romantic stroll.  Fun for all ages, ZooLights is a dazzling display featuring millions of lights and more than 700 dazzling light displays and several music and light shows synchronized to 15 thousand lights.  ZooLights is open nightly to the public November 27, 2019 - January 19, 2020 from 5:30 - 10:30 p.m. and tickets may be purchased at the gate.  General admission value nights for adults are $14.95 and any night tickets at $19.95.

Las Noches de las Luminarias
Each year, the Desert Botanical Garden features a southwestern holiday tradition, Las Noches de las Luminarias. Visitors make their way through the 140-acre garden guided by 8,000 hand-lit luminarias while enjoying live music played by local musicians staged throughout the garden trails for an event you won't want to miss. The 2019 Las Noches de las Luminarias Schedule:December 6th - 8th, 13th - 15th, 17th - 23rd  and December 26th - 31st. The garden will close at 4:00 p.m. on each day of Luminaria.  General Admission: Adults: $34.95.