Chandler Nightlife
Dining, dancing, meeting new people and having fun. Whether you want a casual night out with friends or an exciting escape, Chandler nightlife will help you find your groove with endless options. From the country-inspired, boot-stompin' fun at Bourbon Jack's American Tavern, the live music and energy at local gastropub, Good Time Charli's or chillaxing on a fire pit-adorned patio – because grabbing a drink and enjoying it on a starlit patio is always more fun.
A post-work day with friends and colleagues may find you at any number of casual bars and restaurants with chef-driven menus, craft cocktails and casual bars with patios full of ambiance. Located in Downtown Chandler, the QuartHaus is a laid-back, beer garden-inspired wine bar featuring a rotating list of food trucks, live music and interactive games like cornhole and basketball. Or perhaps you're looking for a high-energy bar patio for a quick drink and a few high fives before the weekend starts, you'll find Hop Social Tavern and Thirsty Lion Gastropub & Grill both within the Chandler Fashion Center mall area to be great options.
If a date night is on your mind or an evening out with dear friends – Brickyard Downtown in Downtown Chandler is a great option with its seasonal menu of globally inspired, creative New American plates and craft cocktails and modern-industrial setting. In south Chandler, neighborhood favorite, Stone & Vine Urban Italian is contemporary Italian restaurant with a breezy patio and full bar.
The craft beer scene is alive and well in Chandler with a number of brewpubs and gastropubs serving up their own local pints or featuring the best of the best in craft beer. From easy-drinking lagers to dark stouts and feisty IPAs, you're sure to find a brew that you will enjoy. 
Can't decide on a specific brewery? Consider a visit to Craft 64 Chandler, a very local hot spot featuring 36 rotating taps featuring a large variety of styles of Arizona brews in addition to their own brews served alongside made from scratch wood-fired pizza. Or head over to The Hungry Monk – a lively hot spot that is home to 27 drafts and over 20 bottled selections and a menu that focuses on sourcing local ingredients. In west Chandler, craft beer and BBQ are the stars of the show at the  neighborhood tap room, Helluva Brewing Company and in south Chandler you'll want to make your way to The Casual Pint where their "beer-tenders" will help you find the best craft brew for you.
SanTan Brewing Company, located in Downtown Chandler not only has the prestige of being Chandler's first microbrewery – but is now Arizona's largest brewery. Located in a historic building, the brewery features a large patio and vibrant atmosphere and now a new distillery features a selection of year-round suds and seasonal brews to accompany their own distilled single malt whiskey, Kaffir Lime Vodka and SanTan Vodka. Follow up your visit with a tour at their Uptown Chandler to see Arizona's largest combined brewery and distillery.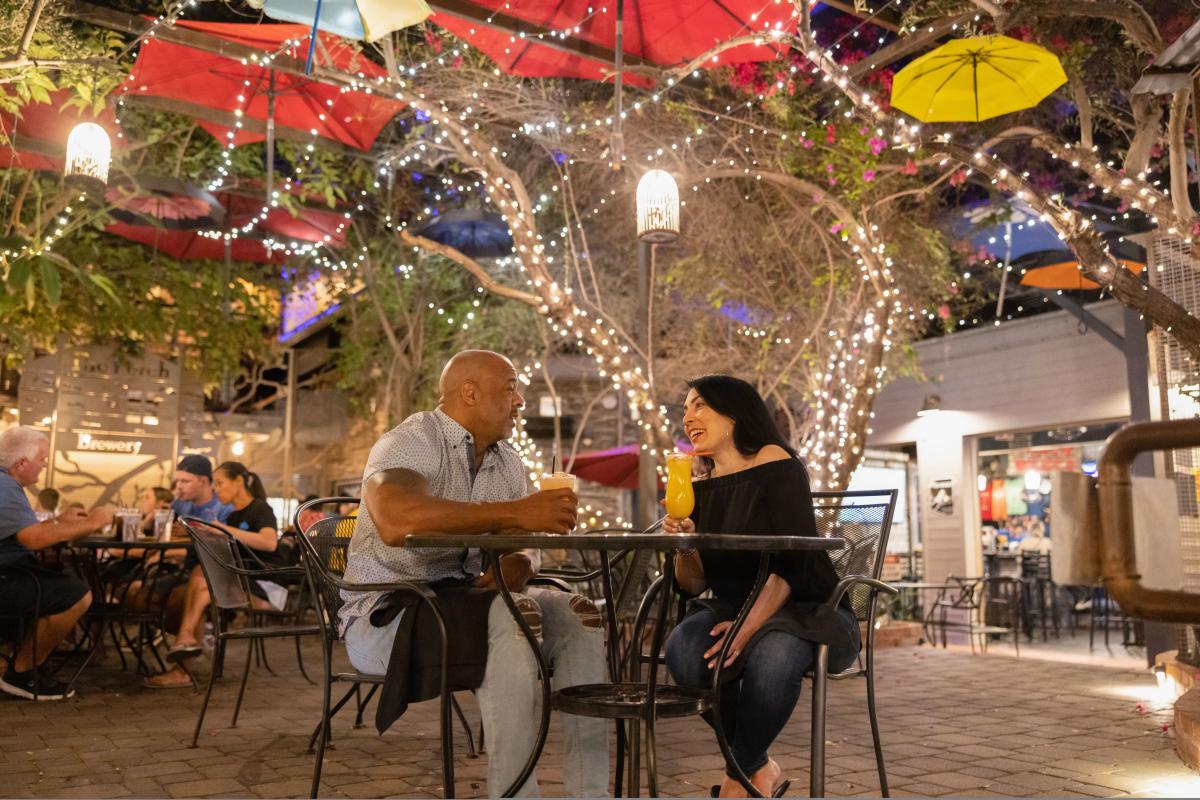 A stone's throw from the historic square of Downtown Chandler, The Perch Pub & Brewery features a rooftop bar and lush, courtyard patio which is home to more than 50 rescued tropical birds. The pub features over 40 craft beers in addition to their own, ever-changing selection of house brews. 
In central Chandler, H.O.P. Central Brewing Company and Tap Room is a locally-owned brewery and tap room featuring more than 36 craft beer and wine taps.