Holiday shopping can be hectic and sometimes a little overwhelming especially when December sneaks up on you! Whether you are doing some shopping for Aunt Sue who is trying to keep warm in Manitoba or picking something up for your favorite Arizona State University student or the perfect Secret Santa gift, consider something new, something uniquely Chandler this holiday season.
Instinctively, we all know how important it is to support local shops year-round, especially this year. By shopping local, you not only find a great gift, but help a small businesses when you #ChooseChandler for the perfect holiday gift. Don't forget, you can easily purchase gift cards from Chandler restaurants and stores, but we've put together a made-in Chandler holiday gift guide featuring a selection of items to help you find the perfect holiday gift with a locally made product from right here in Chandler, Arizona.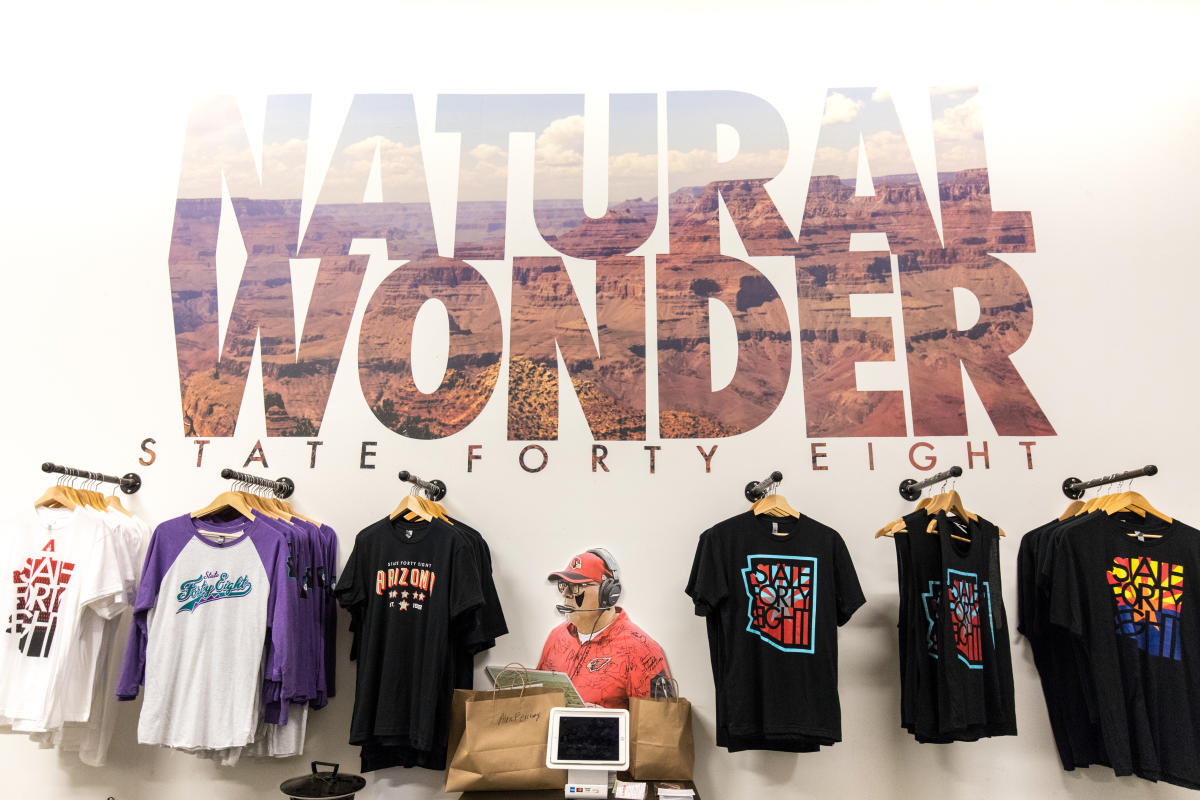 State Forty Eight
Arizona's premier clothing company, featuring a dynamic fashion line inspired by the great state of Arizona is just the start of this hometown business. The Chandler based company, established in 2013, offers a wide array of indie-fashion ranging from onesies to fantastically-soft hoodies that are perfect for the Arizona fanatic. Featuring original State Forty Eight styles and collaborations with Arizona companies and non-profits – there's something for everyone.
Beyond clothing, shoppers can celebrate their love for Arizona with a great selection of Arizona drinkware, stickers, hats, decals, socks and more.  And it's easy to shop on-line or pay a visit to their storefront in Uptown Chandler.
Map: 3245 N. Arizona Ave., Chandler AZ 85225 or (480) 616-4899

Wet Shaving Products
Find the ultimate gift for the man in your life with handcrafted, men's grooming items from Wet Shaving Products.  The Chandler-based company offers a range of sustainable, high-quality artisan soaps, lotions, shaving supplies, colognes and more for the men in your life. Select from premade kits or individual items available for purchase on-line or at their storefront in west Chandler. 
Map: 6505 W. Frye Road, Ste. 19, Chandler, AZ 85226 or (623) 428-1342

YoYo Factory
The holidays would not be complete without toys!  Perfect for the kids and those young at heart, the very best yoyos are created right here in Chandler at the YoYo Factory.  Offering beginner to Pro yoyo kits and yoyos, shoppers may purchase via their on-line store or stop in at their retail store in Uptown Chandler and  find the perfect holiday gift and get some tips from the professionals.
Map: 155 E. Chilton Dr., Chandler, AZ 85225 or (480) 753-3444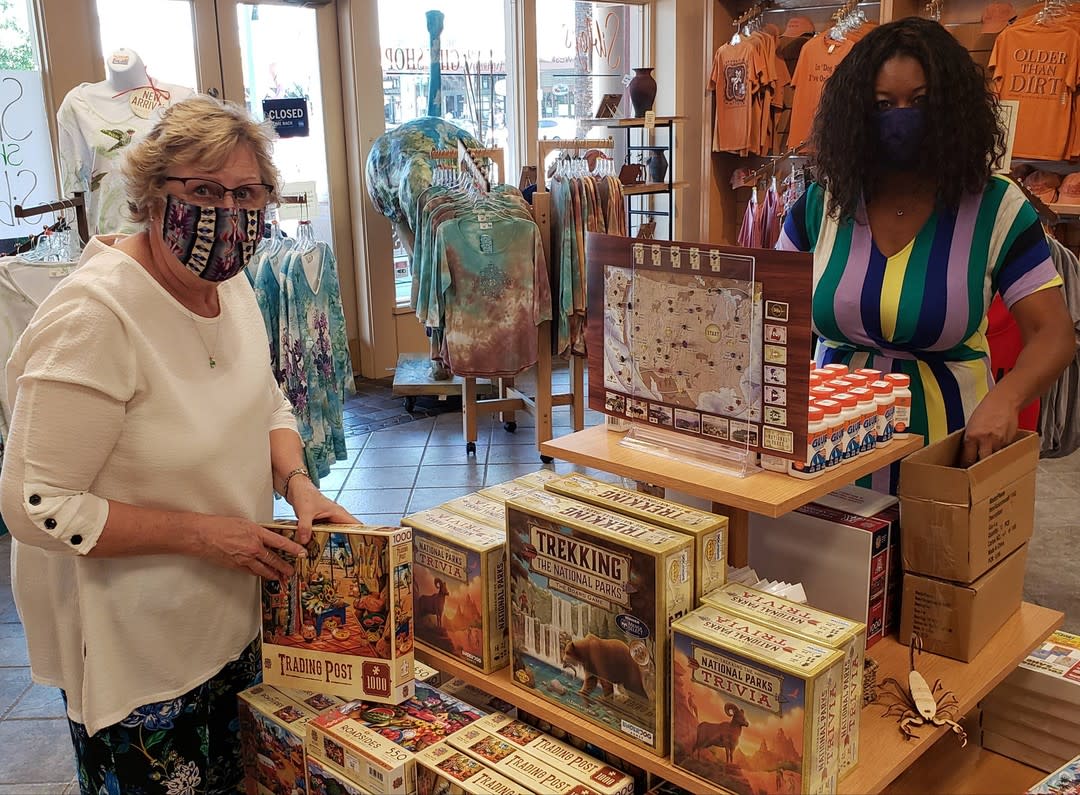 Sibley's West: The Chandler and Arizona Gift Shop
Sibley's West: The Chandler and Arizona Gift Shop is a mecca for all things Arizona. Located in Downtown Chandler, the store proudly showcases a large variety of Arizona gifts featuring the works and art of more than 200 artists and Arizona businesses. From Arizona clothing to pottery to candles to fused glass art, food, wine, jewelry, dog treats, candles, soaps and more - you get the idea; they have a large selection of Arizona products! For those so inclined, the store offers an extensive selection for on-line shopping making it easy to find gifts from home.
Store management makes it easy to ship purchases and send a little bit of Chandler, Arizona back home -just ask about the many options.
Map: 72 S. San Marcos Place, Chandler AZ 85225 or (480) 899-4480

Museum Store
Located in the lobby of the Chandler Museum, the Museum Store offers a great selection of high-quality gift items that showcases Chandler's culture, history and art found in the community.  The store is open during the museum's operating hours – so while there, allow yourself some time to enjoy the newest exhibit, "Tumbleweed Tree: A Very Chandler Christmas" highlights the rich history of Chandler's famed Tumbleweed Tree.
Map: 300 S. Chandler Village Dr., Chandler, AZ 85226 or (480) 782-2717

Vision Gallery
Located on the main floor of Chandler City Hall, the Vision Gallery offers a great selection for one-of-a-kind gifts at their shop located near the gallery's main entrance. Shoppers may also purchase from their on-line shop for a quick in-store pickup or curbside delivery.
For those who prefer to shop in-store, enjoy a stroll through the gallery and their current textile exhibit- "Arts Quilt XXV: Fleeting Moments", on display through December 31, 2020.
Map: 10 E. Chicago St., Chandler, AZ 85225 or (480) 782-2695

DNA Chocolate
A must have for every holiday celebration, sweets! Find organic, high-quality artisan chocolates and chocolate bars, handcrafted from the bean at DNA Chocolate.  Available for purchase at local farmers markets or via their store website with options for local pickup.

d'Vine Gourmet
Located in south Chandler, d'Vine Gourmet is Arizona's premier gourmet food and wine, Arizona gift basket headquarters. Select from a vast array of featured gift baskets and gift boxes, or opt to create your customized basket with made-in-Arizona foods, beer, wine and assortment of sweet and salty snacks. No basket is complete without their divine, handcrafted caramels including southwest flavors and seasonal favorites.
Convenient shopping is available via the store website or in-person.
Map: 4995 S. Alma School Rd., Chandler AZ 85248 or (480) 275-5320

Peixoto Coffee Roasters
Conveniently located in Downtown Chandler, Peixoto Coffee offers a unique, crop-to-cup experience that celebrates a 100+ years of Brazilian family tradition.  While the beans are grown in Brazil, the beans are masterfully roasted to perfection right here in Chandler, AZ! Whether you are picking up a full pound bag of freshly roasted beans, a gift card or one of their amazing shirts and drinkware – a Peixoto gift for your number one coffee fan is a great choice.  Bonus, shoppers may do all their shopping online and utilize the Chandler coffee shop's curbside pick-up for a totally contactless shopping experience.  Just be sure to treat yourself to a cup of joy when you pick up your order!
Map: 11 W. Boston St., Chandler AZ   85225 or (480) 275-2843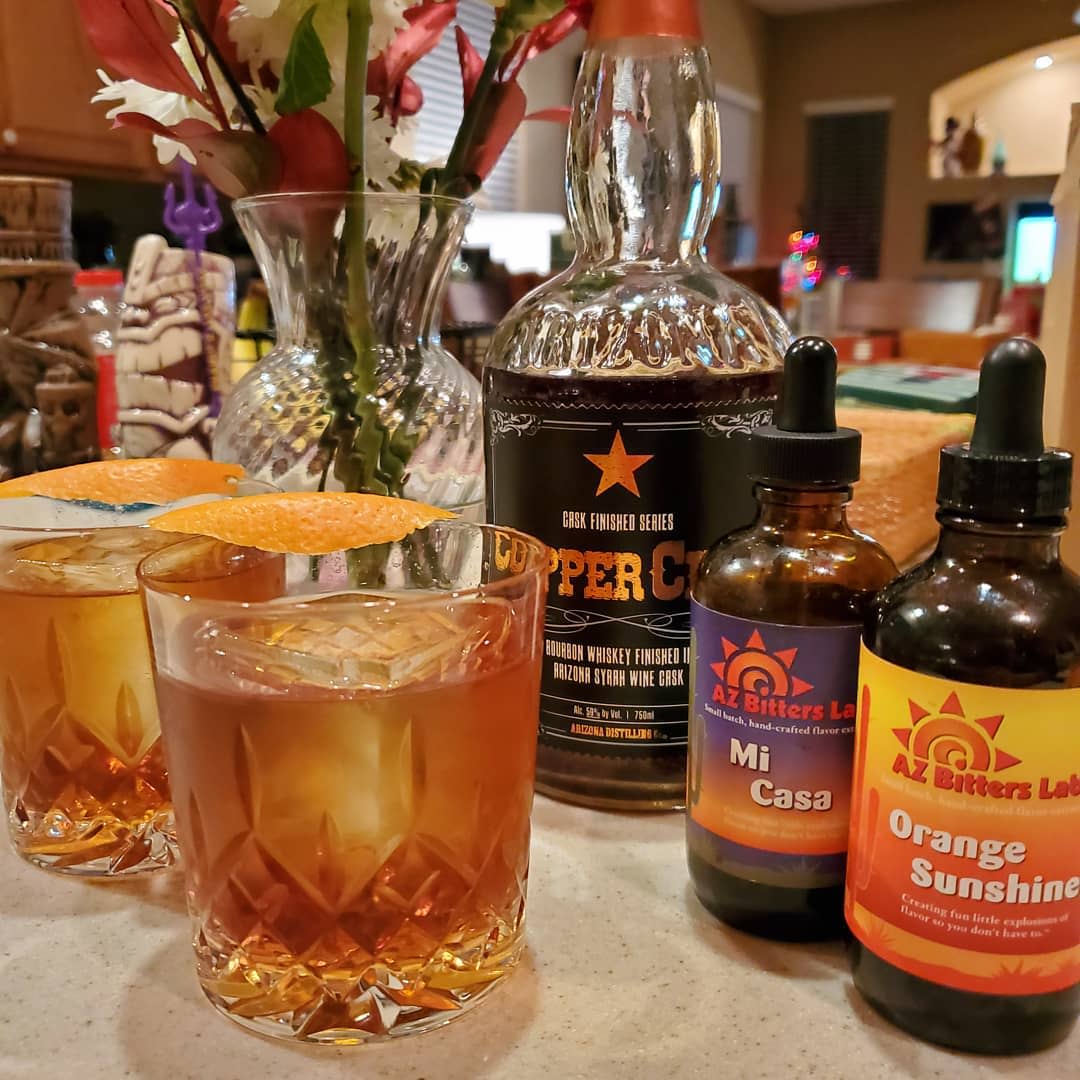 AZ Bitters Lab
Craft cocktails are all the rage and you can get in on the action and explore the possibilities with these small batch, hand-crafted cocktail bitters and flavor extracts created by a mighty husband and wife duo, Bill and Lill Buitenhuys. Inspired by conversations with local bartenders, the couple began experimenting with various herbs, zests, spices and spirits which ultimately led to the creation of food-focused bitters that can be used in coffee, sparkling water, extracts in baking or elevating your favorite cocktail. AZ Bitters Lab bitters are available for purchase at local, specialty retailers or via the Chandler company website where shoppers will also find delightful recipes.  A perfect gift for the cocktail enthusiast in your life!
AZ Bitters Website or (978) 852-3645

SanTan Brewing Company
Looking for something that will delight your favorite craft beer aficionado?  SanTan Brewing Company offers their unique, 32 oz. CanZilla Growlers, allowing guests to transport their favorite SanTan beer from the pub to their location of choosing. The recyclable cans are single use, packaged, labeled and sealed on-site at the pub and the beer stays fresh for up to seven days! The brewery also offers a wide array of apparel, glassware and accessories making it easy to create the perfect made-in-Arizona beer, holiday gift basket with items available from their online store or when visiting in person.
Map: 8 S. San Marcos Place, Chandler, AZ 85225 or (480) 917-8700
Shop Local and Keep it Local with our #ChooseChandler Holiday Gift Guide!
When you choose to support local #ChandlerAZ businesses, you not only find a great gift but help people in our community.  Our 2020 #ChooseChandler Holiday Gift Guide features a selection made-in Chandler, Arizona products to help you find the perfect holiday gift for everyone on your list. 
We know there are many options but hope this list will inspire you.  Leave YOUR favorite #ShopLocal Chandler spots and gift ideas in the comments below to help support our small business community!
Build #ChandlerMemories This Holiday Season