The Spirit of Travel is alive and well in Chandler and we look forward to welcoming visitors again.  In the meantime, we've curated a list of Chandler AZ Adventures, Experiences and Activities to be enjoyed at home including virtual tours, coloring pages and a self-guided desert scavenger hunt
Be sure to follow Visit Chandler on Instagram, Facebook and our new YouTube channel to stay connected.
Get Outdoors
Enjoy the sunshine and explore the great outdoors responsibly while practicing socially distanced hikes and walks and being mindful of basic safety tips for hiking in Arizona. 
Desert Scavenger Hunt
Blue skies and sunny days seem to call out for exploration!  Whether you opt to explore nearby desert hiking trails or one of Chandler's non traditional parks (Veterans Oasis Park would be perfect for this activity!), a light hike or walk through the Sonoran Desert provides a great opportunity to unwind and enjoy the beautiful desert from cacti blooms to wildlife.
The kids will have fun completing the desert scavenger hunt (available as a .pdf download) and we would love to see your photos, tag us on social media at @VisitChandler on Instagram or use #VisitChandler.
Murals of Downtown Chandler
With a 10th mural in development, enjoying the vibrant murals of Downtown Chandler are a great pick-me-up and make for a wonderful selfie to share with friends and family.
Public Art Scavenger Hunt
Use the picture clue and approximate map location for ArtSpot, a seek-and-find style of walk where you can learn more about public and private art sculptures and murals found in Downtown Chandler
Uptown Chandler Art Walk
On your next drive through Uptown Chandler, take a closer look at the 10 utility boxes that dot the intersections along Arizona Ave. and Alma School Road.  In the meantime, take a closer look through a virtual tour that features the artwork, artist and inspiration behind the designs.
Experience Facilities in and around Chandler through Virtual Tours
While we can't wait to welcome you to Chandler to experience the wonderful community itself - get a head start on thinking about all the great things you can do on your next trip to Chandler, AZ!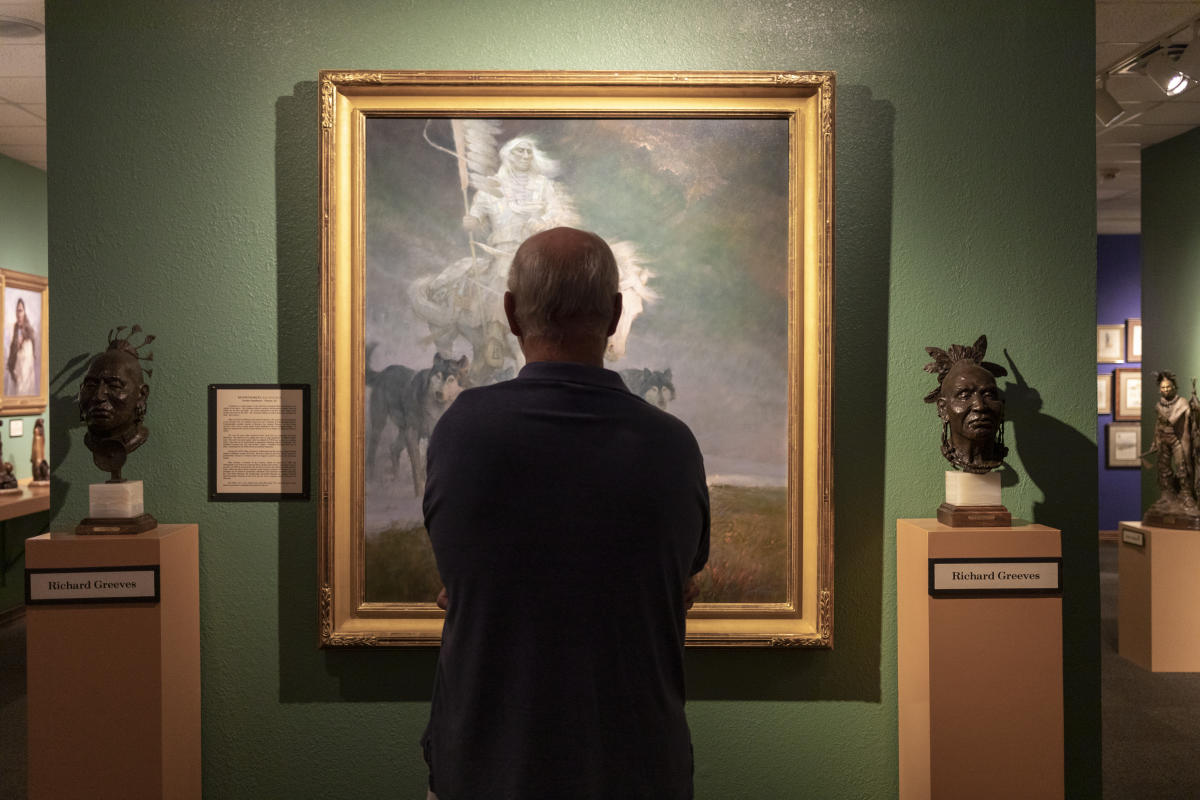 The Eddie Basha Collection 
This gem of a gallery is one of the largest, privately owned collections of Western American and American Indian Art.  A must see when in Chandler, the gallery has created a virtual exploration of the facility allowing future visitors to  explore the Main Gallery,  West Wing, American Indian Wing or the Basket Room.
Chandler Museum
You don't have to leave home to visit the museum! Chandler Museum administrator Jody Crago gives you an inside peek at their fascinating exhibit: "Gaman: Enduring Japanese American Internment at Gila River". This poignant exhibit demonstrates how the Japanese value "gaman" -- enduring the seemingly impossible with patience and dignity, guided these American citizens, through loss and incarceration in the Arizona desert.
Chandler Public Art
Enjoy an interactive Art Tour highlighting many of Chandler's most iconic public art pieces as assembled by the Chandler Arts Commission, est. in 1983.
Historic Downtown Chandler Walking Tour
Explore more than a century of Chandler history with a virtual walk through Downtown Chandler that is accessible on all devices.
The Phoenix Zoo
The Phoenix Zoo is providing a digital safari highlighting in-depth stories of the Zoo and its residents.  Find trail walk-alongs, videos, photos and behind-the-scenes insights in addition to educational programming to delight the kids. 
Desert Botanical Garden
Spring is in the air and the cacti are blooming!  Head over to the Garden's website homepage for home garden tips and see what is blooming at the Garden.  Peruse their Instagram and Facebook accounts for videos and photos highlighting the thousands of species of cacti, trees and flowers from all around the  world that are showcased at the Garden.
OdySea Aquarium
Join the aquarium on Facebook for a collection of fun videos and Facebook LIVE events with Sea Lion trainings, animal feedings featuring Sand Tiger sharks and Eagle rays and much more.
Be Creative
Chandler is a community of innovation and we love to celebrate that creative, entrepreneurial spirit!  Whether you are looking to destress or find a creative outlet for the kids, enjoy creative outlets that are fun for all ages.
Crayola Experience
Whether you prefer to use crayons, markers or pencils, stay home and stay creative with coloring pages brought to you by Crayola Experience Chandler.
Vision Gallery
Missing the artwork found in and around Vision Gallery?  Find coloring sheets based on original artwork from the recent 2 Players, 2 Quarters exhibit, the banners that adorn Chandler City Hall and public art pieces found in Chandler.
Burst of Butterflies
Get artsy with a canvas-to-go or pottery-to-go kit from Burst of Butterflies available for curbside pick-up within 24 hours of placing your order.  Finish the pottery at home and return it to Burst of Butterflies for your painted pottery to be glazed and fired. On average, it will be ready for pickup within seven days.
AR Workshop
Located in northwest Chandler, order from a number of DIY to-go kits to make signs, mini-trays, and chunky blankets.  Can't decide? Consider a mystery kit, designed for kids based on age and interest.  Pick up your kit from the workshop and craft at home.
Chandler Center for the Arts
The popular performing arts center has curated a list of engaging, art-focused activities and resources for fun-filled, family fun.