If you're a true art lover, follow a trail through Downtown Chandler, where you'll encounter colorful street art and murals that give you a glimpse into the city's diverse community. From vibrant works that revisit Chandler's rich history to dynamic depictions of the burgeoning city and all that it has to offer, downtown's murals are a wonderful mix of expression and storytelling and there's plenty of free parking. Here are 10 murals that are sure to inspire you.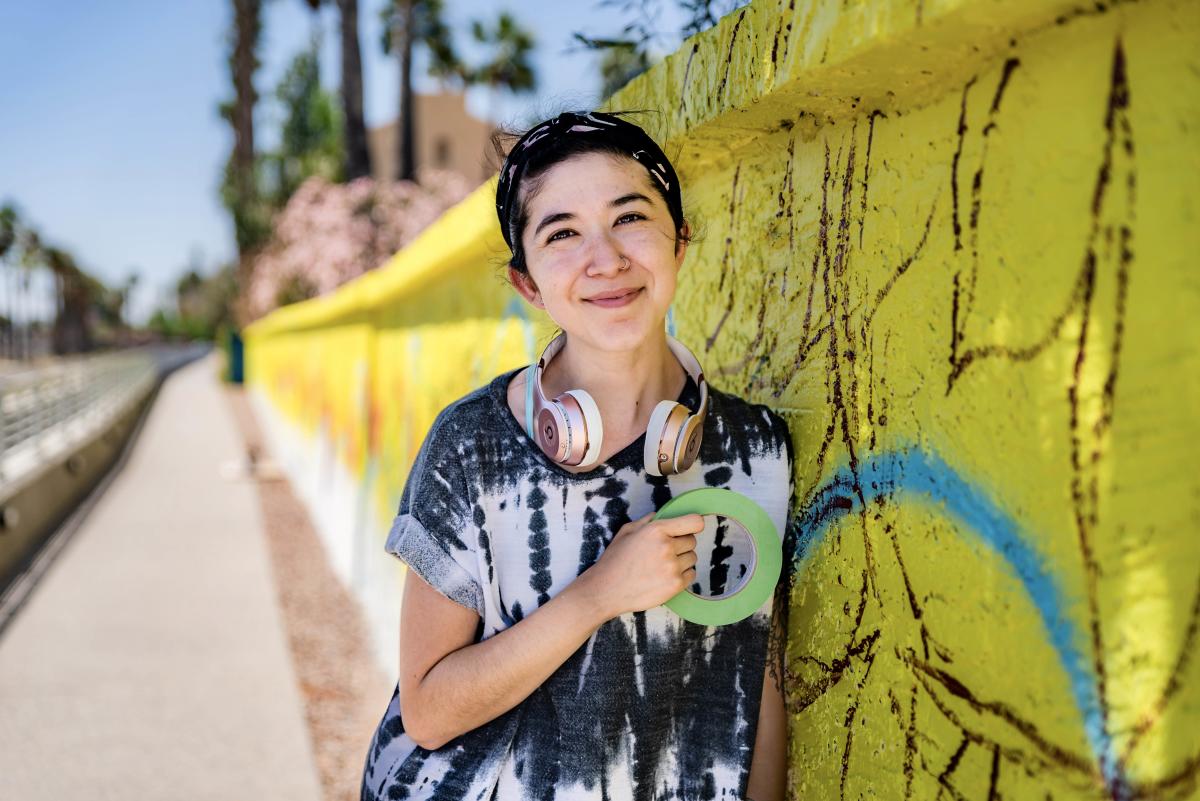 Commonwealth Canal
At 225 feet, spanning a portion of the Commonwealth Canal, the newest addition to downtown Chandler's collection of street murals bursts with color and creativity. Located just south of the Crowne Plaza Phoenix Chandler Golf Resort, on the southern exterior wall of the property, the eye-catching piece is the work of artist Ariana Enriquez. The Chandler resident—and Chandler High School alum—says the mural is inspired by water as a vital element in our desert, giving life to desert foliage, local wildlife, and the king protea flower, a symbol of courage and diversity.
Located next to Crowne Plaza hotel: 1 S. San Marcos Place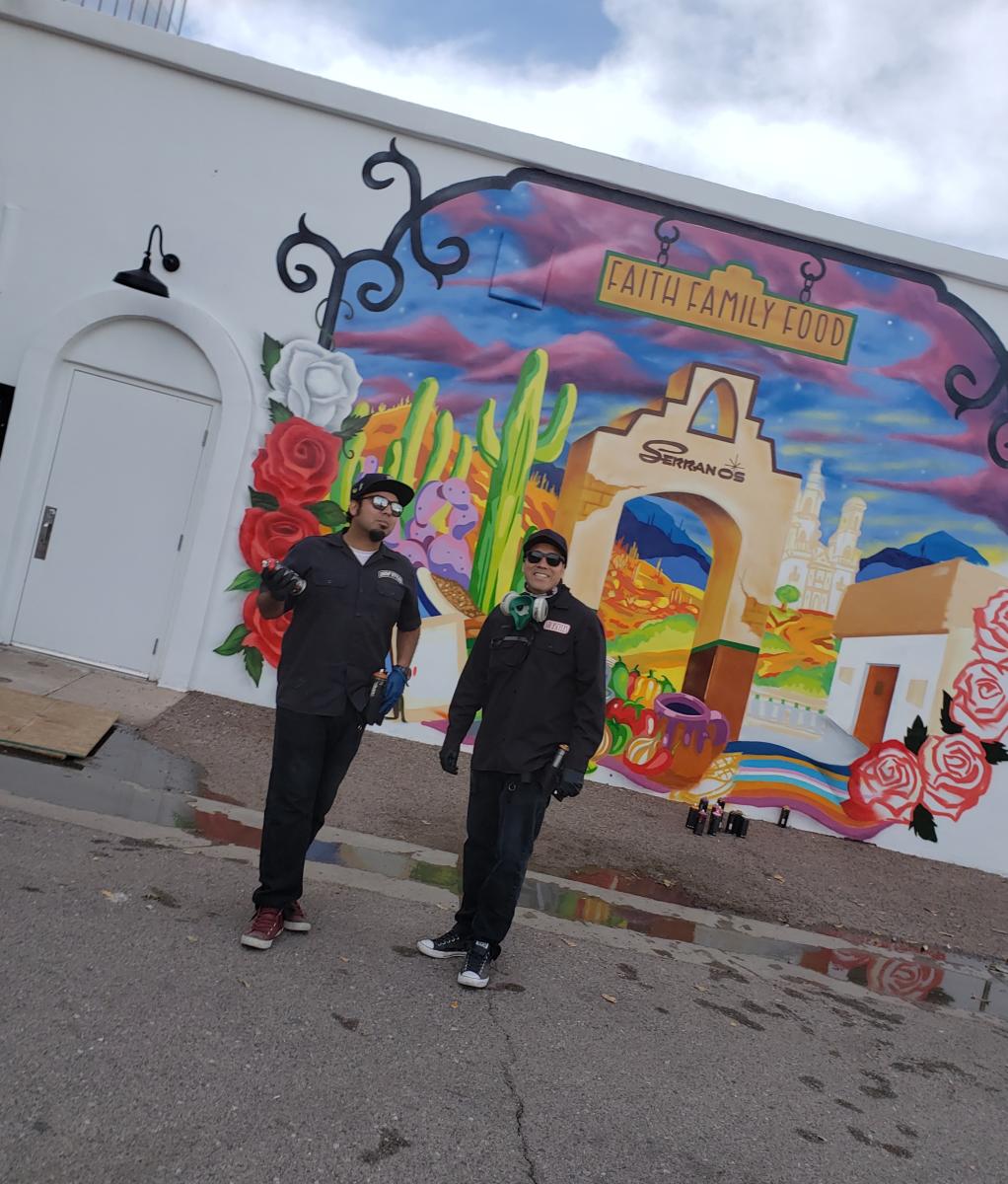 Serrano's Mexican Restaurant
A staple in the Downtown Chandler community, Serrano's is all about family. Started by Ernie and Eva Serrano in 1979, the restaurant continues to be run by the couple's eight children and their families—which makes the mural that graces the north side of the building all the more special. Created by Noe "Such Styles" Baez and his son Champ, the mural pays homage to the Serrano family's Tucson roots with a depiction of the San Xavier Mission del Bac. There are also 10 roses representing Ernie and Eva, and their eight children.
East facing, exterior wall of Serrano's at: 141 S. Arizona Ave.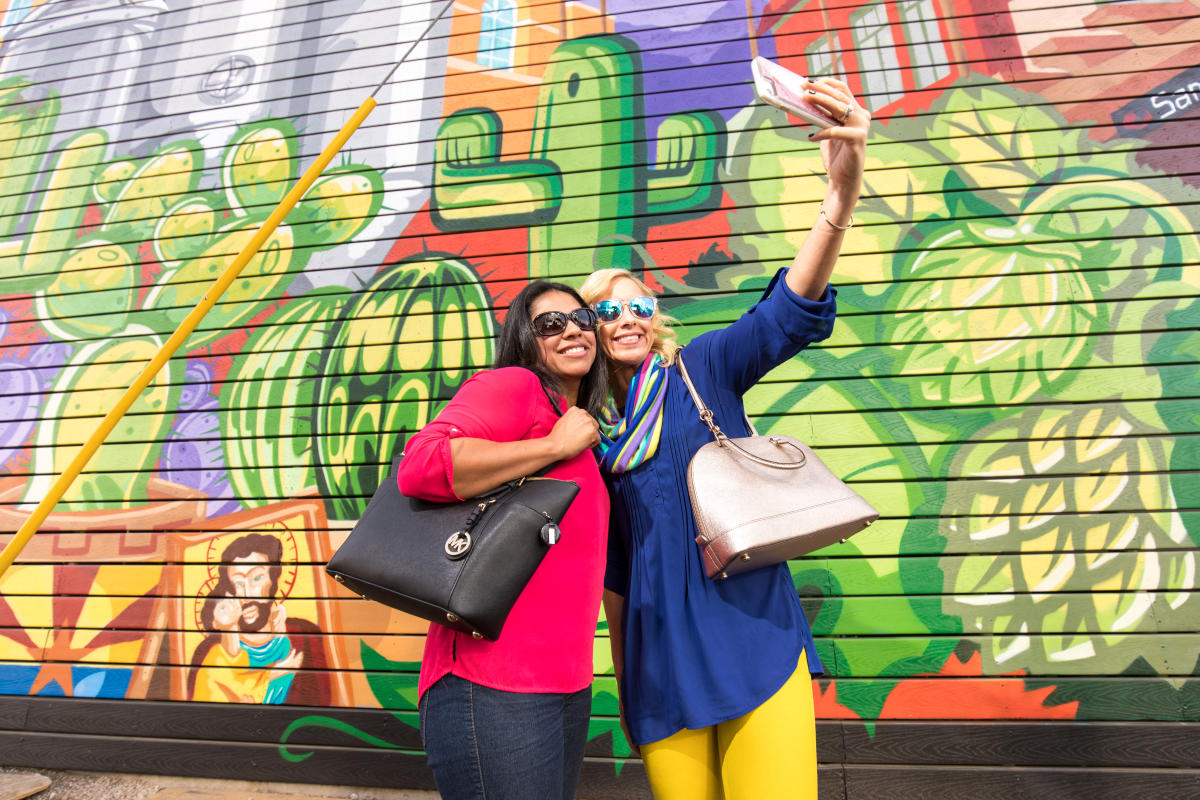 SanTan Brewing Company
Also bringing color and energy to the downtown scene is the mural outside SanTan Brewing Company. Awash in bright colors, the mural depicts a trio of gleaming beer distillers surrounded by desert cactus. Created by the graffiti artist team of Noe "Such Styles" Baez and Champ Styles, the project was led by the Chandler Arts Commission, in collaboration with the Downtown Chandler Community Partnership and SanTan Brewing Company.
Located on west facing, exterior wall at: 8 S. San Marcos Place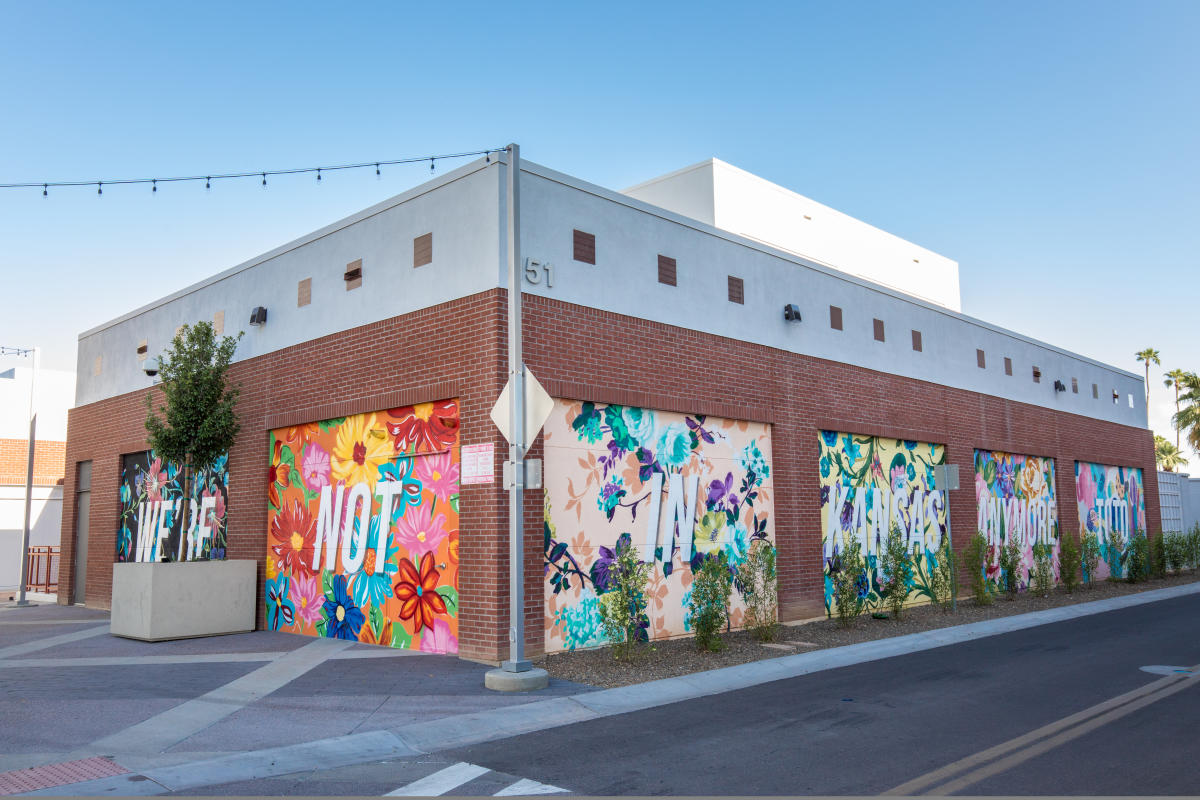 Overstreet
With its modern façade and shiny exterior, downtown's Overstreet development brings new and exciting things to Chandler—including a series of floral-themed murals by artist Kasten. Specializing in spray-paint art, the Realtor-turned-artist is known for his vibrant colors inspired by his affinity for vintage floral wallpaper. The murals—which quote the famous line, "I have a feeling we're not in Kansas, anymore," from "The Wizard of Oz"—call out Chandler's growth and change from small-town community to burgeoning urban center.
A collage of murals located at: Chandler Boulevard and Arizona Avenue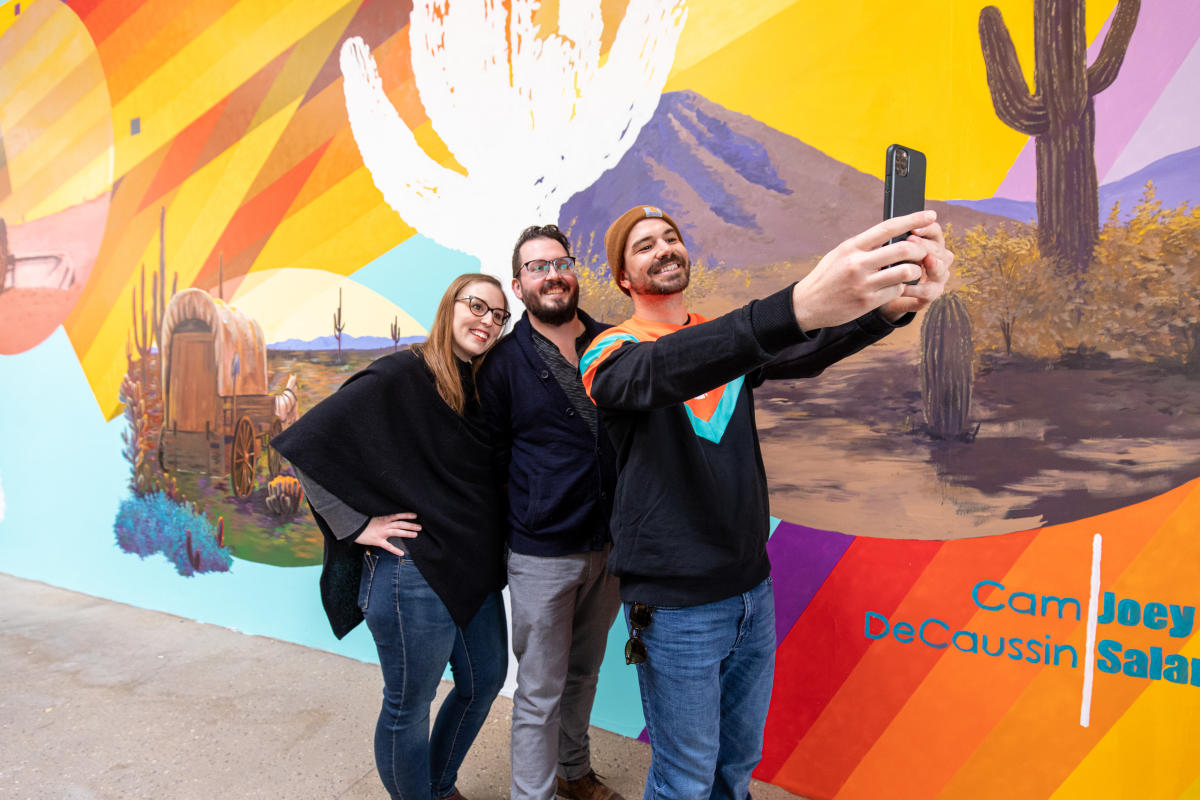 Monuments to Chandler
An ode to Chandler's past and present, one of Downtown's newest murals takes a look back at 100 years of the city's history. Created by artists Joey Salamon and Cam DeCaussin, the sweeping mural combines geometric, zig-zag patterns with old-fashioned portraits, signifying Chandler's rich history and evolution. To ensure he captured the city's character, DeCaussin researched Chandler's archival photos and used them to paint portraits of desert landscapes, farm fields and the City Hall complex.
Located in breezeway, between Original ChopShop and Saba's Wetern Wear at: 67 W. Boston St.

Ghett' Yo' Taco
If you're looking for a great taco spot in downtown Chandler, just look for the welcoming faces at the entrance of Ghett' Yo' Taco. Created by renowned graffiti artist Lalo Cota—whose work can be seen throughout Roosevelt Row in Phoenix and other parts of the city—the Day of the Dead-inspired mural shows opposite sides of the faces of a sombrero-clad man and a woman with a bright red rose in her hair. In between is the entrance door, flanked by a colorful painting of a tomato and pepper pairing.
West-facing , exterior wall: 241 S. Oregon St.
Levi Strauss Ghost Mural
Pass by the back wall of the building at 1 Boston Street and you just may spot the faded stylings of a vintage ad for Levi Strauss. The building was first constructed in 1924 and has housed a number of tenants. First, it was home to the Chandler Chamber of Commerce, then housed Western Auto Supply in 1940. In 1946, it became the Sprouse-Reitz store, at the time boasting that it sold nothing that cost more than 49 cents.
South-facing wall at: 1 E. Boston St.
Don't miss!
Other murals to look out for are at Civic Market, the Sleepy Whale, and the newest installation at QuartHaus, created by father-son graffiti artists Such and Champ Styles. The pair are known for their work at Serrano's Mexican Restaurant and SanTan Brewing Company.