A desert hike is one of the best ways to learn about and gain an appreciation for the Sonoran Desert, and if you're in Chandler, you don't have to go far to hit the trails. Several good hiking and walking trails are either in Chandler or a short drive away.
Before you head out, though, take a few precautions, no matter what time of the year. Always wear close-toed shoes (no sandals or flip flops-- you don't want to get pricked!), apply sunscreen, and bring plenty of water.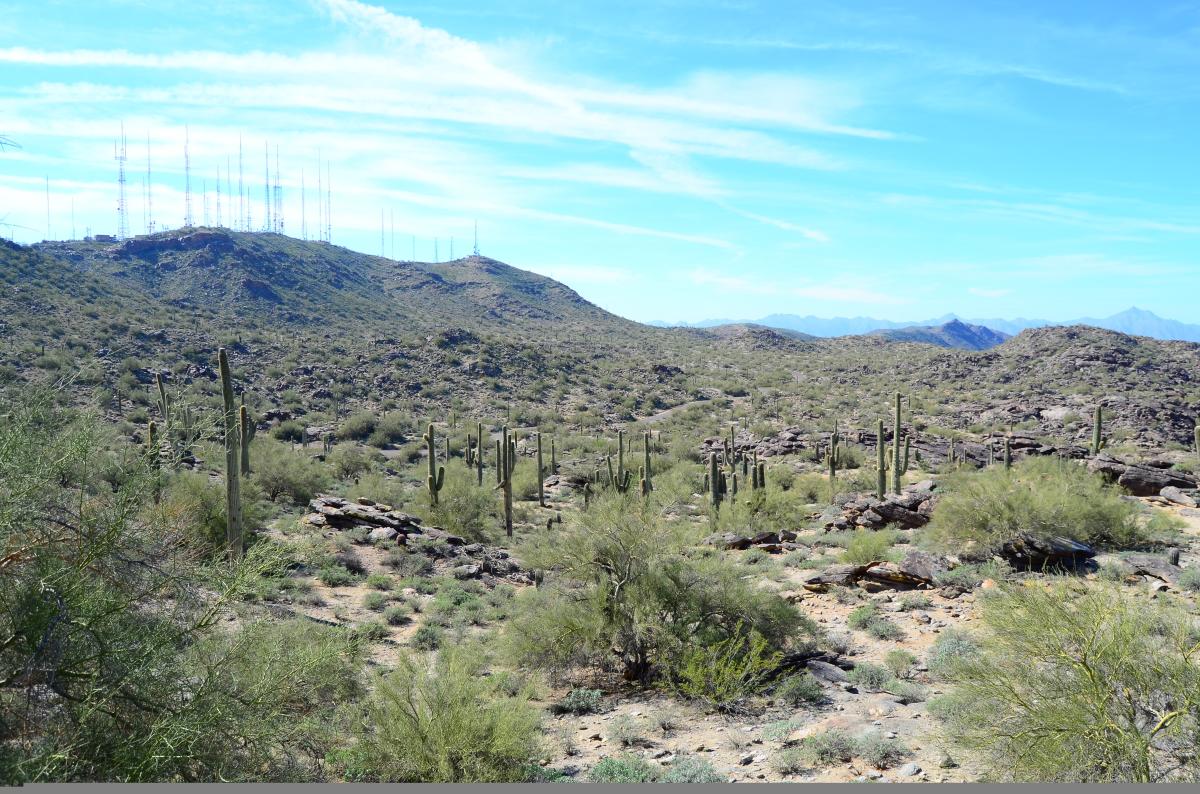 South Mountain Park
Main Entrance: 10919 S. Central Ave., Phoenix, AZ 85042
Pima Entrance: 9904 S. 48th St., Phoenix
Phone: (602) 262-7393
Hours: 5 a.m. to 7 p.m. (Trails remain open until 11 p.m.)
Fee: None
At nearly 17,000 square acres, South Mountain Park is the largest municipally-owned park in the nation and boasts more than 50 miles of crisscrossing trails. If you have time for only one hike here, consider the Holbert Trail. The 2.5-mile, sometimes challenging trek begins at South Mountain Environmental Education Center off of Central Avenue and ends at Dobbins Lookout, where you'll be rewarded with one of the Valley's best views of downtown Phoenix.
Or, take the 1-mile Kiwanis Trail, one of the park's most popular trails since it can accommodate beginning hikers but also connects to the more challenging Telegraph Pass and National trails. As you hike Kiwanis Trail, watch for two rock wall dams built by the Civilian Conservation Corps in the 1930s.
You can also access the National Trail from Pima Canyon, near 49th Street and Guadalupe Road. Although you probably won't want to hike the entire 14.5-mile trail, it links up to most other trails as it traverses the entire length of the park.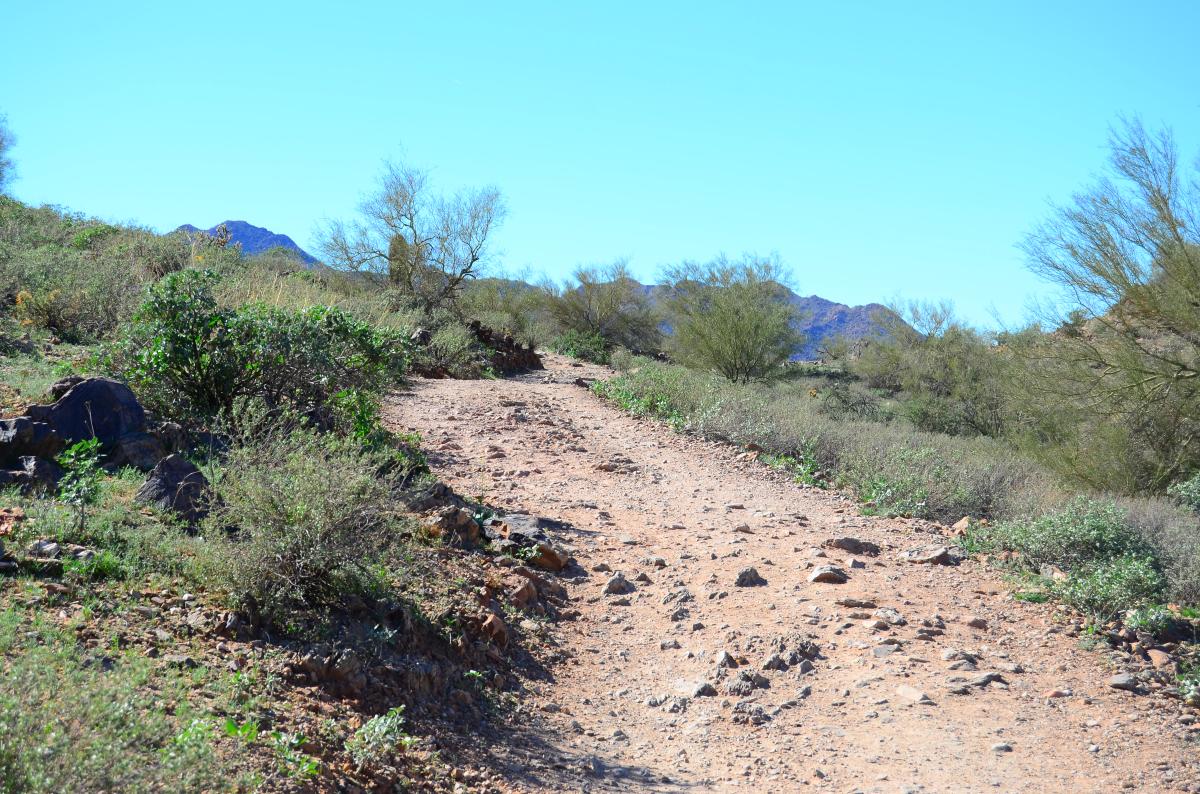 San Tan Mountain Regional Park
Main Entrance: 6533 W. Phillips Rd., Queen Creek, AZ 85142
Phone: (480) 655-5554
Hours: Sunday - Thursday, 6 a.m. to 8 p.m.; Friday and Saturday, 6 a.m. to 10 p.m.
Fee: $6 per vehicle
Located south of Queen Creek, this regional park flies under the radar of most visitors—and even many locals! Because there are fewer people on the trails, you're more likely to spot wildlife such as javelinas, coyotes, and Gila monsters than you would be in other parks, and depending on the trail you take, you'll feel like you're a million miles away from civilization.
If you're looking for a quieter trail, try the relatively easy Moonlight Trail, which winds a little more than a mile through the scenic Sonoran Desert from the visitor center. Or, ask for directions to the Rock Peak Wash Trailhead. From there, take the Rock Peak Wash Trail to the 4-mile Malpais Trail. (The total hike is 6 miles.)
Another option is the Goldmine Trail. You'll encounter other hikers along the way—it's one of the most frequented trails in the park—but the 2.5-mile, one-way trail offers two vantage points for city views. Don't miss the graves of two miners at the north end of the trail.
After hiking, pay your respects to the Arizona residents who lost their lives in Iraq and Afghanistan at the park's memorial and check out the Desert Tortoise Habitat at the visitor center.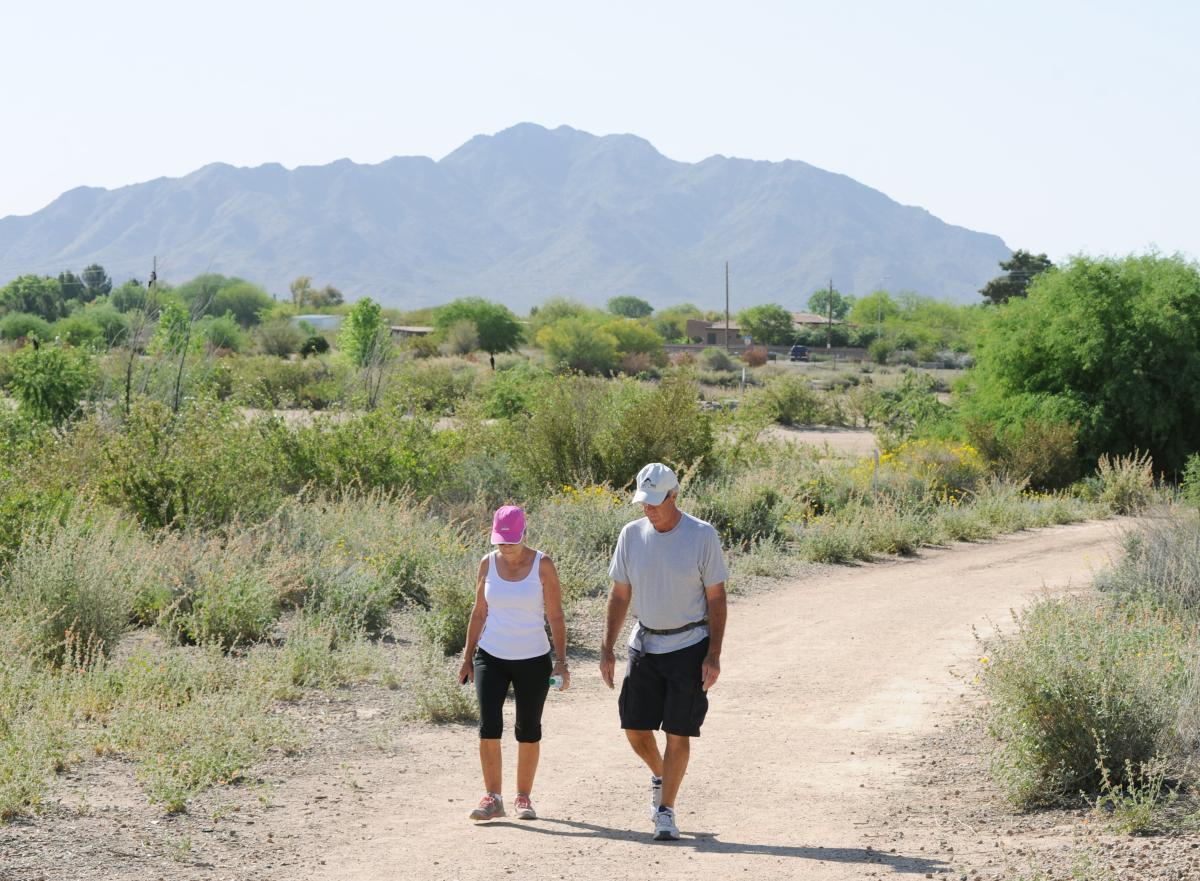 Veterans Oasis Park
Address: 4050 E. Chandler Heights Rd., Chandler, AZ 85249
Phone: (480) 782-2890
Hours: Monday - Thursday, 8 a.m. to 8 p.m.; Friday, 8 a.m. to 5 p.m.; Saturday, 8 a.m. to 3 p.m.
Fee: None
For an urban Sonoran Desert experience, you can't beat Veterans Oasis Park in Chandler. The park has 4.5 miles of trails, including a paved walkway around the 5-acre community fishing lake that's perfect for strollers, wheelchairs, and anyone who prefers walking on even surfaces.
Twenty-five hundred feet of this paved route doubles as the solar system walk with 14 signs representing the sun, eight planets, dwarf planets, comets, and more. It's a great opportunity to teach kids just how incredibly big our solar system is— every foot traveled on the walk represents 1.5 million miles in space.
No need to limit yourself to the pavement, though. Dirt trails range further into the 113-acre park, meandering past the butterfly and hummingbird habitat, two elevated viewing areas, and a waterfall.
If you're a birder, Veterans Oasis Park is one of the Valley's premier birding destinations. Watch for the 153 species of bird that have been documented here, including herons, egrets, and quail. New to birding? On the first Saturday of every month from November through April, the Desert Rivers Audubon Society leads free, guided bird watching tours through the park from 8 a.m. to noon.
Before you leave, stop by the park's Chandler Nature Center to learn more about the Sonoran desert and pick up a Southwestern souvenir, including books and native seeds, from the gift shop.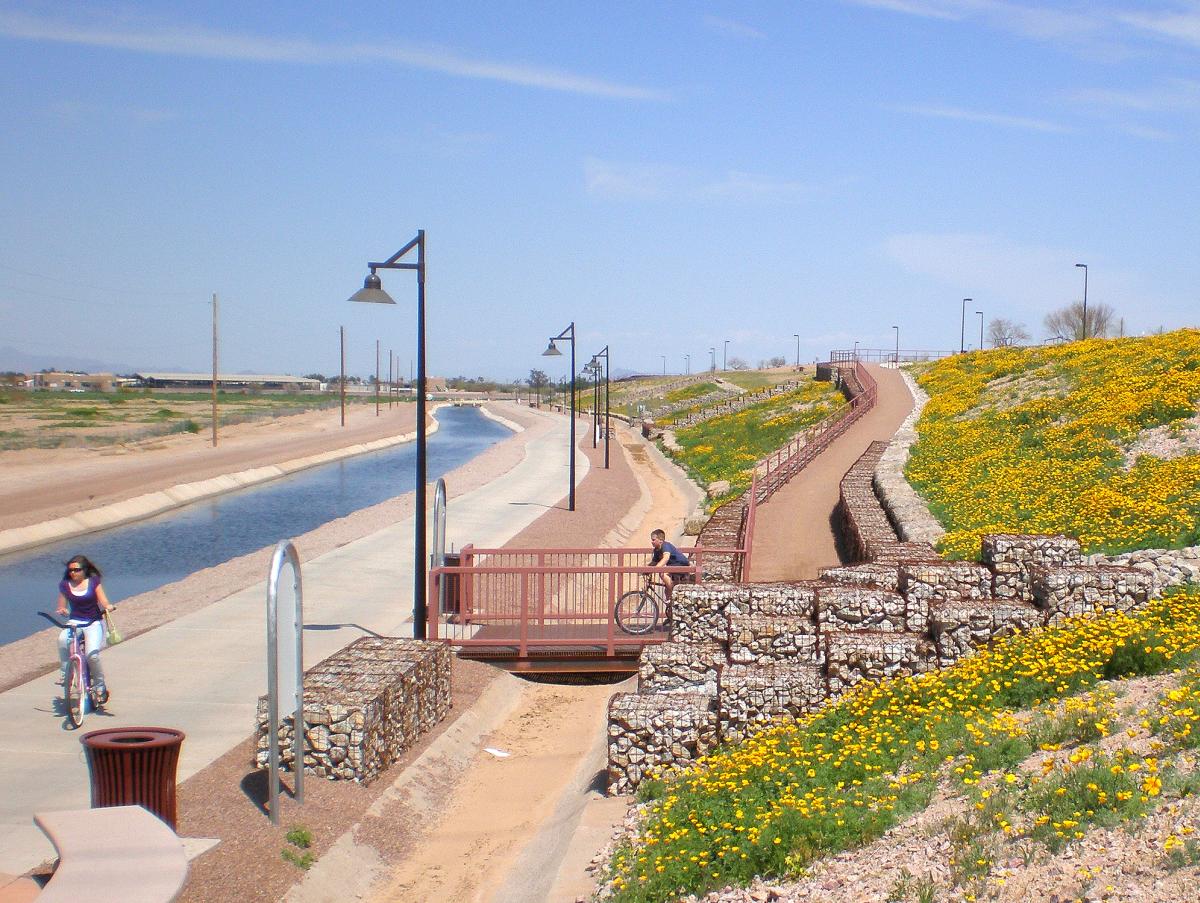 Paseo Vista Recreation Area
Address: 3850 S. McQueen Rd., Chandler, AZ 85286
Phone: (480) 782-2754
Hours: 6 a.m. – 10:30 p.m.
Fee: None
For nearly 30 years, the space now occupied by Paseo Vista Recreation Area was a landfill. Today, it not only includes more than a mile of walking trails but has a dog park, archery range, playground, and disc golf course. You'll also get a bird's-eye view of the East Valley from its 40-foot slopes.
Paseo Vista Recreation Area also offers access to the Paseo Trail, a 6.5-mile stretch along the Consolidated Canal. The east side of the canal is paved and intended for people who want to walk, jog, or bicycle while the west side is unpaved and open to equestrian traffic as well.
As you stand in the park and look towards the Paseo Trail, you can choose to take the trail either south (to the left) or north (to the right). If you choose to go south, you'll have roughly two miles to the end of the trail; if you opt to go north, you'll have approximately 4.5 miles of trail.