When in Chandler, why not dine with a waterfront view? Enjoy some delicious meals curated by some of the best restaurants in Chandler, AZ. Enjoy fresh ingredients and trendy dishes from hand tossed pizza and fresh pasta to avocado inspired dishes, all while relaxing by the water. These Chandler, AZ restaurants all have amazing patios with a waterfront view and are sure to leave you relaxed and ready for a nice bottle of wine or some hand-crafted cocktails.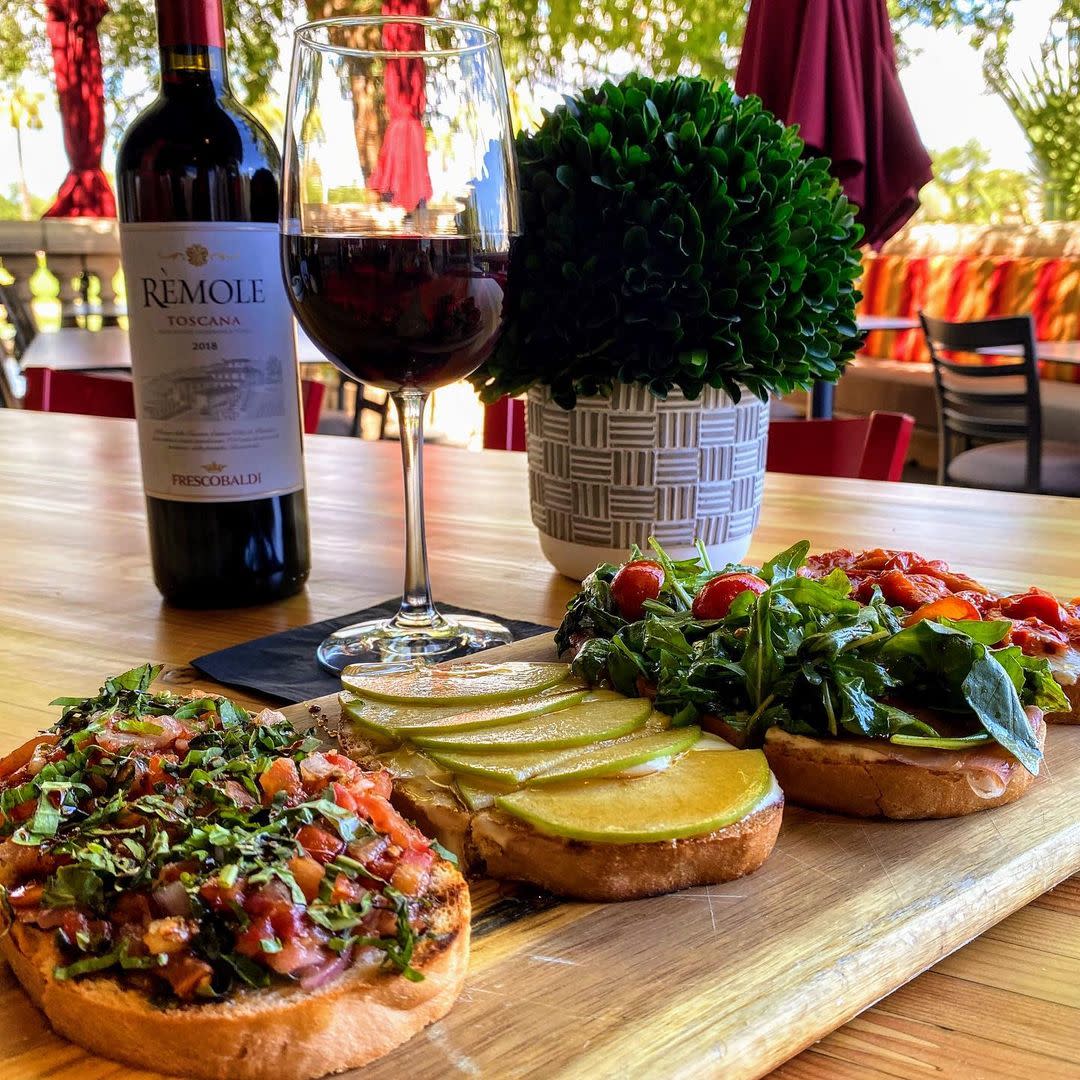 Stone & Vine
Located in south Chandler, Stone & Vine is that neighborhood spot that guarantees to make you feel right at home. While the restaurant's interior feels like a cozy Italian bistro, the bright and colorful patio is the perfect place to dine "lakeside" thanks to a sprawling manmade water feature just below. As you dine on such Italian favorites as caprese, meatballs, bruschetta, panini, and hearty entrees like osso buco, ravioli and lasagna, the soothing sound of gentle running water fills the air. Stone & Vine is open of lunch, dinner and happy hour, and weekend brunch featuring hearty fare and specialty drinks, wines and beer.
Map: 1035 W. Queen Creek Road #103, Chandler, AZ 85248 or (480) 659-7438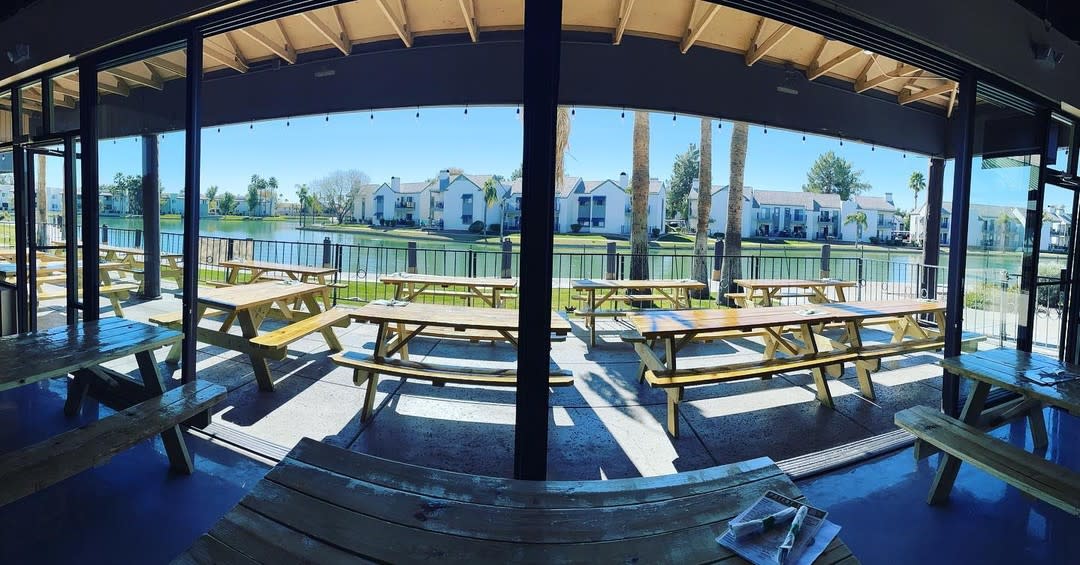 Patent 139 Brewing Co.
Named for the patent number assigned to the famous Hass avocado, Patent 139 Brewing Co. is owned by descendants of the Hass family is nestled along a lake that surround neighborhoods off Ray and Dobson roads. As you enjoy the waterfront scenery, dine on the restaurant's upscale canteen menu items, such as barbecue nachos, mesquite elote, and Thai green curry mussels. The can't-miss dish, however, is the Origin Burger, made with Hass avocado, smoked cheddar, grilled onion, bacon slab and the brewery's secret "shoosh" sauce. Wash it down with a brew from their draft list, which includes a few of the brewery's own creations, as well as a selection of Arizona ales.
Map: 1949 W. Ray Road, Chandler, AZ 85224 or (480) 597-7138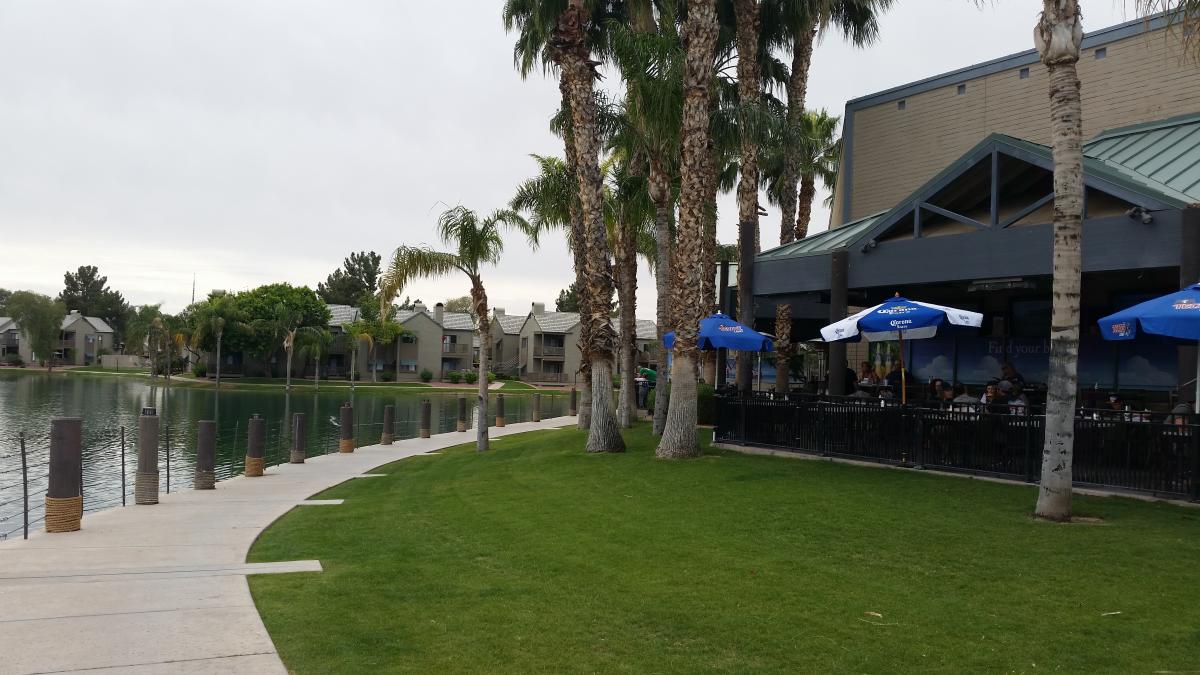 Valle Luna
If you're in the mood for authentic Mexican fare with the same waterfront view, head next door to Valle Luna. Serving Sonoran-style cuisine for 40 years, this Arizona institution was started by Tia Rita, the family matriarch whose signature brand of Arizona-Sonoran recipes is the foundation of the restaurant's menu. Feast on a few of Tia Rita's favorites including the spinach enchilada, Sonoran-style carne asada, and the chimichanga dinner made with your choice of meat rolled inside a flour tortilla, deep fried and topped with a homemade Sonoran sauce.
Map: 1949 W. Ray Road, Chandler, AZ 85224 or (480) 786-3100
Pita Jungle
Also offering dining with a lake view in the same restaurant and retail destination is Pita Jungle, an Arizona-founded eatery specializing in Mediterranean-inspired cuisine with a fresh and healthy take. In business since 1994, the restaurant is known for its salads, pitas and wraps. But since then, the menu has evolved to offer such signature offerings as wood-fired Norwegian salmon, chicken tikka masala, and organic red quinoa with cilantro jalapeno hummus. For the ultimate waterfront patio moment, stop in for happy hour, when you can nosh on a variety of tapas—including hummus, tzatziki, garlic dip and falafel—starting at $2, and sip on draft or bottled beers, and select wines and cocktails.
Map: 1949 W. Ray Road, Chandler, AZ 85224 or (480) 855-3232
Hon Machi Sushi & Cocktails
Rounding out the list of waterfront restaurants at Ray and Dobson is Hon Machi Sushi & Cocktails. This cozy Japanese restaurant and sushi bar serves an assortment of sushi, from fresh sashimi and nigiri, to a wide assortment of rolls and specialty rolls. A few standouts include the fully loaded Chimichanga (tuna, salmon, albacore, white fish, yellow tail, avocado, cream cheese), King Kong (soft shell crab, spicy tuna, eel, avocado), and the Jalapeno Bomb (spicy tuna, cream cheese, crab meat, deep-fried jalapeno).
Map: 1949 W. Ray Road, Chandler, AZ 85224 or (480) 963-0400