Whether you're traveling for business or here visiting for the holidays, Chandler, AZ has great options for where to eat on Christmas day and must-see holiday activities! Here is a list of a few Chandler restaurants open Christmas Day and holiday activities you don't want to miss when visiting Chandler.
Chandler Restaurants Open on Christmas Day 2022
Benihana
Enjoy the magic of the Benihana Chefs this Christmas! The exhibition-style, Japanese cuisine where the masterful chefs demonstrate their skills on the hibachi tables right in front of your eyes.
Map: 3025 W Chandler Blvd, Chandler, AZ 85226 or (480) 812-4701
Buca di Beppo
Dining out on Christmas day? Enjoy a grand Italian feast at this popular chain of Italian restaurants.  Famous for their family-style meals, the restaurant opens at 11 a.m. on Christmas Day and will feature wonderful Italian dishes for a festive meal. Reservations are recommended. 
Map: 7111 W Ray Rd, Chandler, AZ 85226 or (480) 785-7272
Chompie's Restaurant, Deli and Bakery
It's 'Christmukkah" at Chompie's featuring two different menus this year!  The restaurant offers a Chanukah Menu featuring a family meal (enough for 8 people) that includes items such as Matzo Ball Soup, Beef Brisket, Turkey, and so much more! Their Christmas Menu features an entire turkey dinner with all the fixings! You can preorder these meals to go on their website to enjoy at home or in your Chandler hotel. Open Christmas Day from 7 a.m. - 5 p.m.
Map: 3481 W Frye Rd, Chandler, AZ 85226 or (480) 398-3008
Galeto Brazilian Steakhouse
Located in West Chandler near the I-10 and Ray Road, Galeto Brazilian features 14 rotisserie meats including beef, lamb, pork, chicken and sausages that are carved tableside in this all-you-can-eat steakhouse. The restaurant features a gourmet bar which includes a number of hot and cold dishes, assorted cheeses and Brazilian dishes. Be sure to call for reservations.
Map: 825 N. 54th Street, Chandler AZ 85226 or (480) 744-0130
SanTan Brewing Company
Fans of craft ale can celebrate when the Brewpub opens at 4 p.m. and will serve the full menu till 10 p.m. offering great selections of some of Arizona's best craft beer and craft food.
Map: 8 S. San Marcos Place, Chandler 85225 or (480) 917-8700
Singing Pandas Asian Restaurant & Bar
Is eating Chinese food over the holidays a favorite tradition?  If so, you can find a number of Chandler restaurants that will be open including the chic and comfortable Singing Pandas Asian Restaurant & Bar, located west of Downtown Chandler.  On Christmas day, the family-owned restaurant will feature a slightly paired down menu featuring their house specialties and customer favorites.  
Map: 757 E Chandler Blvd, Chandler, AZ 85225 or (480) 777-5050
Must See Holiday Sights and Events
Chandler Tumbleweed Tree
Recognized by Travel & Leisure as the best Christmas tree in Arizona - the Chandler Tumbleweed Tree is located in Downtown Chandler and available for viewing till January 2, 2023.  Be sure to grab a family photo of this iconic tree while visiting Chandler, AZ for the holidays.
Map: 3 S. Arizona Avenue, Chandler AZ 85225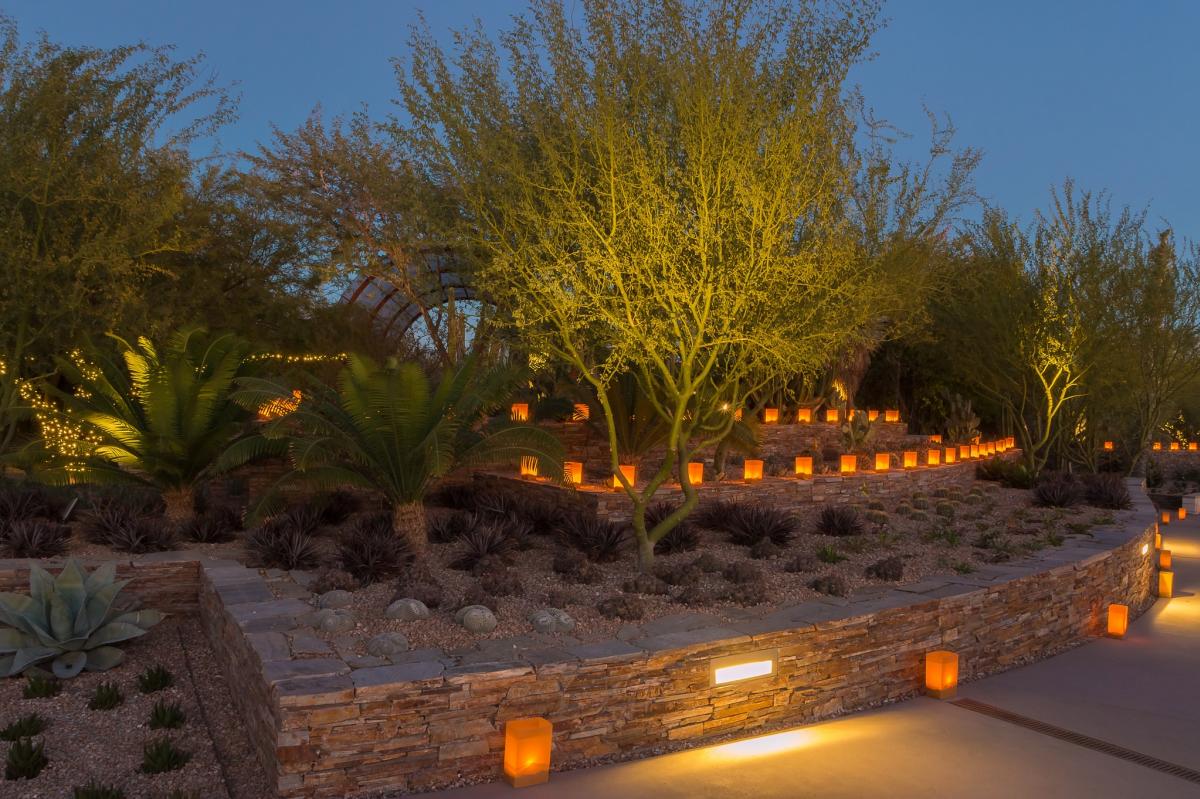 Las Noches de las Luminarias
Although the event is not happening on Christmas Day, make a point to include a visit to the Desert Botanical Garden for this magical event happening through December 31, 2022.
Enjoy an evening stroll at the magnificent Desert Botanical Garden adorned with 8,000 hand-lit luminaria bags, thousands of twinkling white lights, and live music for a uniquely Southwest tradition. For tickets and more information, visit their Desert Botanical Garden website. 
Map: 1201 N Galvin Pkwy, Phoenix, AZ 85008 or (480) 941-1225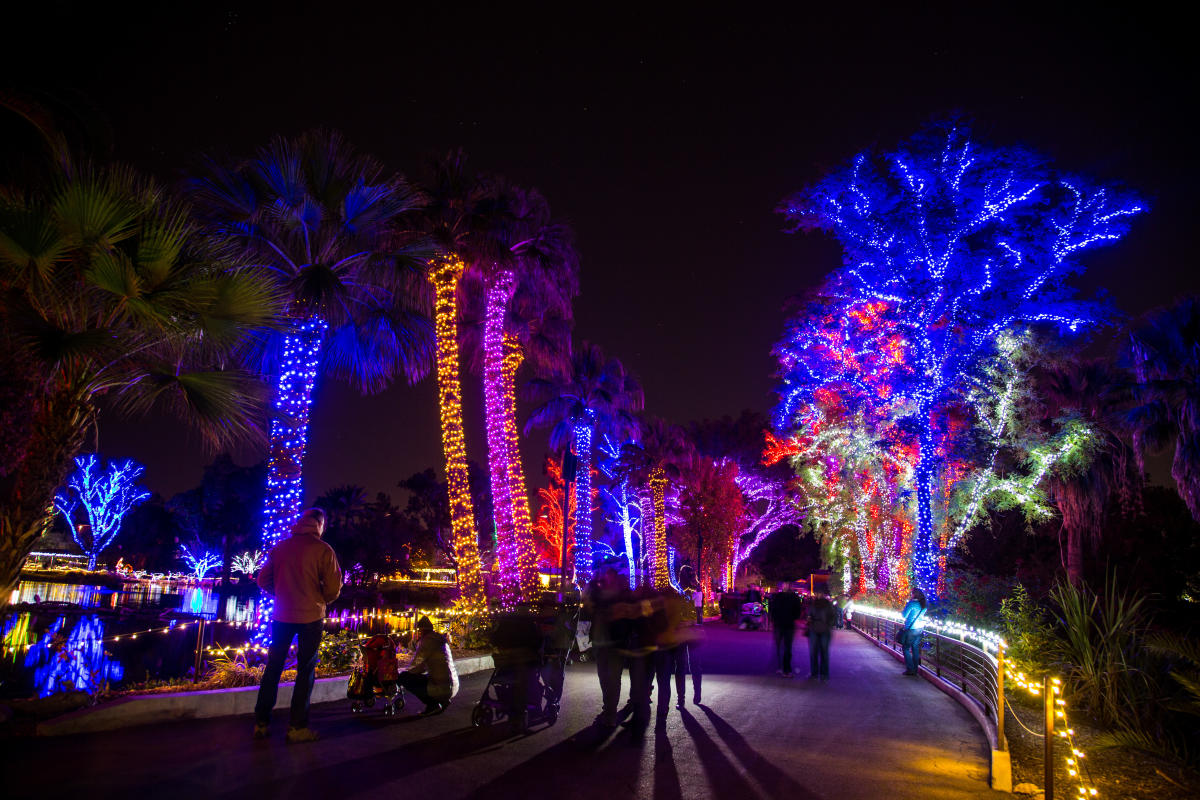 ZooLights at the Phoenix Zoo
Find adventure at the Phoenix Zoo through January 15, 2023 from 5:30-10:30 p.m.
Celebrating more than 25 years of holiday lights, music, animals and festive fun – ZooLights at the Phoenix Zoo is a magical evening event featuring millions of holiday lights aglow on more than 700 incredible light displays.  To purchase tickets and for more information, visit the ZooLights Event Website.
Map: 455 N Galvin Pkwy, Phoenix, AZ 85008 or (602) 286-3800