By Teresa K. Traverse
Hungry shoppers headed to Chandler Fashion Center are in luck. One of the Valley's premier retail destinations is also home to a variety of top-notch restaurants. From an outpost of a popular sports bar to a Mexican chain from a local family, here are eleven stellar restaurants near Chandler Fashion Center.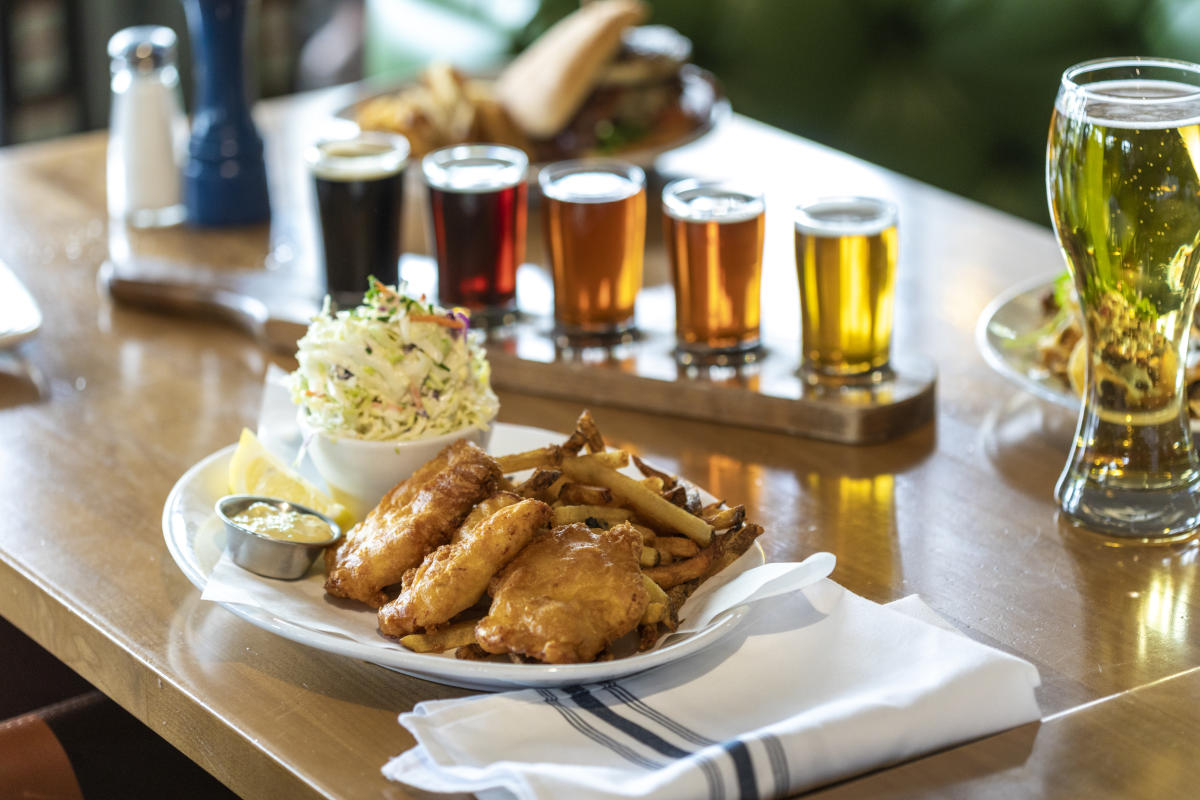 Hop Social Tavern
In the fall of 2017, Oregon-based Crossroads Restaurant Group opened its very first Arizona restaurant with Hop Social Tavern. The highlight: 52 local beers on tap, from IPAs to cream ales. Can't choose just one? Then try a beer flight featuring your five top selections. Pair your brews with locally sourced, scratch-made cuisine. Customers can pick hearty fare like fish and chips and house-made potpie, as well as sandwiches, burgers and brick-oven pizzas. For fancier dining options, consider booking the chef's table that seats eight. The elegant space features 20-feet high ceilings and even a chandelier. 
3405 W. Chandler Blvd.
(480) 485-4677
Someburros
Thirty-plus years ago, the first Someburros opened in the Valley by the Vasquez family. Since then, the restaurant has taken pride in honoring time-tested family recipes made with high-quality ingredients. At this fast-casual eatery, diners can look forward to everything from chimichangas, quesadillas and burritos; to tacos, tostadas, tamales and enchiladas. Or try such specials as the Pollo Fundido, heaping with marinated chunks of chicken breast wrapped in a flour tortilla that's deep fried and topped with jalapeno cream cheese, grated cheese and green onions. Someburros also caters to early risers, who can enjoy breakfast options including the La Sonrisa, two cheese enchiladas served with beans, red or green sauce, and topped with a fried egg.
3461 W. Frye Road
(480) 726-8226
la Madeleine French Bakery & Café
Founded by Loire Valley native Patrick Leon Esquerré in Dallas in 1983, la Madeleine offers diners breakfast, lunch and dinner, in addition to a wide selection of baked goods. Indulge in croissants, blueberry muffins, chocolate chunk cookies and, of course, lemon madeleines. The breakfast crowd can look forward to custom crepes and omelets, while lunch and dinner diners can dig into heartier fare like soups, salads, pastas and sandwiches. Fun fact: One of the restaurant's signature items was a happy accident. Ten cases of Roma tomatoes were ordered instead of one and the chef had to come up with something to do with the surplus, so he created the chain's signature (and must-try) tomato basil soup.
3605 W. Chandler Blvd.
(480) 999-2095
Majerle's Sports Grill 
Taking its name from owner and Phoenix Suns basketball legend Dan Majerle, this beloved sports bar chain opened its first location in downtown Phoenix in 1992. The second location opened in 2007 in Chandler, where fans can enjoy an upscale and fun atmosphere that comes complete with 35 HD TVs, an indoor/outdoor bar, two patios and even a cornhole court. Serving lunch, dinner and a late-night menu daily, look forward to burgers, sandwiches, appetizers and salads. Highlights include a variety of build-your-own, hand-tossed pizzas and Southwest eggrolls, stuffed with chicken, pepper jack cheese, corn, red bell peppers, black olives and jalapenos, and served with chipotle ranch dipping sauce. 
3095 W. Chandler Blvd.
(480) 899-7999
Pastries 'N' Chaat
Serving fast casual Indian cuisine, Pastries 'N' Chaat dishes out a variety of sweets, biryani specials and other Indian delights. Dig into a full menu of traditional appetizers, vegetarian specials, naan and entrees like chicken tikka masala and butter chicken. But as the name of the restaurant suggests, desserts are the specialty of the day, every day. Tasty items include jalebi, deep-fried fermented maida flour soaked in sugar syrup that's popular at Indian weddings and special occasions; and kaju rolls, which feature a mixture of cashews and pistachios blended with condensed milk, butter, rose water and cardamom. You can also order Indian-style cakes in flavors ranging from mango to black forest, kheer (rice pudding) and a variety of chaat or savory snacks.
3450 W. Chandler Blvd.
(480) 812-2166
Wildflower Bread Company
Enjoy fresh food in a warm and contemporary atmosphere at this favorite Chandler spot, where diners can dig into sandwiches, salads, pastas, a kid's menu and soup, in addition to breakfast and dinner fare. Fresh baked goods, including bread that's made daily, are a highlight. Although the cuisine rotates seasonally, diners can indulge with a variety of pies, carrot cake, cheesecake, lemon coconut cake and the ultimate chocolate cake. Pair your decadent dessert with a plethora of coffee drinks including mochas, lattes and fresh-brewed coffee.
3111 W. Chandler Blvd.
(480) 821-8200
Famous Dave's BBQ
Known for its authentic barbecue smoked in a wood smoker with genuine hickory logs, Famous Dave's BBQ has been cooking up award-winning (no kidding—the restaurant has won more than 700 awards to date) ribs, beef brisket and made-from-scratch items. Meats are hand-rubbed with a custom blend of spices, cooked for hours, and then finished off on the grill to create a chargrilled sweetness on the outside. Head here for big, hearty eats including fried pickles, cheese curds, barbecue nachos and wings. Entrees include ribs, burgers, country-roasted chicken, smoked turkey and smoked jalapeno cheddar sausage. 
3250 W. Frye Road
(480) 782-1212
The Keg Steakhouse + Bar 
Leather booths and dim lighting broken by the glow of a fireplace lend an old-school, fine dining vibe to The Keg Steakhouse + Bar. The steakhouse serves dinner only that kicks off with the customer-favorite fresh and fluffy sourdough bread. Look forward to traditional steakhouse fare like ribs, steak, seafood, chicken and salads. Happy hour specials are popular among guests. Customers can nab daily drink specials on cocktails, beer and wine and order shared plates like teriyaki steak bites, tuna tacos and prime rib sliders. The Keg also features a kid's menu and a gluten-free menu for those with dietary concerns. 
3065 W. Chandler Blvd.
(480) 899-7500
Benihana
Dinner and a show is the name of the game at Benihana, where guests are seated at communal tables to watch a hibachi chef slice and dice and fry up their meal. The five- and six-course feasts here are the stars of the show. Pick your protein—like twin lobster tails, scallops, steak and tuna—then pair it with a long list of sides including Benihana onion soup, salad, vegetables, homemade dipping sauces, steamed rice and Japanese hot tea. Customers can also enjoy sushi, sashimi/nigiri, noodles, tofu and steak/chicken. For dessert, consider the near-legendary banana tempura. 
3025 W. Chandler Blvd.
(480) 812-4701
Crème and Chocolats
If you're a fan of cool treats—especially in the height of our Arizona summers—make a beeline for Crème and Chocolats, a charming, European inspired ice cream shop and creperie located at the open-air courtyard at Chandler Fashion Center. Offering soft ice cream cones dipped in Belgian chocolates, with flavors ranging from vanilla and chocolate, to black cherry and dark sea salt. Looking for something savory? The shop also offers crepes filled with everything from ham and cheese; to shrimp, crab and a creamy rosé sauce.
3155 W. Chandler Blvd.
(623) 999-1947
The Sicilian Butcher
Slated to open at Chandler Fashion Center this fall, The Sicilian Butcher is one of the latest offerings from the Maggiore Group (the folks behind popular haunts like Hash Kitchen and Tomaso's Italian Restaurant). Customers can look forward to craft meatballs and a charcuterie bar, as well as mozzarella, meat and cheese and bruschetta boards. The food menu is rounded out by a selection of craft cocktails, beer and wine.
3151 W. Frye Road - COMING SOON