Pickleball is one of the fastest growing recreational activities in the country—about 4.8 million Americans play it at least once a year. And now in Chandler, those hooked on the paddle sport that combines elements of tennis, ping pong and badminton have their own domain to play in West Chandler at Pickleball Kingdom.
Located on the northeast corner of Rural and Ray roads, Pickleball Kingdom is exactly what is sounds like: An entire complex devoted to the low-impact, super-social sport that is played on a badminton-style court about half the size of a tennis court with two or four players.
The indoor facility is the largest of its kind in the U.S. and is the brainchild of founder and CEO of Pickleball Kingdom Mike Rodrigues, a self-described serial entrepreneur and avid pickleball player who realized the Valley presented some unique pickleball challenges and needed a dedicated space for the game.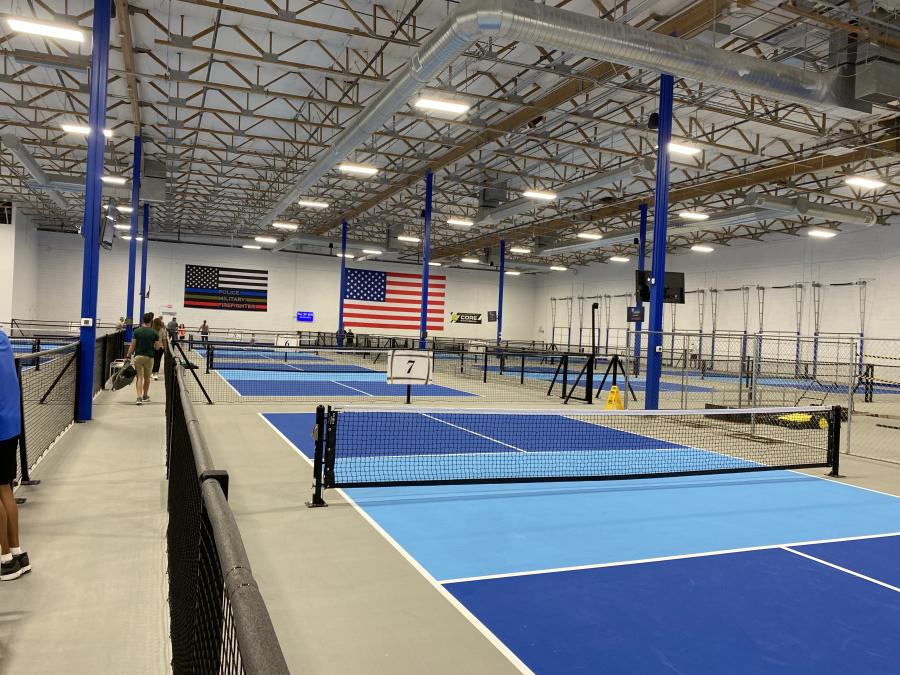 "I remember saying this is the greatest sport ever. And shortly after as my ability started to grow, my understanding of the game started to grow," he says. "I became very aware of the downsides: You can't reserve a court, the sun is an issue, and maybe the biggest problem is the winds. I never thought of Arizona as windy, but because you play with a waffle ball, it's dramatically impacted by wind."
And so, in early January 2021, Rodrigues began thinking that, if only there were an indoor facility in Arizona, all of these problems would go away.
That vision became Pickleball Kingdom, which opened just over a year later in May 2022. The facility has 15 courts, full locker and shower rooms, racquet/ball rentals, mezzanine viewing, two lounges, snack bar, pro shop and party room. And despite the stereotype of being an "older" person's activity, Pickleball Kingdom welcomes all ages and athletic levels to its complex.
"That's the thing that's attractive about pickleball—anyone can play. You see grandparents playing with their grandchildren, and you don't have to be blessed with a certain amount of height or strength or speed. If you put some time and energy into it and learn the fundamentals, you can get pretty good pretty quickly," explains Rodrigues.
Guests can drop in and play a game, which costs $15, or buy annual memberships with different perks. In addition, newcomers to the sport can take "Pickleball 100," a free, one-hour introductory class held daily at Pickleball Kingdom that launches visitors into the game fairly quickly.
"It's for the person who says, 'I've heard about pickleball, but I don't know the first thing about it.' We take it from there," Rodrigues explains. "You just have to bring your tennis shoes and we provide everything else, including the paddle and ball, and all the information that you need to get up and running.
"The barriers to entry of this great sport have been the lack of knowledge, lack of equipment, and lack of court space to play. With this free, instructional class, we've eliminated all those roadblocks.  For anyone who's wanted to give pickleball a try but didn't know where to go or how to get started, the answer is to come down to the Kingdom!"
Since opening, membership is three and half times what Rodrigues expected, confirming what he already knew: Pickleball is fun and it's here to stay. In fact, he plans to open more Pickleball Kingdom locations in Arizona and throughout the country.
"I think the short learning curve of pickleball pulls people in. What keeps them in is the fact that the ceiling is limitless. You can keep growing and keep getting better, and we love introducing them to the game," he says. "I feel like in some ways we're ambassadors to the game."
Map: 4950 W. Ray Road, Chandler AZ 85226 or (480) 818-9980