By Lauren Saria
Decades ago, Yoshi and Sanae Otomo lived a serene life in a lakeside Chandler neighborhood. The couple moved to Arizona from Japan in 1994. He worked for a Japanese trading company and she was a stay-at-home mom raising the couple's daughter on home-cooked Japanese cuisine.
Then the Japanese economy took a turn for the worse.
"My option was basically to go back to Japan and continue as a salaryman or find some other employment here," Yoshi remembers. "Well, we love Arizona very much and we thought let's do something different."
"It was easy thinking," Sanae says with a laugh.
The couple opened Shimogamo in a Chandler strip mall in October 2003. They had never owned their own restaurant, but nevertheless decided to sublease a 1,600-square-foot space from the adjacent Asian market to open up their own sushi bar. The restaurant still is small, sleek, but casual.
At the time, Yoshi says there were few "high-quality Japanese restaurants" in the area. So the goal was clear: to provide traditional Japanese food made with quality ingredients to the East Valley community.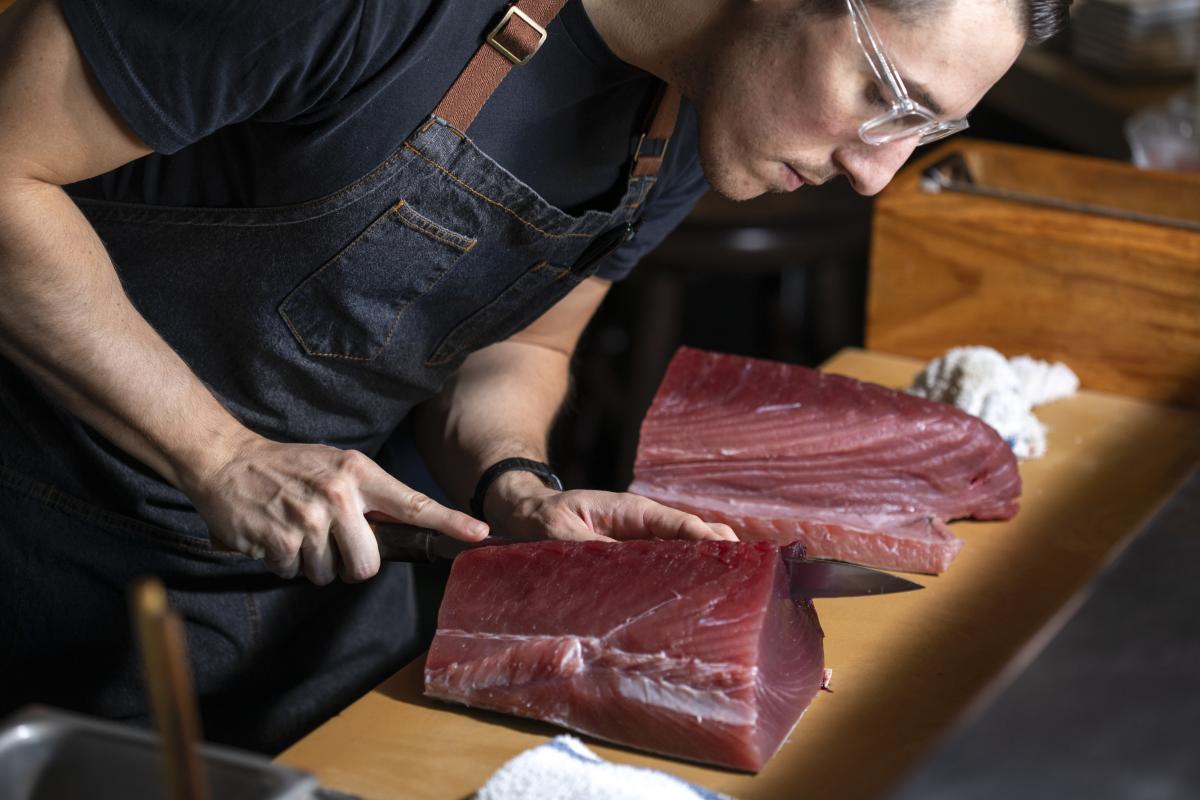 Sanae used her experience as a talented home cook to create the kitchen menu, which still includes dishes like Saikyo-Miso Cod and Teriyaki Spare Ribs made using her recipes. A team of Japanese sushi chefs brought in and broke down fresh fish to offer diners beautiful pieces of sashimi including the restaurant's signature White Truffle Amberjack garnished with red onion, truffle oil, ponzu and microgreens.
The dedication to quality ingredients and simple techniques attracted top talent to the Chandler restaurant sushi bar. Some of Phoenix's top Japanese chefs have worked at Shimogamo, including chef Yasu Hasino, who later went on to open his own Yasu Sushi Bistro in north Phoenix.
Today, Zach Rodenburg is the restaurant's head sushi chef. And dedication to quality still drives his every move behind Shimogamo's 12-seat sushi bar. "There are no shortcuts," he says.
Shimogamo's chefs still butcher fresh fish and now seek out the rarest, most delicious fish they can find to feature on the restaurant's special board. On any given day, diners might find tuna belly or fresh oysters available at the restaurant.
Rodenburg, who's been with the restaurant since 2011, says it's not just the food that's made Shimogamo such a lasting business in Chandler. It's also the people.
"We've been around for so long, we have tons of regulars," he says. "Our chefs have always been good about getting to know everyone."
Plus, there's the presence of the owners themselves. Sanae often comes to the restaurant with her young grandson to cook food for the family and the staff. Yoshi also still works at Shimogamo regularly.
"It's very much a family business. We can't get Yoshi to take a day off," Rodenburg says with a smile.