By Lauren Saria
On any given Friday afternoon, you may find Mahfam Moeeni-Alarcon catering a party, greeting customers at her downtown Chandler shop—or somewhere in between. The on-the-go lifestyle is a side effect of the success of the business she owns with her husband, Cristobal.
"What we call it is an elevated cheese shop," Moeeni-Alarcon says.
Open since January, Mingle + Graze is a restaurant, cheese shop and catering kitchen all rolled into one. "We're small but mighty," she says.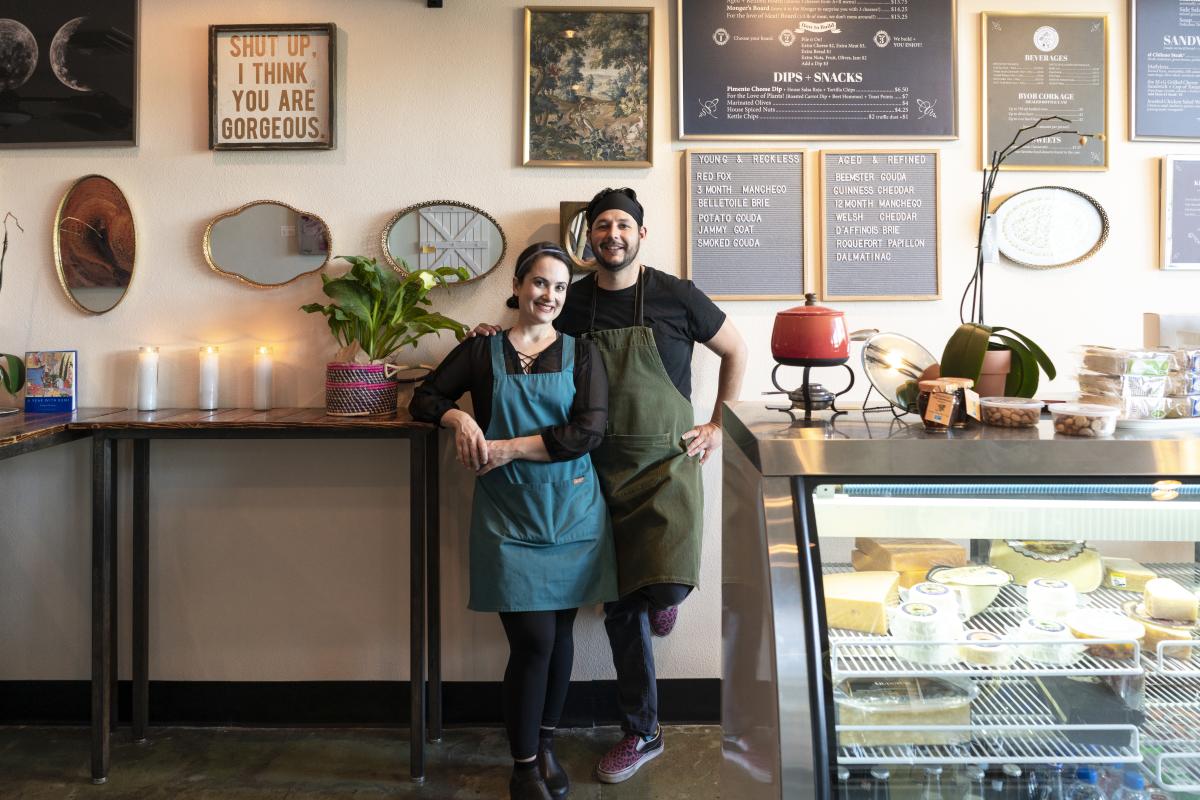 On one hand, the shop serves as home base for Moeeni-Alarcon's catering business, which specializes on "grazing tables." These stunning displays can cover an entire 8-foot table, so guests feast—and feast their eyes—on an impressive bounty of cheese, dried fruits, pretzels, cured meats and more.
At the store, customers enjoy smaller versions of the displays. But the storefront is more than just a place to pick up a great wedge of Welsh cheddar or potato chip-studded Gouda.
"It's not a crunchy cheese," Moeeni-Alarcon explains of the latter. "The chips just add body. It's really cool."
"You won't find that at Whole Foods," she adds.
In addition to selling top-quality cheese and charcuterie, Mingle + Graze also serves light fare including sandwiches, salads and soups. And since it's BYOB, diners can bring in their favorite bottle of wine or beer from nearby breweries, including SanTan Brewing Company and The Perch.
The space itself is a part of Mingle + Graze's charm. Formerly home to Wimpy's Paradise, the storefront now is decorated with an eclectic mix of chairs, tables and mirrors that Moeeni-Alarcon found and upcycled herself.
But before she could begin refinishing the floors and hanging art, Moeeni-Alarcon had to convince the landlord she should get the space; it was no easy feat. Almost immediately after the long, narrow space became available, interested businesses began inquiring about the lease. Moeeni-Alarcon, who had never owned a business before, knew she'd be a long shot but decided to give the landlord a taste of her idea anyway.
"I was like, you know what, I'm going to make him a Mingle Box," she remembers. "I was like, there's no way I'm going to get it. But I gave him the Mingle Box and he thought it was really cool."
In the end, she got the store, which allows both her and her husband to work just minutes from their home in Chandler.
"We're a part of the community so it's really nice to circle back and have it all come together," she says. "It just felt like it was kind of meant to be."