If you're planning a hike (or even a leisurely stroll) in or around Chandler, you don't have to go far to find a scenic route. The 315-mile Maricopa Trail, which cuts through Chandler, connects 10 regional and numerous municipal parks as it encircles the greater Phoenix metropolitan area. As you make your plans, be sure to checkout our tips for staying safe while hiking in Arizona.  Here's a guide to accessing the Maricopa Trail from South Mountain Park, through Chandler, and into San Tan Regional Park. 
South Mountain Park
Main Entrance: 10919 S. Central Ave., Phoenix
Pima Entrance: 9904 S. 48th St., Phoenix
(602) 262-7393
Hours: 5 a.m. to 7 p.m. (Trails remain open until 11 p.m.)
Fee: None
The Maricopa Trail consists primarily of existing trails in regional parks and along canals that are connected by newly constructed sections. In South Mountain Park, the 14.5-mile National Trail doubles as the Maricopa Trail. 
You can access the National Trail via the 1-mile Kiwanis Trail, which begins just past the park's main entrance on Central Avenue, or at Pima Canyon, near 48th Street and Guadalupe Road. Although Pima Canyon is closer to Chandler, the parking lot here is much smaller, and at peak times, you may have to park along the side of the road and walk a distance to the trailhead. Consider using the main entrance on weekends and during cooler months to avoid the congestion.
The National Trail is suitable for hiking, mountain biking, and horseback riding. (If you don't have your own horse, guided trail rides in the park are available through Ponderosa Stables.) For a spectacular view of the greater Phoenix area, including Chandler, turn off the National Trail and onto the Holbert Trail for the steep climb to Dobbins Lookout.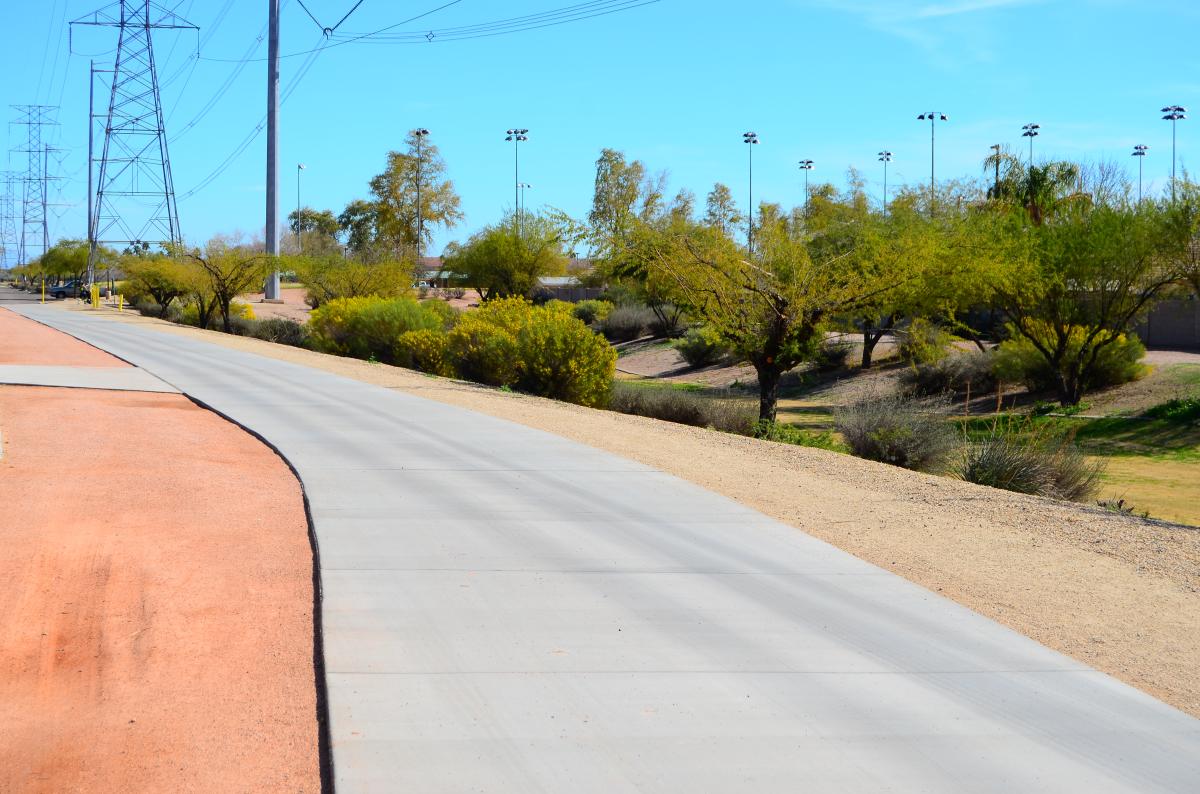 Western Canal Trail
Various entrance points
Fee: None
From South Mountain Park, the Maricopa Trail heads east, linking up with the Western Canal Trail in Guadalupe. The wide, paved walkway along this section of the Maricopa Trail is perfect for strolling, jogging, bicycling, and inline skating; however, in some places, especially in Gilbert, the trail becomes crushed stone. If you prefer pavement, you may want to look online for an aerial view to make sure that section is paved.  
You can pick up the Maricopa/Western Canal Trail at several points, but the easiest way to access it is at Palo Verde Park and at McQueen Park. Both sit on the Chandler-Mesa border in Mesa. 
Freestone Park
1045 E. Juniper Ave., Gilbert
(480) 503-6200
Hours: 5:30 a.m. to 10 p.m.
Fee: None
The Maricopa Trail continues along the Western Canal Trail until it hits the Consolidated Canal Trail, located on the west side of Lindsay Road across the street from Freestone Park in Gilbert. While the trail doesn't enter Freestone Park, its 472 parking spots make it an ideal staging point, and there's plenty of opportunity to add other recreational activities to your itinerary before or after your walk, jog, or bicycle ride. The 82-acre park has lighted basketball, tennis, and sand volleyball courts; lighted softball fields; batting cages; two lakes for fishing; three tennis courts; and three playgrounds.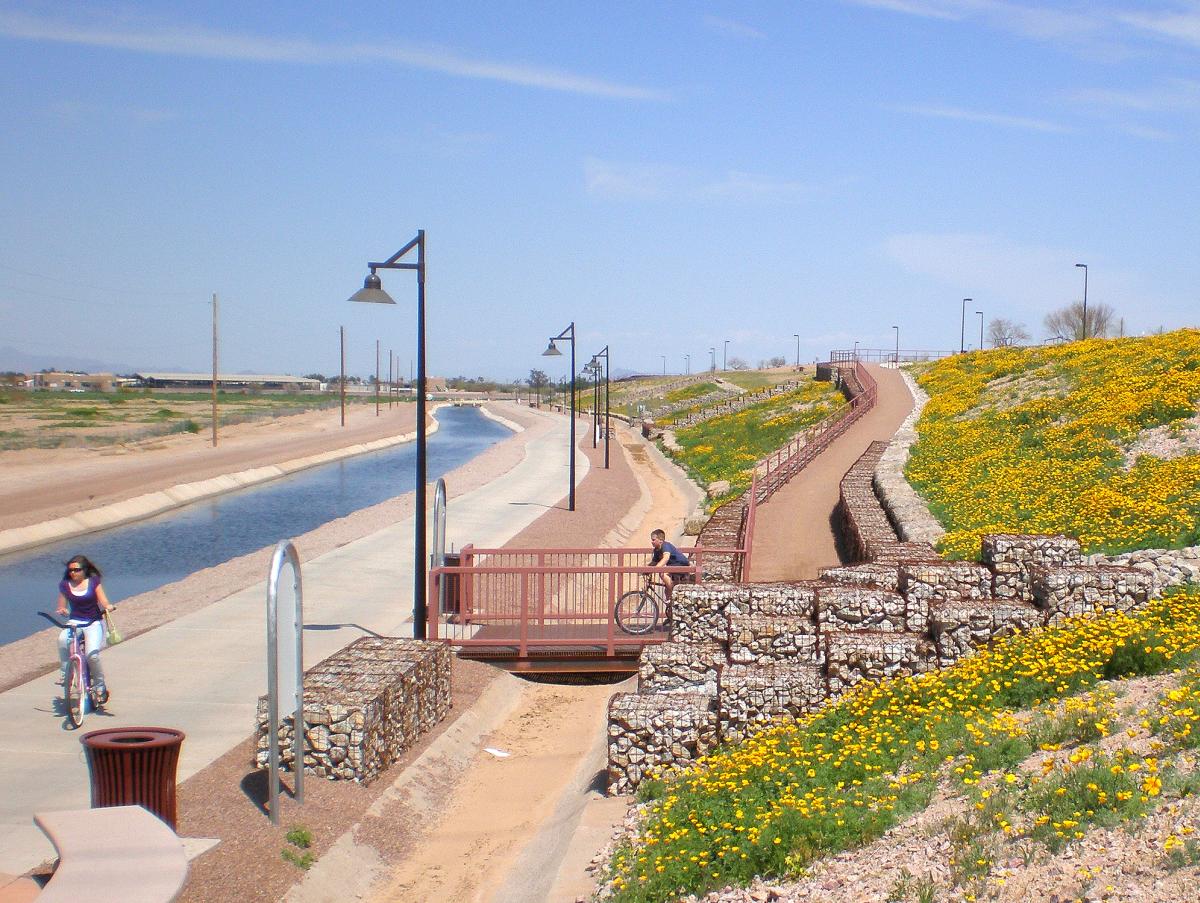 Paseo Trail
Various entrance points
Fee: None
Heading south from Freestone Park, the Consolidated Canal Trail is better known as the Heritage Trail in Gilbert and the Paseo Trail in Chandler. Both are part of the much broader Maricopa Trail.
The 6.5-mile Paseo Trail begins at Galveston Street and offers a 10-foot wide concrete path along its eastern side and an unimproved dirt surface, in most places, along the western side. Parking is available at Tibshraeny Family Park north of Chandler Boulevard and east of Cooper Road or at Tumbleweed Park. Although you'll have to walk through the Los Arboles park connection to get to the Paseo Trail, Tumbleweed Park has additional recreational opportunities, including playgrounds, a butterfly garden, and the Tumbleweed Ranch historic buildings. 
Roughly two miles south of the Tumbleweed Park access point, the Paseo Vista Recreation Area also has plenty of parking as well as a dog park, archery range, playground, and great views of Chandler and the surrounding area. Follow the path from the parking lot down to the canal below to pick up the Paseo Trail.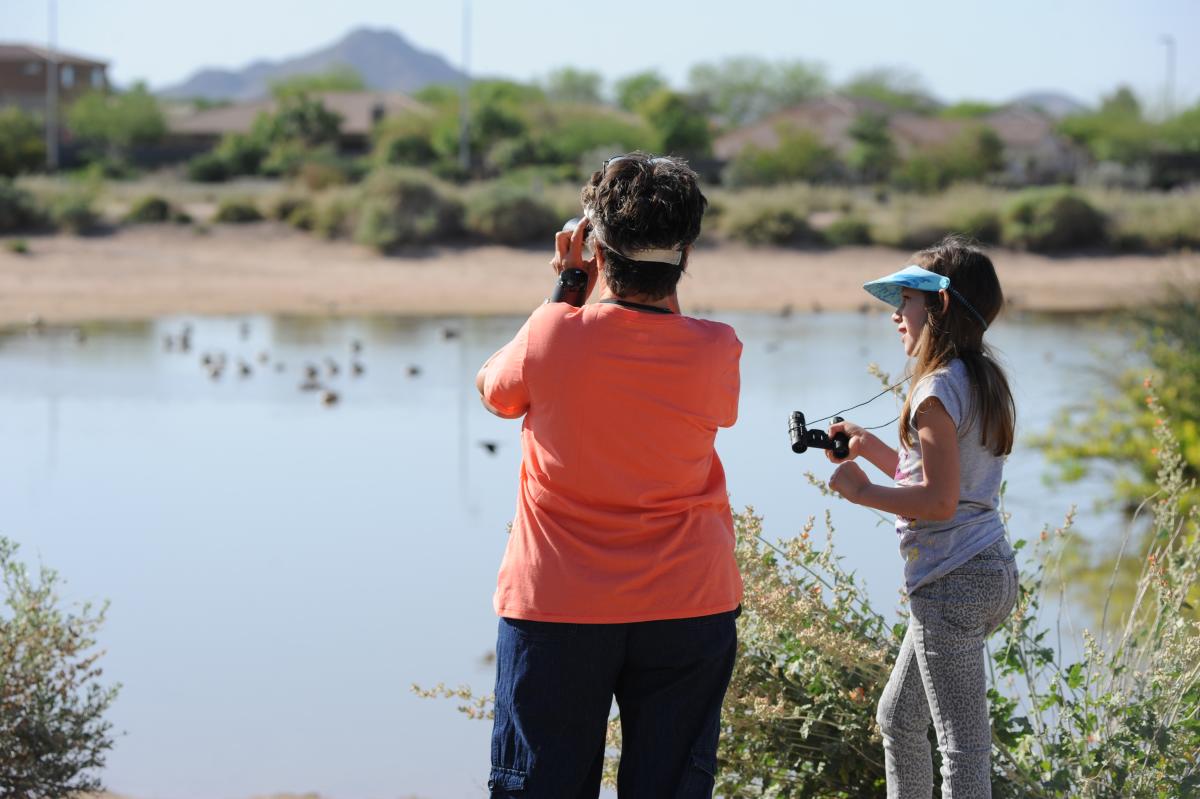 Veterans Oasis Park
4050 E. Chandler Heights Rd., Chandler
(480) 782-2890
Hours: 6 a.m. to 10 p.m.
Fee: None
A mile south of the Paseo Vista Recreation Area, the Maricopa Trail breaks from the Paseo Trail (which continues a mile further south, ending at Riggs Road) and turns east at Chandler Heights Road. Approximately 3.5 miles down the road, it meets up with Veterans Oasis Park. 
Veterans Oasis Park has plenty of parking, a 5-acre lake for fishing, and 2,500-foot paved solar system walk with 14 signs representing the sun, eight planets, dwarf planets, comets, and more. It's also one of the Valley's premier birding destinations with more than 150 different species of birds, including herons and egrets. If you're a bird lover, plan to spend some time here in addition to time on the Maricopa Trail. 

San Tan Mountain Regional Park
Main Entrance: 6533 W. Phillips Rd., Queen Creek
(480) 655-5554
Hours: Sunday - Thursday, 6 a.m. to 8p.m.; Friday and Saturday, 6 a.m. to 10 p.m.
Fee: $6 per vehicle
From Veterans Oasis Park, the Maricopa Trail continues along Chandler Heights Road into Queen Creek. The paved stretch along the Sonoqui Wash is perfect for walkers, joggers, and even skaters, but as you near Horseshoe Park and Equestrian Centre, watch for horseback riders in the wash's dry bed. 
If you want to hike or mountain bike, though, you can't beat San Tan Mountain Regional Park. The Maricopa Trail loops its way through the 10,000-plus acre park hitting all of its major trails, and because the park is on the southeast edge of Maricopa County, it's much less crowded than most other major parks and recreational areas. 
You can enter the park off of Wagon Wheel Road and pick up the Dynamite Trail here, but the small parking lot is unpaved and can be very crowded at peak times. Instead, spend the extra 15 minutes to head around to the main entrance on Phillips Road where there's more parking. As a bonus, it's an easy hike from the parking lot here to the Goldmine Trail, which after a somewhat steep climb has great views of the Valley below.