Few breakfast items are as loved as the humble pancake. Simply made with flour, eggs, milk, and butter, they're the warm, fluffy goodness we all need to get the day off to a good start. If you're in search of the perfect stack of grilled-to-perfection pancakes, look no further than these Chandler brunch restaurants, where they take their pancakes seriously.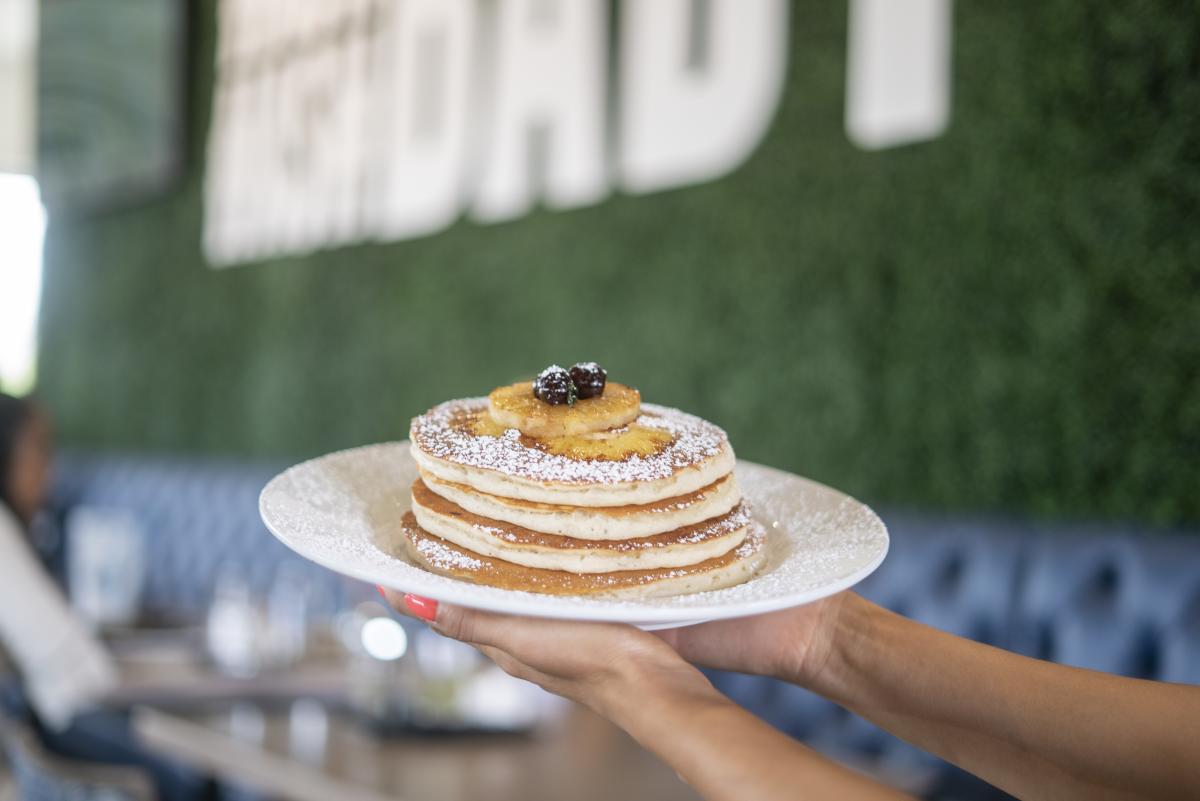 Hash Kitchen
Known for their over-the-top Bloody Marys, Hash Kitchen also offers some of the most unique pancakes you'll ever encounter. Case in point, the blue corn banana Fosters, featuring blue corn pancakes topped with caramelized bananas, candied pecans, and cinnamon whipped cream. For a taste of Italy, try the cannoli. Prepared like the traditional Italian dessert, a cinnamon pancake is filled with sweetened ricotta and chocolate chip cream then sprinkled with powdered sugar and topped with maraschino cherries. Other must-tries include the pineapple upside down, s'mores, and corn bread and bacon.
Map: 2855 W. Ray Road, Chandler 85224 or (480) 909-4270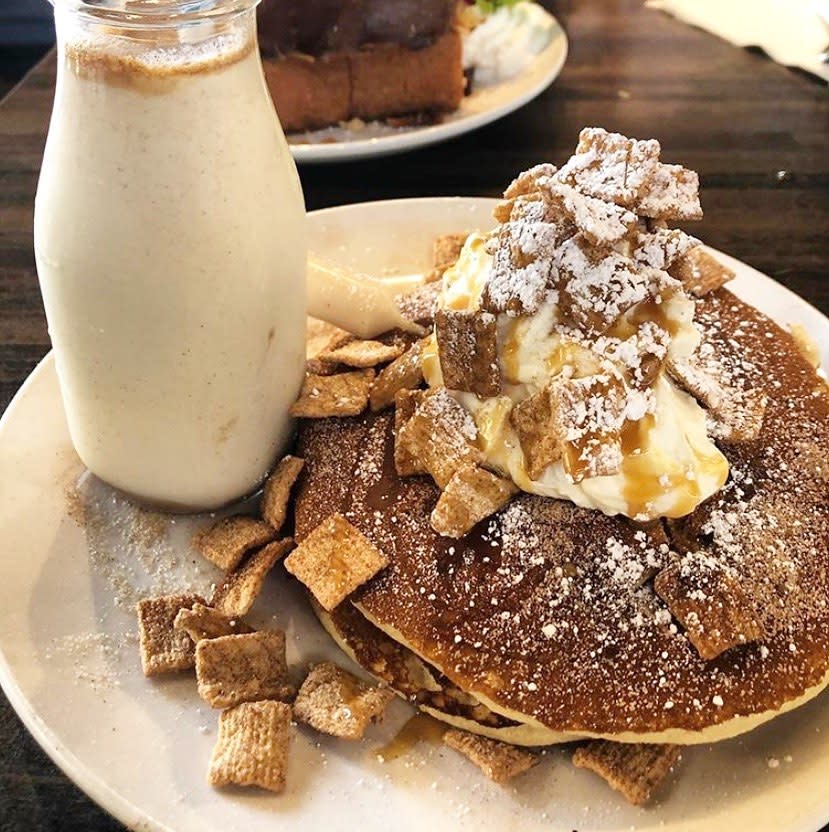 Eggstasy
While eggs may reign supreme at—hence the name—Eggstasy, the equally exhaustive list of pancakes will have stack lovers squealing with delight. From classics like buttermilk, chocolate chip, and lemon ricotta to the more adventurous banana macadamia and cinnamon roll, there are many to choose from. But for something completely out of the box, try the pecan pie topped with salted caramel, Chantilly cream, and graham cracker crumble; or the brunch-time favorite boozy cinnamon crunch toast made with cereal milk and rumchata cream. And speaking of brunch, choose a drink from the "fun bar" offering such favorites as blood orange mimosas, bellinis, chocolate-covered bacon Bloody Marys, grapefruit martinis, boozy salted caramel iced coffee, and Aperol spritzers.
Map: 2430 S. Gilbert Road, Chandler 85286 or (480) 361-9275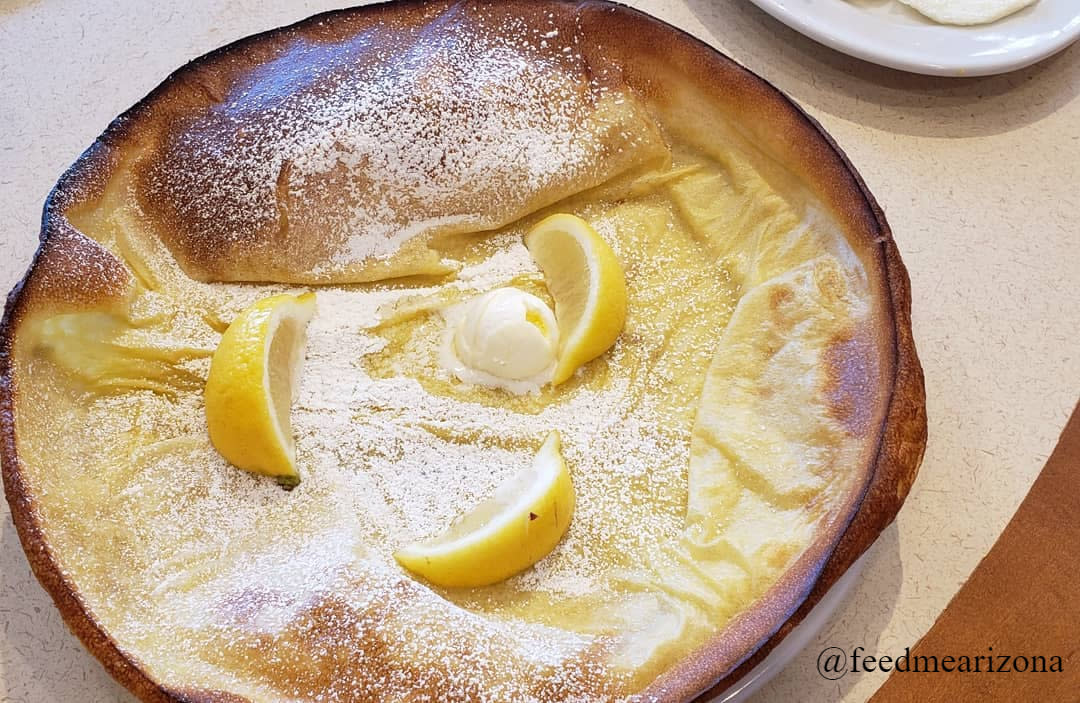 Egg n' Joe
When it comes to pancakes, there's the classic pancake made with flour, eggs, milk, and butter; and the buttermilk pancake made with, you guessed it, buttermilk. And while you can enjoy both of these versions at Egg n' Joe, you can't go wrong with the German pancakes. Also known as "fluffy" or "Dutch baby" pancakes, they're made with eggs, milk, and flour, and baked in a pan rather than cooked on a griddle. Have the classic German pancake served with lemon wedges, whipped butter, and powdered sugar. For an added treat, top it off with your choice of fruit, including triple-berry, strawberry, cinnamon apple, or lingonberry butter.
Map: 4010 S. Arizona Ave., Chandler 85248 or (480) 207-6138

BLD Chandler
It only makes sense that a restaurant whose acronym stands for "Breakfast Lunch Dinner" would whip up a pretty epic pancake. And by epic, we mean gigantic. Known for their contemporary and oh-so Instagram-worthy styling, this south Chandler spot serves up fluffy, buttery buttermilk pancakes that are, let's just say, a plateful. Order it solo or, if you've got the hearty appetite of a lumberjack, with a side. Selections include the Tre's Chili sausage patty, green chili pork, jalapeno cheddar sausage, hash browns, eggs, fresh fruit, and more.
Map: 1920 W. Germann Road, Chandler 85286 or (480) 779-8646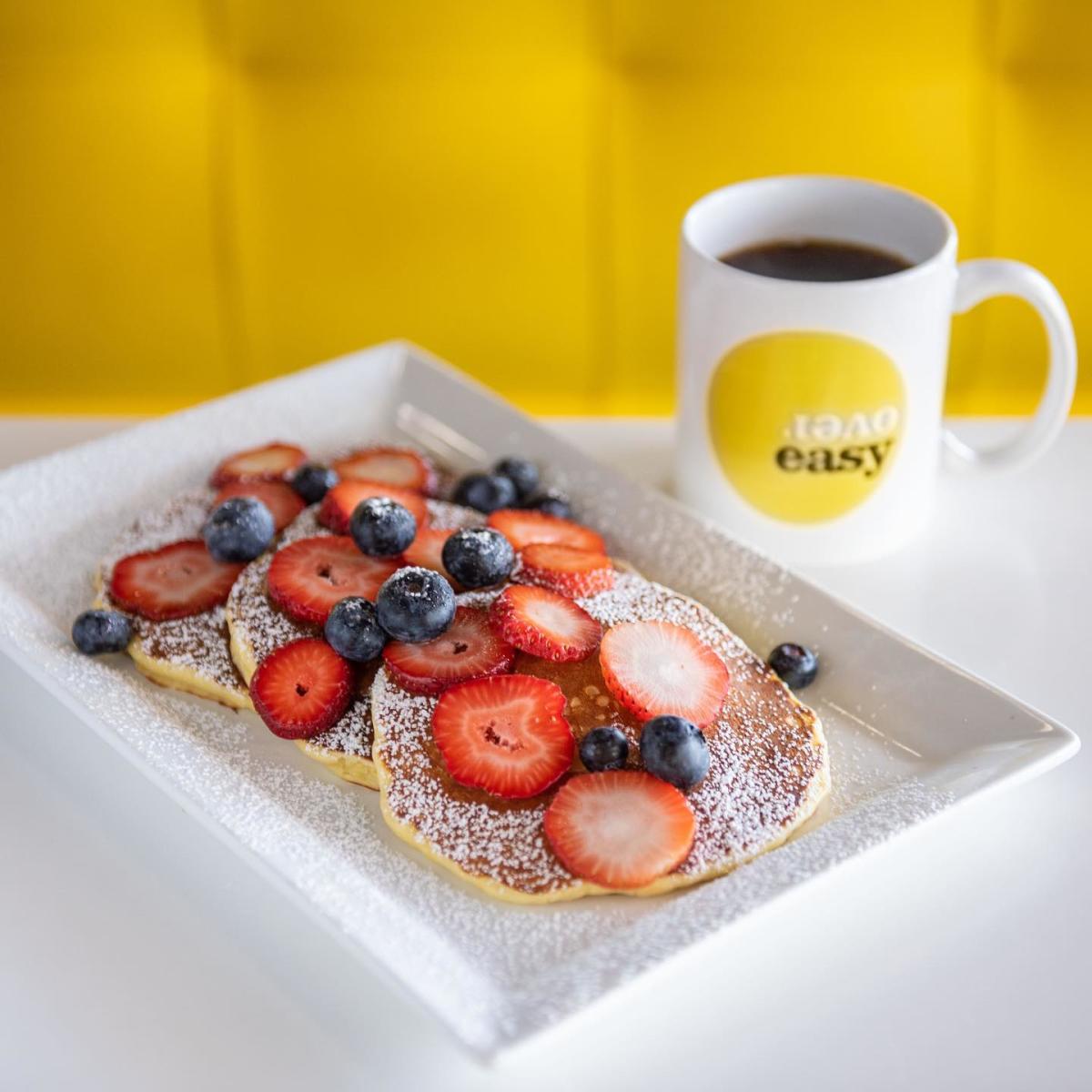 Over Easy
At Over Easy, pancakes are cheekily referred to "breakfast cakes." We love that because what better way is there to start the day than with cake? Served with butter and real maple syrup, traditional pancakes come with such extras as bananas, strawberries, Reese's Pieces, M&Ms, and chocolate chips. If you're in the mood for something a little tart, yet sweet, try the lemon ricotta pancakes served with fresh berries. For something more protein-packed, have the protein pancakes loaded with quinoa, pecans, granola, and blueberries. And just for good measure, enjoy your pancakes with a Bloody Mary, morning cocktail, or mimosa available in such flavors as blood orange pama or strawberry rosemary.
Map: 140 N. Arizona Ave., Chandler 85225 or (480) 257-3449
First Watch
With a focus on fresh, menu items at First Watch are made in-house with seasonal ingredients, from cage-free eggs to their made-from-scratch pancake batter. Perfect for the fall season, the pumpkin pancake breakfast is a great way to start the day. The pancakes are made with a pumpkin-spiced batter cooked to fluffy perfection and served with two cage-free eggs and a Jones Dairy Farm all-natural chicken sausage patty. You also can't go wrong with the lemon ricotta pancakes served with lemon curd and berries, sprinkled with powdered cinnamon sugar, or the multigrain pancakes available in plain, blueberry, chocolate chip, banana granola crunch, and carrot cake.
South Chandler Location - Map: 4955 S. Alma School Road, Chandler 85248 or (480) 659-4995
West Chandler Location - Map: 4910 W. Ray Road, Chandler 85226 or (480) 752-3754
U.S. Egg
Family owned and operated since 1986, U.S. Egg serves hearty traditional breakfasts, from omelets and Benedicts to hot skillets and, of course, pancakes. Choose from whole wheat, buttermilk, banana, and chocolate chip. You can also top your stack off with blueberry or strawberry whipped cream. But what U.S. Egg is famous for are their signature protein pancakes filled with wild Maine blueberries, granola made in-house, cinnamon, and slivered almonds. But be warned: according to the owners, once you try them, you'll be hooked.
Map: 5840 W. Chandler Blvd., Chandler 85226 or (480) 705-0868