In recent years, wine bars have been popping up all over Chandler, much to the delight of local oenophiles looking for a spot to sip a robust Merlot or light rosé. Whether you're in the mood to sip and savor at your favorite wine spot, or grab a bottle (or two) to go to enjoy at home, these Chandler wine lounges and bars will have just what you're looking for.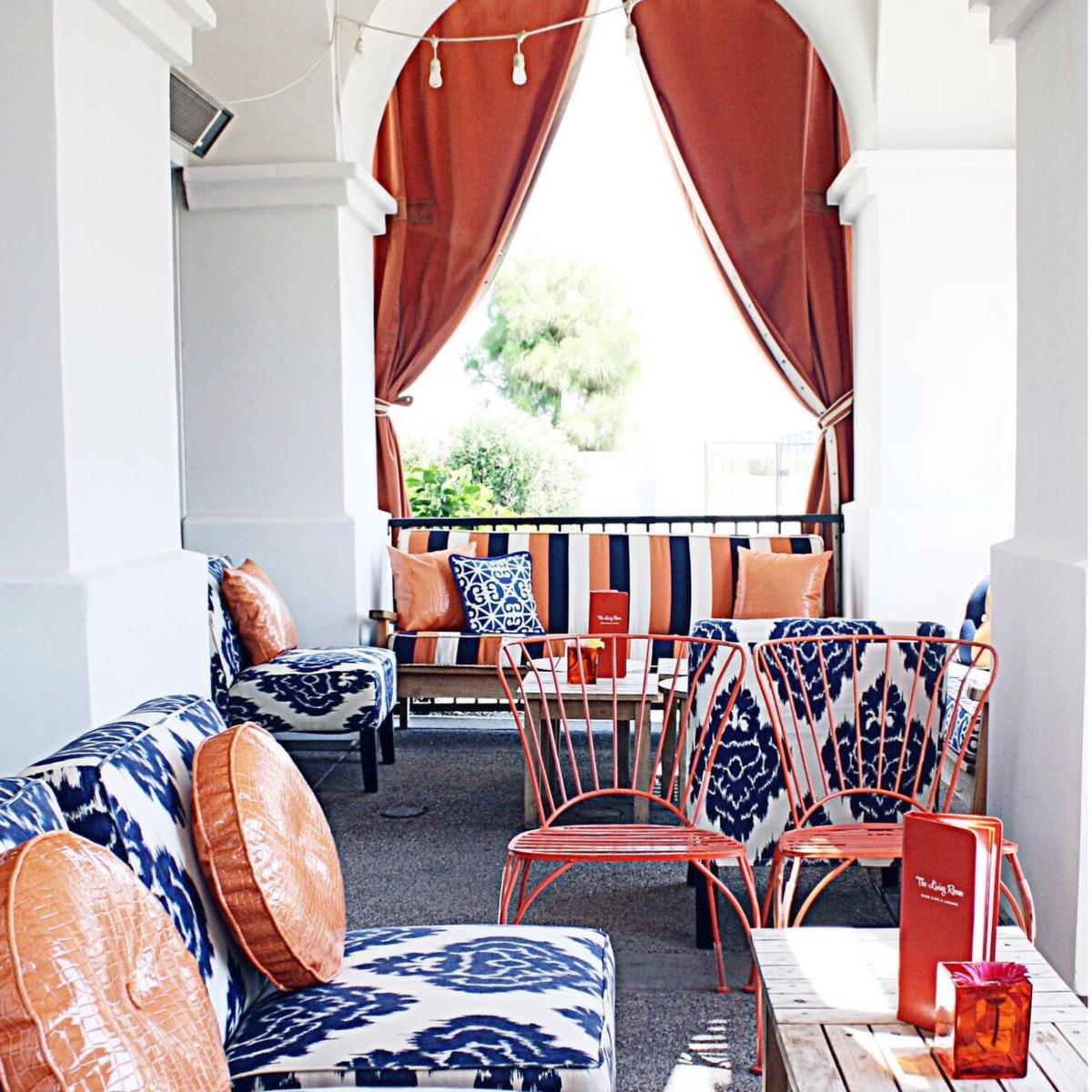 The Living Room Wine Cafe & Lounge
A hip neighborhood hangout, The Living Room Wine Café & Lounge has a great selection of reasonably priced wines, most for under $10. The deals get even better during happy hour, daily drink specials from 11 a.m. to 6 p.m., when a good number of wines by the glass are $5 and food specials from 3-6 p.m. As you unwind with a glass of wine, nosh on flatbread pizza, sushi rolls, lettuce cups, fondue, and more. 
Map: 2475 W. Queen Creek Road, Chandler 85248 or (480) 855-2848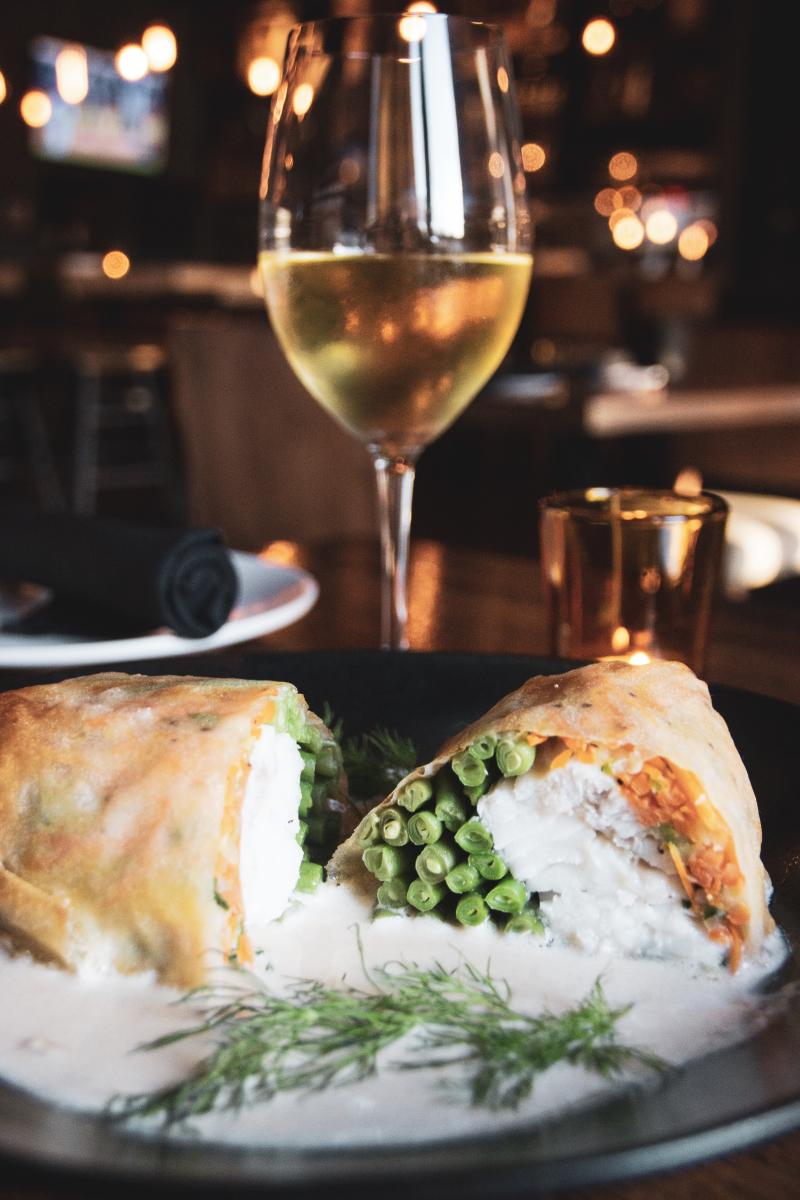 Cuisine & Wine Bistro
When it comes to French cuisine, nothing goes better together than a gourmet dinner paired with a tantalizing French wine. Just ask the folks at Cuisine & Wine Bistro, where sommelier Killian Buschetz has crafted an innovative wine list featuring wines from all over the world, but with a special emphasis on French wines from such regions as Cote d'Or, Bordeaux, and Rhone, among many others. Pair your glass with the Lobster Wellington, Quiche Lorraine, or the Beef Bourguignon and you'll feel like you've been whisked away to a quaint French bistro in the heart of Paris.
Map: 4991 S. Alma School Road, Chandler 85248 or (480) 275-6700

St. Amand Kitchen & Cocktails
Just east of the Price Road Corridor, St. Amand pays homage to the patron saint of brewers, bartenders and vine growers. A fitting name, of course, for this Chandler restaurant focused on serving an eclectic menu of old and new world flavors with a variety of beverages, including beer, mead, cider, port, sherry, madeira and house cocktails. When it comes to wines, however, St. Amand pulls out all the stops with its impressive list of vintages, from California Chardonnays, to Argentinian Malbec, to Sauvignon Blanc from New Zealand and are perfect to enjoy in the modern dining room or on the patio. If you enjoy your wine with a side of entertainment, have a sip while enjoying the musical stylings of live musicians who frequent the establishment.
Map: 3990 S. Alma School Road, Chandler 85248 or (480) 782-5550
The Wild Vine Uncorked 
Wood floors, brick walls, and leather chairs give The Wild Vine Uncorked an elegant, Old World feel at this tapas lounge and wine bar. Sip wines by the glass while enjoying tapas such as empanadas, ceviche, and artisanal meats and cheeses. Happy hour specials run daily from 4 p.m. to 6 p.m. with $2 off select tapas, and there's live music on Thursday, Friday, and Saturday nights.
Map: 4920 S. Gilbert Road, Chandler 85249 or (480) 883-3492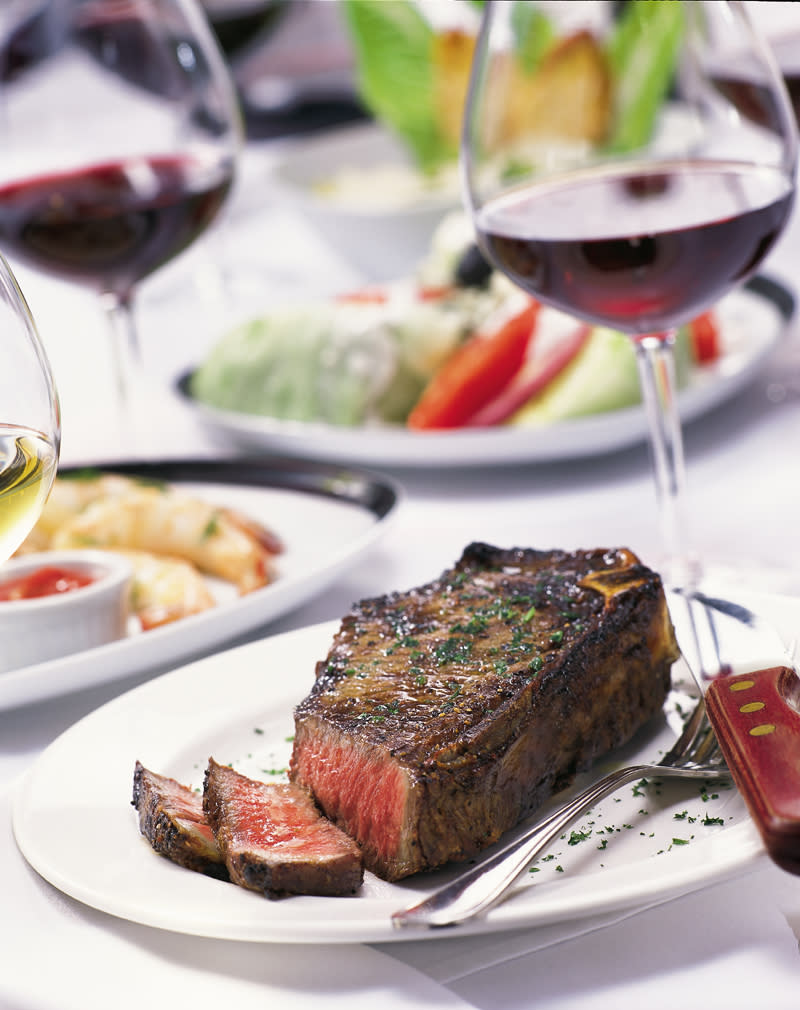 Fleming's Prime Steakhouse & Wine Bar 
Although it's known for the outstanding steaks and seafood served in its restaurant, Fleming's Steakhouse & Wine Bar also has an award-winning wine program with more than 100 wines by the glass, including several Arizona labels. Diners can select from suggested wine pairings or take part in one of the many wine dinner experiences offered by the west Chandler Fleming's.
Map: 905 N. 54th St., Chandler 85226 or (480) 940-1900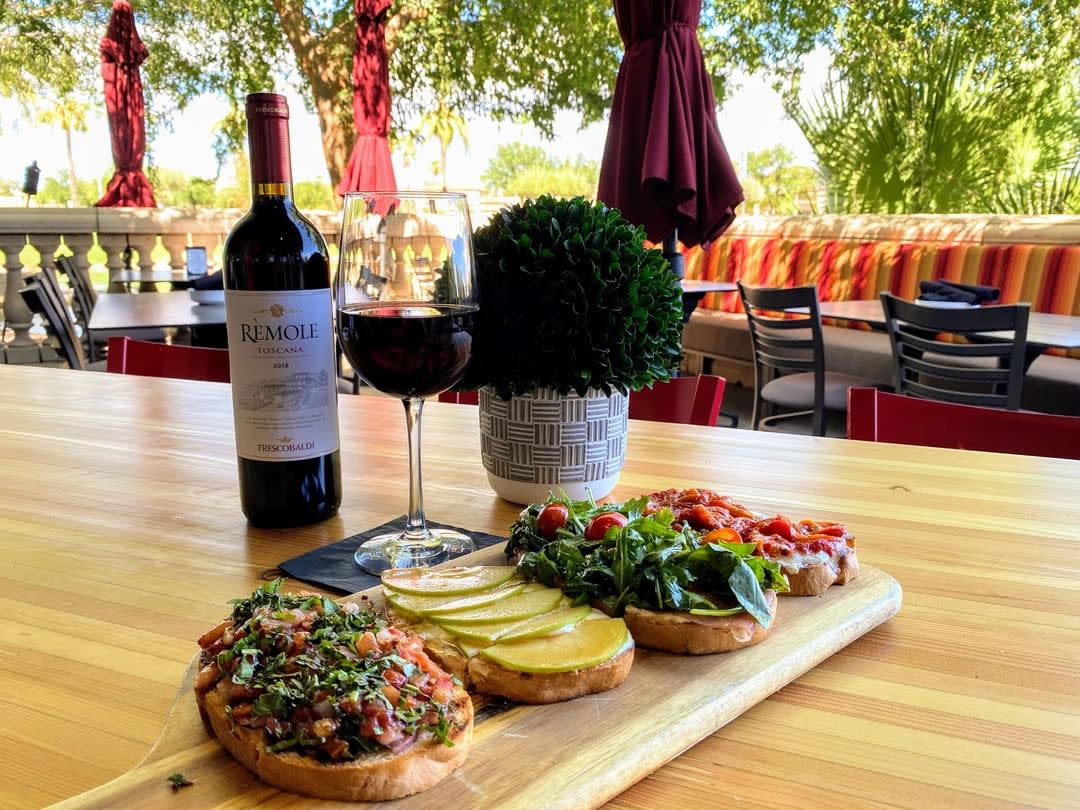 Stone & Vine Urban Italian
If you are looking for a wine bar with an incredible patio, head to Stone & Vine Urban Italian. The 5,000-square-foot patio overlooks a lake and has cozy seating next to a fireplace. Most glasses of wine on the menu will set you back $7 to $10 with select ones available for $6 during happy hour, 3 p.m. to 7 p.m. daily. If you're in the mood for bubbles, make sure to plan a visit to the Chandler restaurant for its weekend brunch, offered every Saturday and Sunday from 10 a.m. - 3 p.m. for bottomless Mimosas, Bellinis and Bloody Marys. 
Map: 1035 W. Queen Creek Road, Chandler 85248 or (480) 659-7438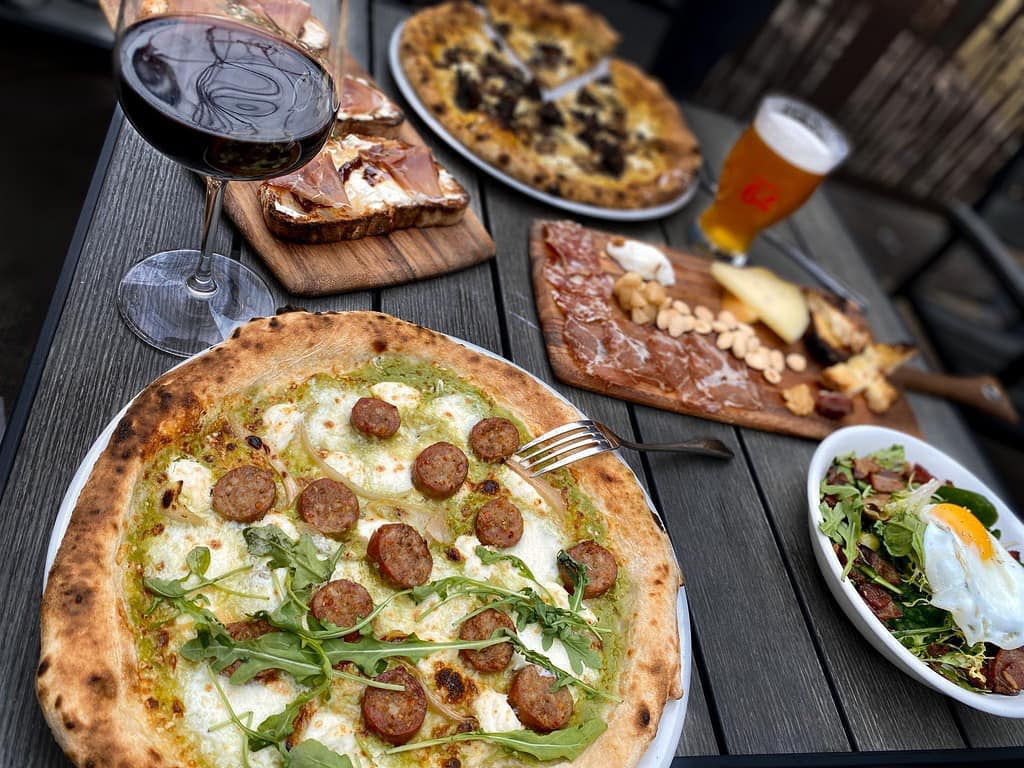 Craft 64
Known for its artisan pizzas crafted in a 900-degree, wood-fired oven, Craft 64 also boasts an impressive wine menu that includes more than 60 varieties. Featured wines include the Sentall Chardonnay from Napa with hints of fresh lemon, melon, green apple, pear, smoky vanilla and spice; and the eponymous Craft 64, a Pinot Noir Cuvee made in Willamette Valley, Oregon, complete with dark cherry, mulberry and black tea flavors. Whichever wine you choose, enjoy it al fresco at Dr. A.J. Chandler Park as part of Chandler's Dine in the Park program. Bring a blanket or lawn chair, and enjoy the evening with a glass of wine and one of Craft 64's signature pizzas.
Map: 68 W. Buffalo St., Chandler, 85225 or (480) 247-3002
DC Steak House
Nestled at the modern New Square development in Downtown Chandler, DC Steak House promises a high-end dining experience perfect for a romantic evening out or a special occasion with family and friends. To celebrate these moments, the restaurant offers a notable wine list featuring an array of vintages from the world's leading winemakers. Choose from an impressive list of red wines, hand selected white wines, and a sampling of lovely bubbles and rosés. Pair your glass with a delicious appetizer or entrée, including filet mignon, lamb chops, walleye pike, and lobster tail.
Map: 180 S. Arizona Ave., Chandler 85225 or (480) 899-4400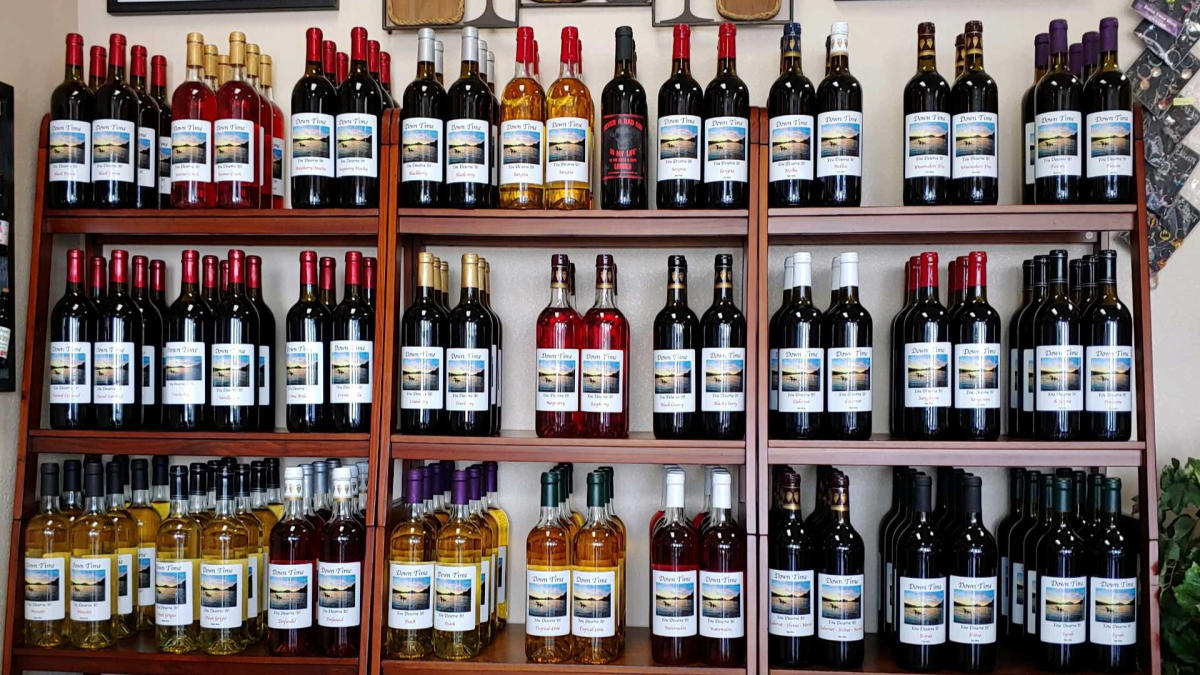 Down Time Wines
Part winery, part tasting room, part retailer, Down Time Wines is the neighborhood wine bar you've been longing for. Family-owned by Basil and Colleen Kaspar, the popular spot hand-crafts more than 30 wine varieties with juices sourced from rich wine-producing countries and regions like Australia, Italy, Chile, California and Washington State. Stop by for a wine tasting or place an order for curbside pickup or delivery.
Map: 393 W. Warner Road, Chandler 85225 or (480) 307-9296
Pesto's Italian Kitchen & Wine Bar
This well established. local restaurant is known for serving authentic Italian dishes alongside weekly live jazz sessions. The wine bar offers options for diners  with a robust list of 50 wines available by the glass or a number of wine flights for those who are interested in trying a little bit of everything or are feeling a bit undecided. Each of the six wine flights offered at Pesto's features a two-ounce pour of four different wines.  Food and drink specials are plentiful during happy hour, held daily from 2-6 p.m.
Map: 1960 W. Ray Road, Chandler 85224 or (480) 821-2949