To appeal to a health-savvy diner, many family-friendly Chandler restaurants are going beyond adding a simple veggie burger to their menus. Instead, they're offering very inspired and creative vegan dishes that even the most die-hard, animal-protein lover will find hard to resist.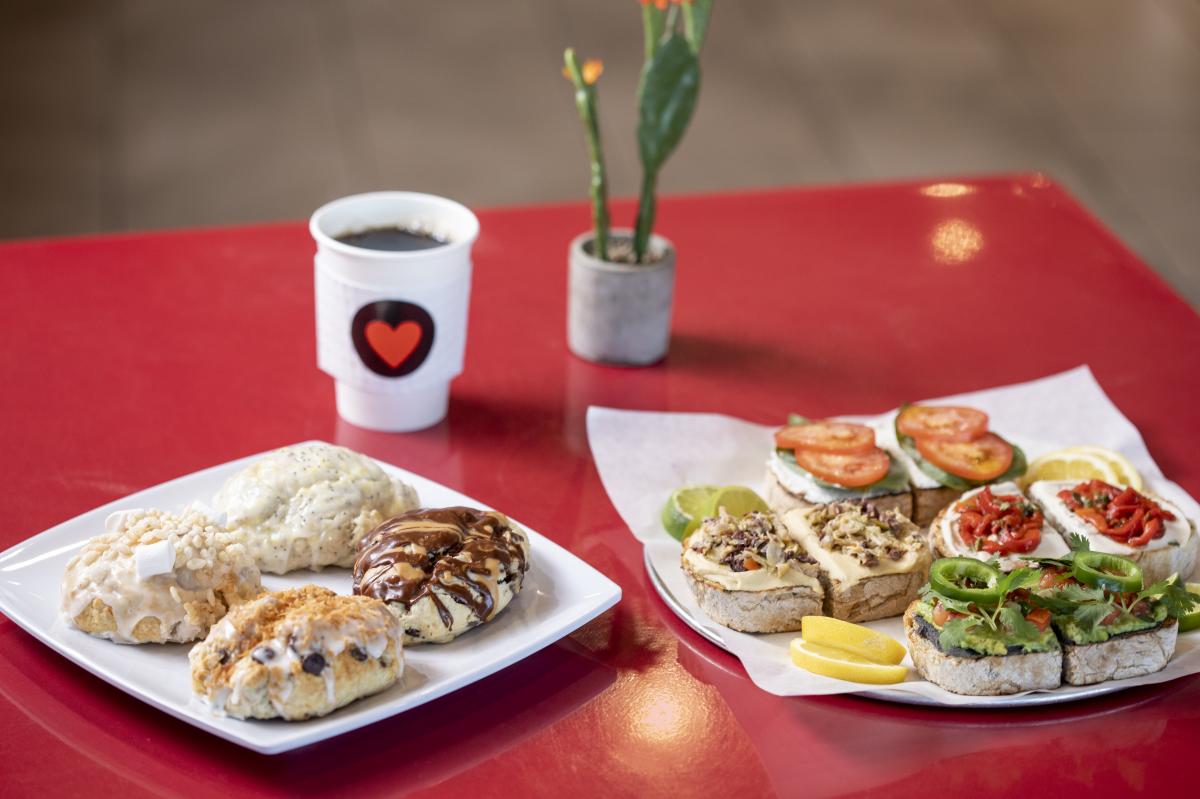 The Kind Bean
Kindness matters in life. It also matters in business, say the husband-and-wife owners of Kind Bean, a neighborhood café that has been serving Chandler since 2017. Self-proclaimed foodies and vegans, Clay and Jen Novick offer a variety of organic coffees, specialty drinks, grab-n-go breakfast and lunch options, and handmade sweets baked daily using organic flours, sugars and other ingredients when possible.
Standouts include the hummus bruschetta toast topped with house made hummus, sweet tomatoes, garlic, basil and Himalayan sea salt; and the green chile corn chowder made with creamy coconut milk, potatoes, corn, green chile, onions, carrots, celery and spices.
Map: 1020 E. Pecos St., Chandler AZ 85255 or (480) 726-8300
Ruchi Indian Cuisine
For the ultimate vegan experience, Ruchi Indian Cuisine delivers. The 100%-vegetarian restaurant offers a vast array of menu items from southern India, many of which are vegan and gluten-free. House specialties include the Gobi Manchurian, a deep-fried cauliflower sauteed with garlic, ginger chili and soy sauce; and the Chana Batura featuring puffy bread served with chickpea curry.
A visit to Ruchi wouldn't be complete without having a taste of their dosa, a thin crepe made from lentils and rice. There are a whopping 20 varieties to choose from, some filled with potatoes and onions; garbanzo beans and spices; or mint, cilantro and spices. Wash it down with a mango lassi, available in a vegan-friendly, dairy-free option.
Map: 2051 W. Warner Road, Chandler AZ 85224 or (480) 786-3333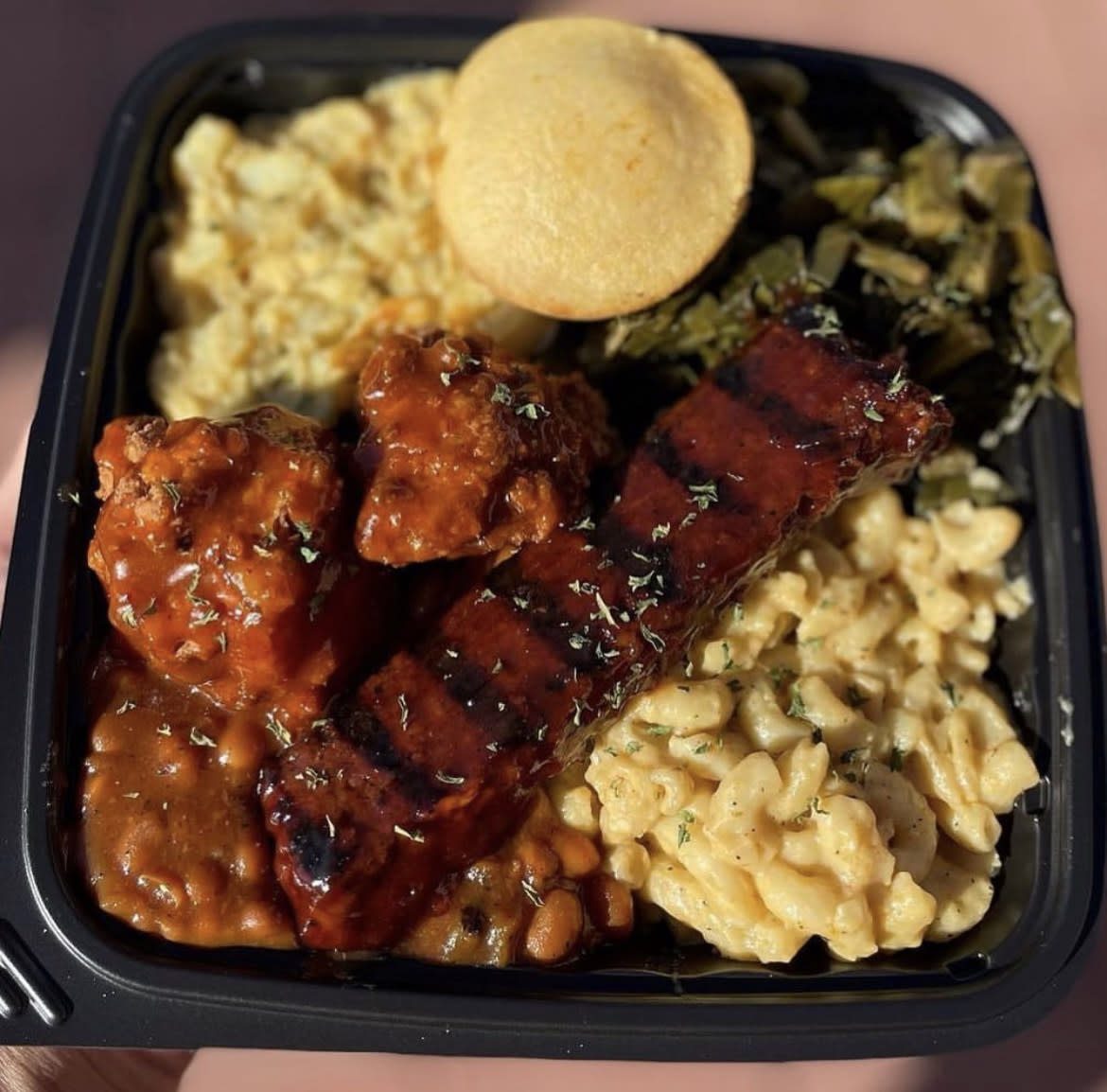 Nana's Kitchen
Contrary to popular belief, soul food doesn't need to be all chicken, catfish or pork chops. Just ask the good folks at Nana's Kitchen, where their version of down-home cooking brings a vegan-friendly twist to some of the classics. Must-try dishes include the Wangz Trio Platter, featuring fried cauliflower tossed with lemon pepper, buffalo, and barbecue sauces; and the Ultra Meeesy Fries, made up of potato French fries, jackfruit, salsa and Nana's own "magic sauces."
For the ultimate taste of Southern hospitality, you can't go wrong with Nana's Soul, offering your choice of barbecue fried cauliflower, fried "chicken" or plant-based ribs, collard greens, mac 'n cheese, and baked beans. End your feast with a serving of heart-warming peach cobbler.
Map: 777 N. Arizona Ave., Chandler AZ 85224 or (480) 963-9490

B.Y.O.V
From the same owners as Nana's Kitchen, comes B.Y.O.V, an all-vegan sports bar that's sure to satisfy those game day cravings. Feast on vegan "wangz" smothered in Honey Hot, Buffalo, BBQ, Jerk, Or Korean BBQ sauce or try one of their vegan Las Vegan Sushi roll that will leave you forgetting what actual crab meat tastes like. Not only do they have delicious food, they also have a full menu of mocktails, sure to leave you relaxed and refreshed.
Map: 777 N Arizona Ave Suite 3, Chandler AZ 85225 or (480) 690-6842

Tryst Café
Located in way-down-south Chandler, Tryst Café aims to please diners of all kinds. That's because the café offers a wide variety of options for breakfast, lunch and dinner (we counted more than 100), many of which are created specifically for the vegan diner.
Get your day off to a good start with the banana quinoa pancakes or the Asian jackfruit bowl, made with warm quinoa, chickpeas and jackfruit tossed in a chipotle peanut sauce. For lunch or dinner, try the kale wrap filled with hummus, kale, spring mix and vegetables; the hemp seed tamale topped with roasted poblano and corn sauce; or the house made sweet potato veggie burger. Served open faced, the patty is made with sweet potato, chickpea and oat, and is served on non-GMO wheat bread with a side of avocado and red pepper aioli.
Map: 4205 S. Gilbert Road, Chandler AZ 85249 or (480) 656-1011
Flower Child
At The Shoppes at Casa Paloma, Flower Child Chandler brings peace, love and an enlightened menu of bowls, grains, greens and wraps and lemonade, kombucha, and organic wine and beer to generate good vibrations.
While most of the menu is vegetarian-friendly, vegan dishes are generously peppered throughout. Try the Ginger Miso Crunch salad, or the Glow Bowl, made with spicy sweet potato noodle, bok choy, shiitake mushroom, coconut milk and sunflower butter. Vegan entrees are plentiful and include the butternut squash "risotto," Indian spiced cauliflower, and the red chile glazed sweet potato. Make it a sweet ending with the vegan chocolate pudding.
Map: 7131 W. Ray Road, Chandler AZ 85226 or (602) 834-0070