Whether you find yourself in town visiting for America's food-centric holiday or don't want to spend Thanksgiving toiling over a hot stove – you can leave the work to the professionals.  Several Chandler, AZ restaurants serve Thanksgiving dinner with all the trimmings while others offer to prepare a freshly made dinner for you for pick-up and one will even deliver to you.
Reservations are often required, so make your plans early with these options for where to eat Thanksgiving dinner in Chandler, AZ.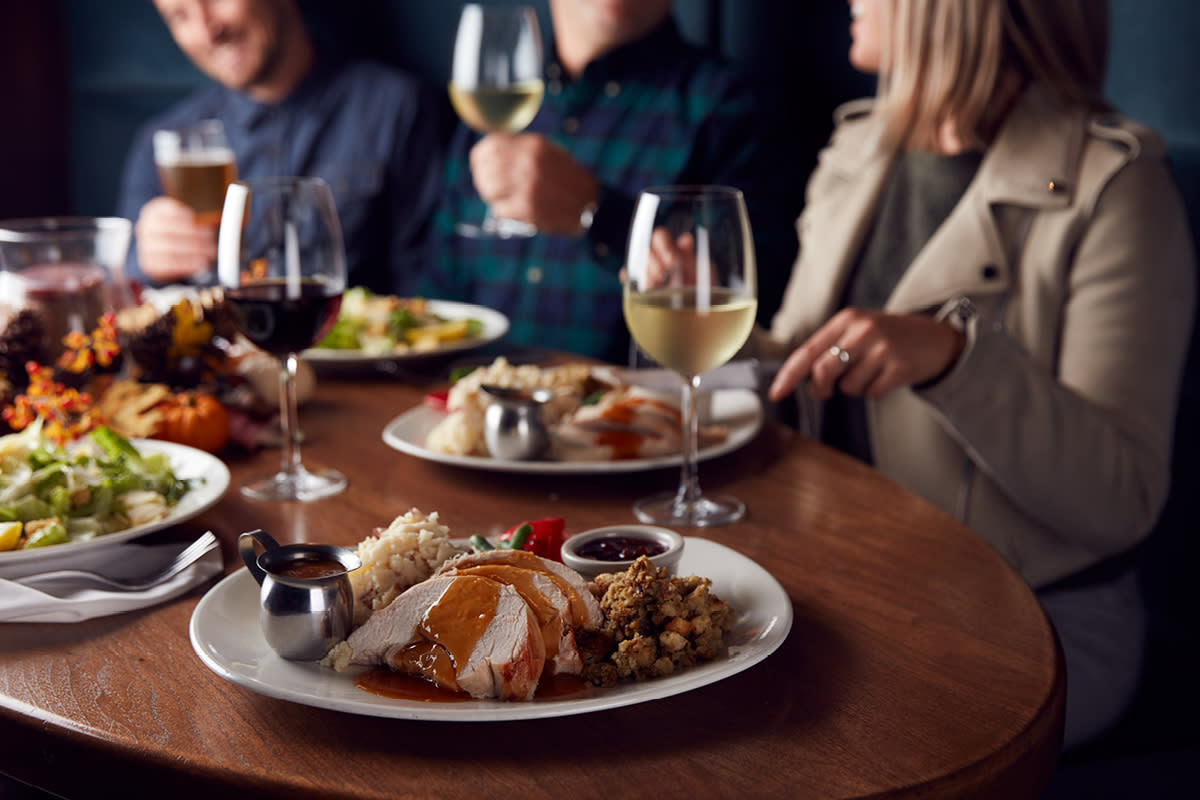 The Keg Steakhouse + Bar
Located near Chandler Fashion Center, The Keg Steakhouse + Bar will be offering a delicious, traditional three-course Thanksgiving menu featuring your choice of either a classic Caesar salad or their iceberg wedge salad, traditional turkey dinner, and cheesecake topped with pumpkin drizzle for only $30. Child portion menu is available.  And if your heart is set on one of their famous steaks, rest assured, their regular dinner menu is available as well.  Open 11 a.m. – 10 p.m.
If you go:  
Map:  3065 W. Chandler Blvd.
(480) 899-7500
Hilton Phoenix Chandler
Just east of the Loop 101 on Frye Road, the award-winning Hilton Phoenix Chandler hotel will feature a traditional Thanksgiving Day Buffet, $38 for Adults, $9 for kids ages 5 -12, and those 6 and under are FREE. Dishes included roasted beet salad with coffee caramel vinaigrette, herb-roasted turkey with dark meat confit, honey achiote glazed ham, cranberry almond dressing (stuffing), baked macaroni and cheese, sesame roasted broccoli, honey ginger baby carrots, mashed potatoes, orange scented candied yams and cranberry chutney.  Dutch-style apple and pumpkin pie complete the meal. Reservations available from 4:00 – 8:00 p.m.
If you go:
Map: 2929 W. Frye Rd.
(480) 899-7400
Buca di Beppo
Want to do something a little different on Thanksgiving this year? Buca di Beppo offers three ways to celebrate Thanksgiving.  In-house diners may order or add in items from the restaurant's classic menu featuring authentic Italian dishes or enjoy a traditional turkey dinner including roasted garlic mashed potatoes, spicy Italian sausage stuffing, green beans and more.  
Other dining options include ordering a complete Thanksgiving dinner to go or having the restaurant deliver directly.  The take-out menu features the same dishes and comes in options to serve three ($68.99) or five ($139.99). Just be sure to place your order by 4 p.m. on November 27th. Packages are available for pick-up beginning at 10 a.m. on Thanksgiving Day.
If you go: 
Map: 7111 W. Ray Rd.
(480) 785-7272

Chompie's
The Chandler location of Chompie's has two options this Thanksgiving. You can enjoy an individually plated, traditional holiday meal in the restaurant featuring sliced, oven roasted turkey with stuffing, cranberry relish, mash potatoes, candied hams, green beans, fresh baked dinner rolls, and a slice of pumpkin or apple pie ($20.99 per person and $9.99 for Kids 10 & Under).  Chompie's is open till 4 p.m. on Thanksgiving. 
Looking for more convenience, pre-order a complete meal including turkey and all the fixings (feeds up to 15 for $249.99) or select few items to supplement your meal as Chompie's offers a la carte items ranging from stuffing and pies to matzo ball soup.  Place your order for dinner packages a minimum 72 hours in advance of pickup. 
If you go:
Map: 3481 W. Frye Rd.
(480) 398-3008
Fleming's Prime Steakhouse & Wine
Fleming's Prime Steakhouse & Wine offers a holiday menu on Thanksgiving Day till 8 p.m. for $48. The Chandler restaurant will be serving guests a three-course dinner featuring a traditional turkey entree with all the trimmings or opt for the filet mignon, reservations starting at 11 a.m.  Start with your choice of salad or lobster bisque, then select either the petite filet mignon or herb-roasted turkey breast served with fresh cranberry sauce, house-made stuffing, mashed potatoes and green beans. Your choice of pumpkin cheesecake or chocolate gooey butter cake rounds out the meal. A three-course children's menu is available for $22 for children 12 and under.
If you go:
Map: 904 N. 54th St.
(480) 940-1900
Galeto Brazilian Steakhouse
It's a one-of-a-kind dining experience at Galeto Brazilian Steakhouse and Thanksgiving is a perfect time to share it with your friends and family.  Located in west Chandler in The Shoppes at Casa Paloma, the Chandler steak house will be offering a Thanksgiving Feast for lunch or dinner, open noon to 9 p.m.  The feast includes more than 54 items at their gourmet table to complement their 16 rotisserie meats.
If you go: 
Map: 825 N. 54th St.
(480) 744-0130