Growing up, doughnuts have always had a magical appeal - a perfect weekend treat and an opportunity to have cake for breakfast. In recent years, the doughnut seems to have experienced quite a comeback, with doughnut aficionados clamoring for the best glazed, frosted, and sprinkled pastry delights. Well doughnut lovers, have no fear - Chandler is home to some of the best Arizona doughnut shops and we have a list for you - just in time for the weekend and to help celebrate National Donut Day - June 3, 2022!  

Bosa Donuts
A longtime staple in the Chandler community and local legend, Bosa Donuts now has three Chandler locations offering a more traditional, no-frills donut shop experience. With a classic donut bar, diners are presented an array of cake and raised donuts and bars...their apple fritter is quite popular with lots of apple chunks and crispy edges. 
Map: 655 N. Arizona Avenue, Chandler AZ 85225 or (480) 899-7134
Map: 2990 N. Dobson Road, Chandler AZ 85224 or (480) 899-4999
Map: 4015 S. Arizona Avenue, Chandler AZ 85248 or (480) 895-8955

Duck Donuts
Warm, delicious, and made-to-order Duck Donuts located in south Chandler is nationally known for their sweet treats. Their cake-style donuts include seasonal options, a variety of fan favorites or customize your own for the ultimate donut. 
Visit Duck Donuts in-store on Friday, June 3rd, 2022 for a FREE cinnamon sugar donut to celebrate this delicious holiday! 
Map: 4040 S. Arizona Ave., Chandler AZ 85248 or (480) 350-7763
Boba & Donuts
Locally owned and operated, this gem is great for an afternoon pick-me-up, as Boba & Donuts not only serves up a variety of fresh donuts and hand-crafted Boba drinks, but they also offer coffee and ice cream. It is sure to be a crowd-pleaser.
Map: 6165 W. Chandler Blvd.Ste. 3, Chandler AZ 85226 or (480) 785-4895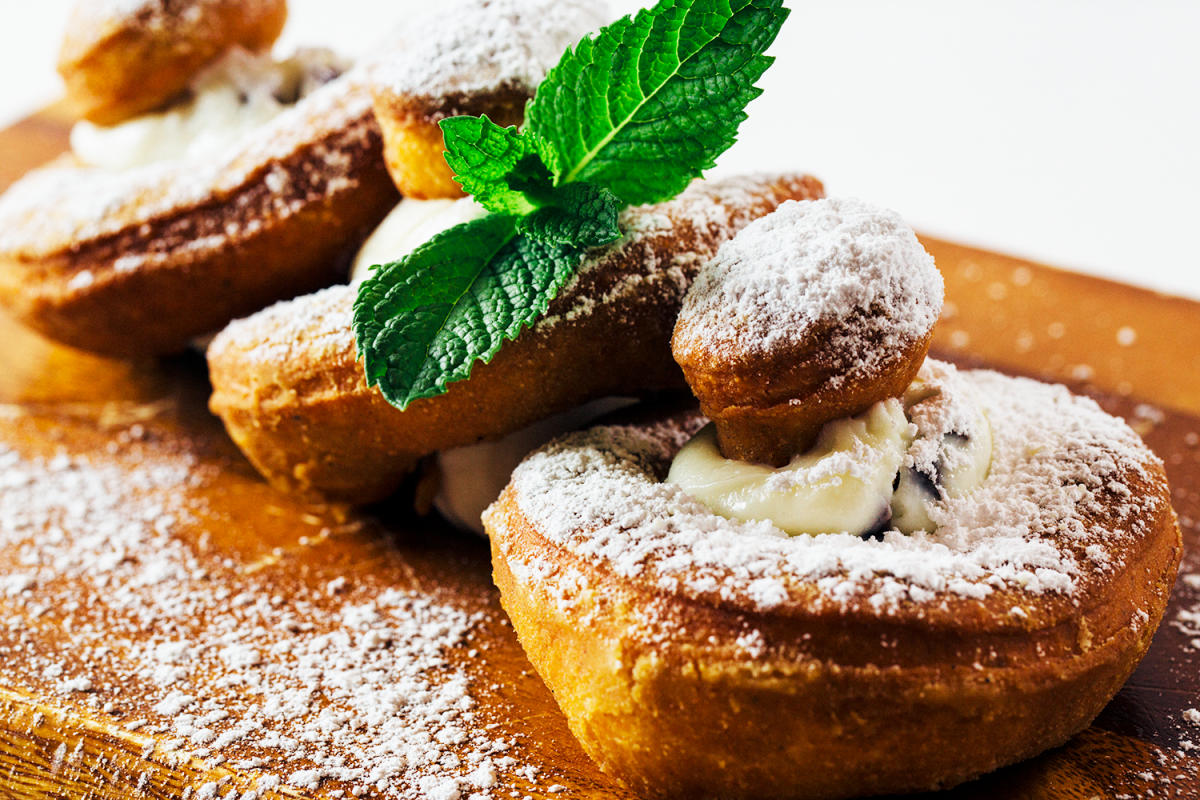 Hash Kitchen
Fried to order, the boozy-brunch spot offers their craveable starter, the Cannoli donuts.  Filled with sweet cannoli cream and dusted with just the right amount of powdered sugar is a must-have at this local, Arizona restaurant as Hash Kitchen's donuts tend to disappear quickly.
Map: 2855 W. Ray Road, Chandler AZ 85224 or (480) 909-4270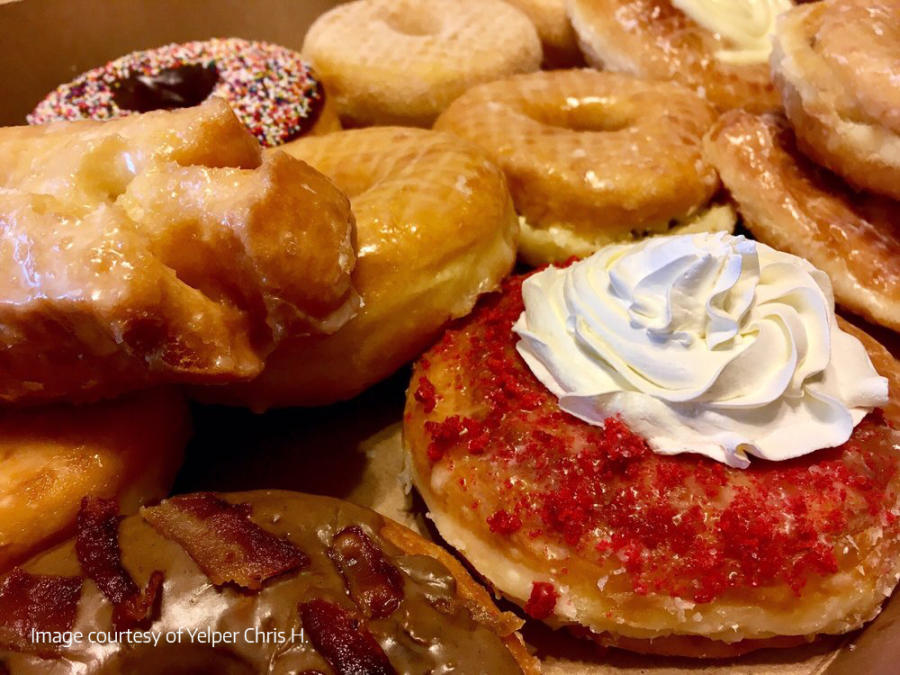 Rainbow Donuts and Smoothies
From fantastic fritters to mouth-watering cronuts (croissant doughnut) to one-of-a-kind treats like their famous Maple Bacon doughnut to their more unique combinations like the powdered green tea or taro cronut - you are in for a treat when you step into Rainbow Donuts. This family-owned operation also features a variety of savory croissant sandwiches, smoothies, and Boba drinks.
Map: 1960 W. Ray Road, Chandler AZ 85224 or (480) 963-8888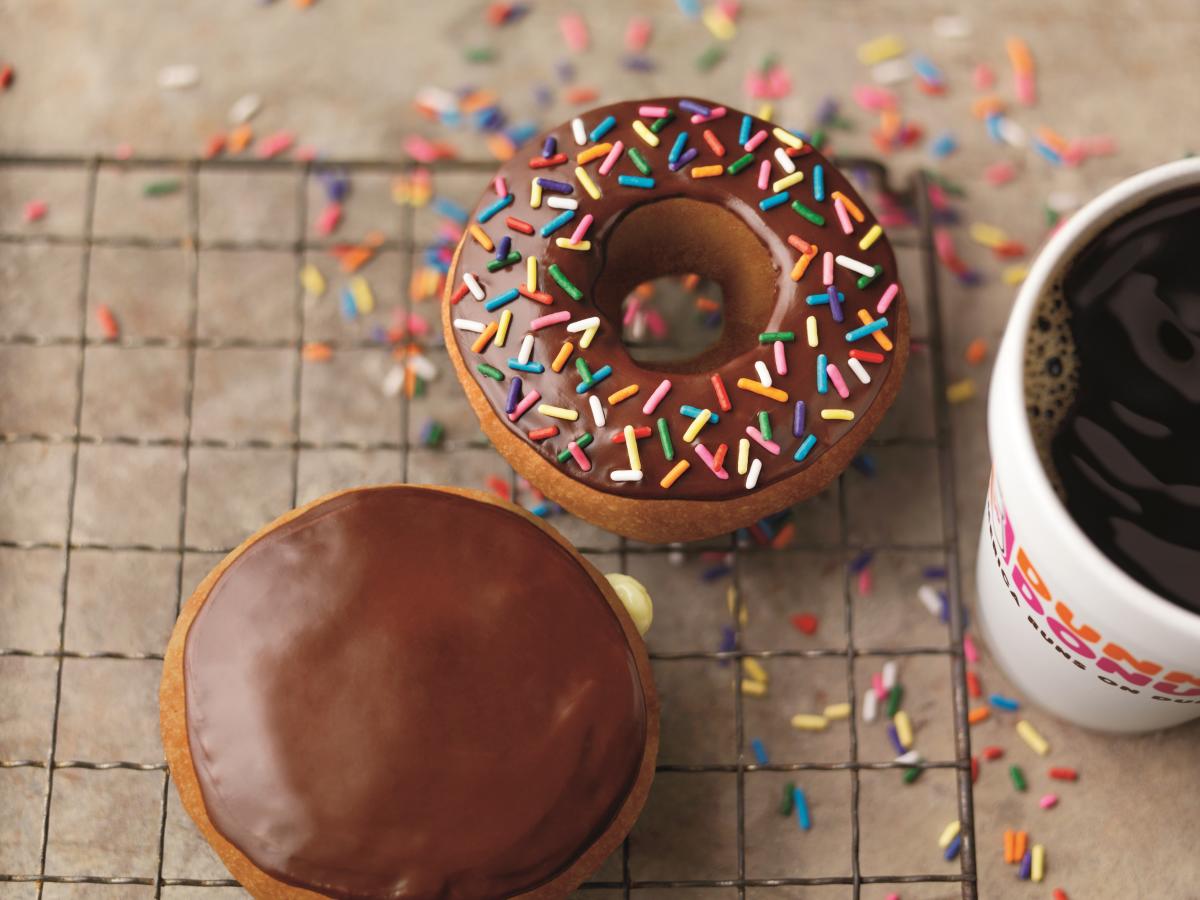 Dunkin' Donuts
For many of us, the first mention of a doughnut shop brings forth memories of the infamous Dunkin' Donuts commercial exclaiming it's time to make the donuts! A powerhouse of doughnuts, Dunkin' Donuts has been serving up doughnuts and coffees to diners near and far and has four locations in Chandler. On a side note, 'doughnuts' is the dictionary approved spelling for these wonderful pastry gems, but the shortened 'donuts' has been around since the 1800s but became popular in the 20th century with the rise and expansion of this successful doughnut operation.  
Map: 2051 W. Chandler Blvd., Chandler AZ 85224 or (480) 940-2458
Map: 2021 S. Alma School Road, Chandler AZ 85248 or (480) 821-9761
Map: 2001 N. Arizona Avenue, Chandler AZ 85225 or (480) 726-3772
Map: 1970 W. Elliott Road, Chandler AZ 85224 or (480) 897-9728
Map: 4225 S Gilbert Rd, Chandler, AZ 85249 or (480) 923-7262
Map: 990 E Riggs Rd, Chandler, AZ 85249 or (480) 895-2224
Map: 980 E Pecos Rd, Chandler, AZ 85225 or (480) 770-3935
Have fun this weekend making memories and discovering your favorite Chandler doughnut shop!  We would love to hear about your favorite finds!