Chicken wings have become a favorite amongst sports fans and a staple at many Chandler sports bars and restaurants. If you've ever needed an excuse to eat chicken wings all day, this is it. July 29th is National Chicken Wing Day, and there's no better way to celebrate this finger lickin' good food than with a plateful of tasty wings (and maybe a napkin or two).
Quite a few Chandler restaurants serve chicken wings, but we've curated a list of the best places for chicken wings in Chandler making it convenient to enjoy these crowd pleasers out and about in Chandler or by takeout to enjoy in the comfort of your Arizona hotel. Here is where wing experts can expect to find some of the best chicken wings in Chandler, AZ.
ATL Wings
A local favorite wing chain, ATL Wings serves theirs both traditional bone-in and boneless with a dry rub, hot sauce or BBQ sauce. Rub varieties include ATL style, lemon pepper, ranch, garlic parmesan and garlic pepper while hot sauces range from mild to toxic. If you prefer sauce, choose from their 18 award-winning wing sauces including BBQ, honey habanero, honey mustard, citrus chipotle, teriyaki and more .
Wings come with homemade blue cheese or ranch dressing and can be rounded out with sides ordered separately like fries, cheese fries, beans or homemade biscuits. If the wings get too spicy, douse the heat with fountain drinks or Kool-Aid on tap.
Map: 70 W. Warner Rd., Chandler AZ 85225 or (480) 722-9464

Sawtooth Bar & Grill
This neighborhood sports bar is a go-to for local chicken wing fans. Diners may opt for boneless or bone-in wings and select from two dozen sauce options including a variety of honey hot and garlic parmesan sauces ranging from mild to hot including a mango habanero, a citrus chipotle, salt & pepper and salt & vinegar chicken wing sauce. More traditional hot sauces from mild to hot are available.
Wings at the Sawtooth Bar & Grill are served with or without tots and come with celery, carrots and your choice of bleu cheese or ranch dressing. 
Map: 4929 W. Ray Rd., Chandler AZ 85226 or (480) 753-4772
The Hungry Monk
This local Chandler sports bar specializes in pub grub, so it's no surprise it does wings right. Choose between bone-in or boneless wings available fried or grilled. Then, decide on how much heat you think you can take: regular, hot, extra hot or nuclear. Finally, pick your sauce. Options include original Buffalo, Cajun, honey hot, lemon pepper, Jamaican, honey mustard, parmesan garlic, roasted garlic, teriyaki and Thai peanut.
Wings at The Hungry Monk come with complimentary house-made ranch or bleu cheese dressing. Enjoy yours with a pint of craft beer from local Arizona breweries including Chandler's very own SanTan Brewing Company and Four Peaks Brewery.
Map: 1760 W. Chandler Blvd., Suite #2, Chandler AZ 85224 or (480) 963-8000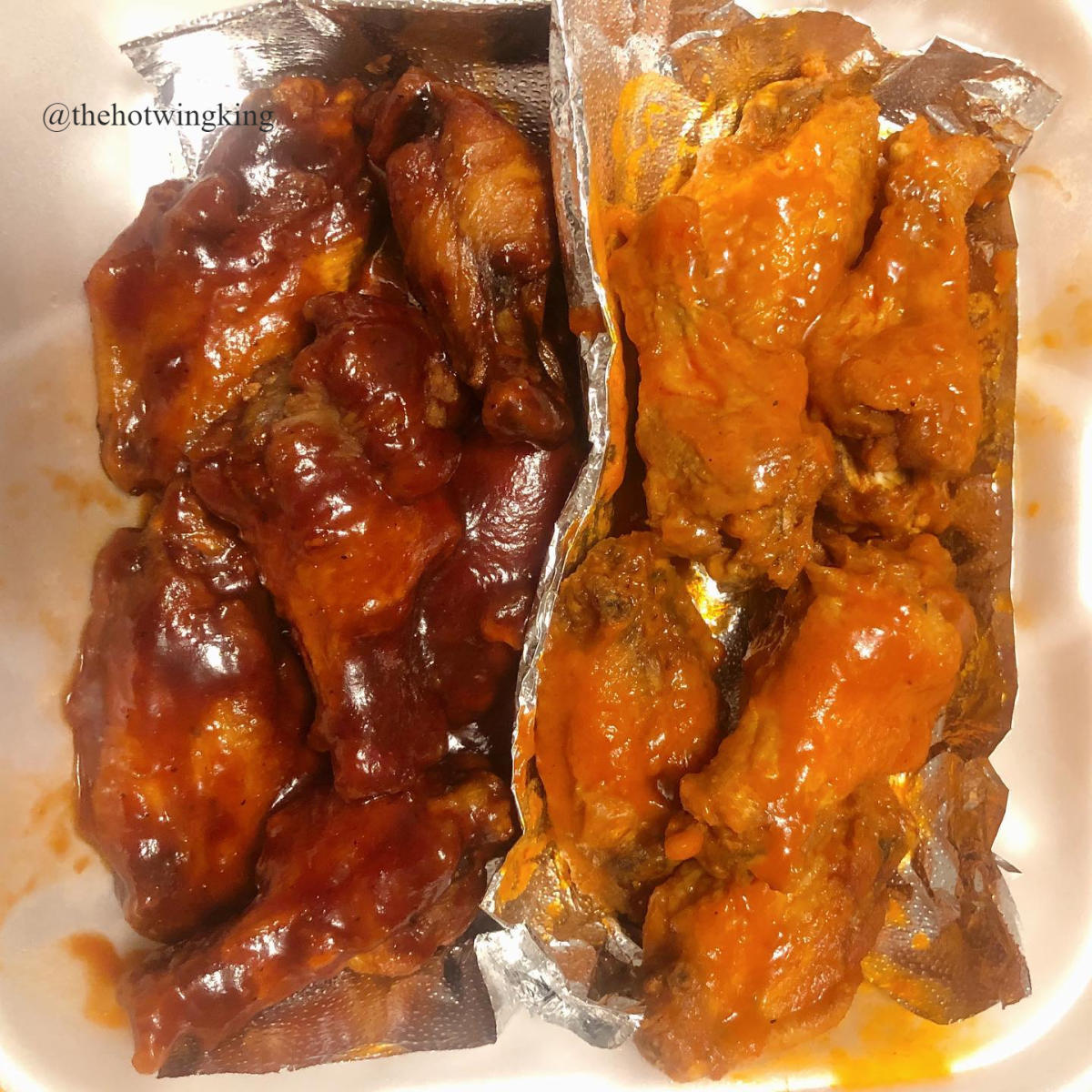 Louisiana Fried Chicken & Wings
Louisiana Fried Chicken & Wings claims its owner perfected a chicken recipe he personally received from New Orleans chef Paul Prudhomme. Whether true or not, the Chandler restaurant knows its chicken. And that includes wings.
This quick-serve restaurant sells bone-in and boneless wings in orders from six to 96 pieces and offers convenience with its drive-through window. Flavors include plain, mild, hot, medium hot, honey BBQ, lemon pepper, Asian, teriyaki ginger and spicy honey garlic with a few fun additions like salt and jalapeno. 
Map: 1016 N. Arizona Ave., Chandler AZ 85225 or (480) 726-0741
SanTan Brewing Company
SanTan Brewing Company dishes up some of the tastiest pub food of any craft brewery in Arizona. Its wings are no exception. The pub-style wings come dressed in your choice of Buffalo, pineapple habanero BBQ or Cajun sauce with bleu cheese or ranch dressing on the side. Carrots and celery are available on request.
Add an order of buttermilk onion rings or basket of ale-battered fries paired with the award-winning Mr. Pineapple or flagship brew, Devil's Ale, for a tasty meal. If you prefer IPAs, the HopShock IPA perfectly offsets spicy wings.
Map: 8 S. San Marcos Pl., Chandler AZ 85225 or (480) 917-8700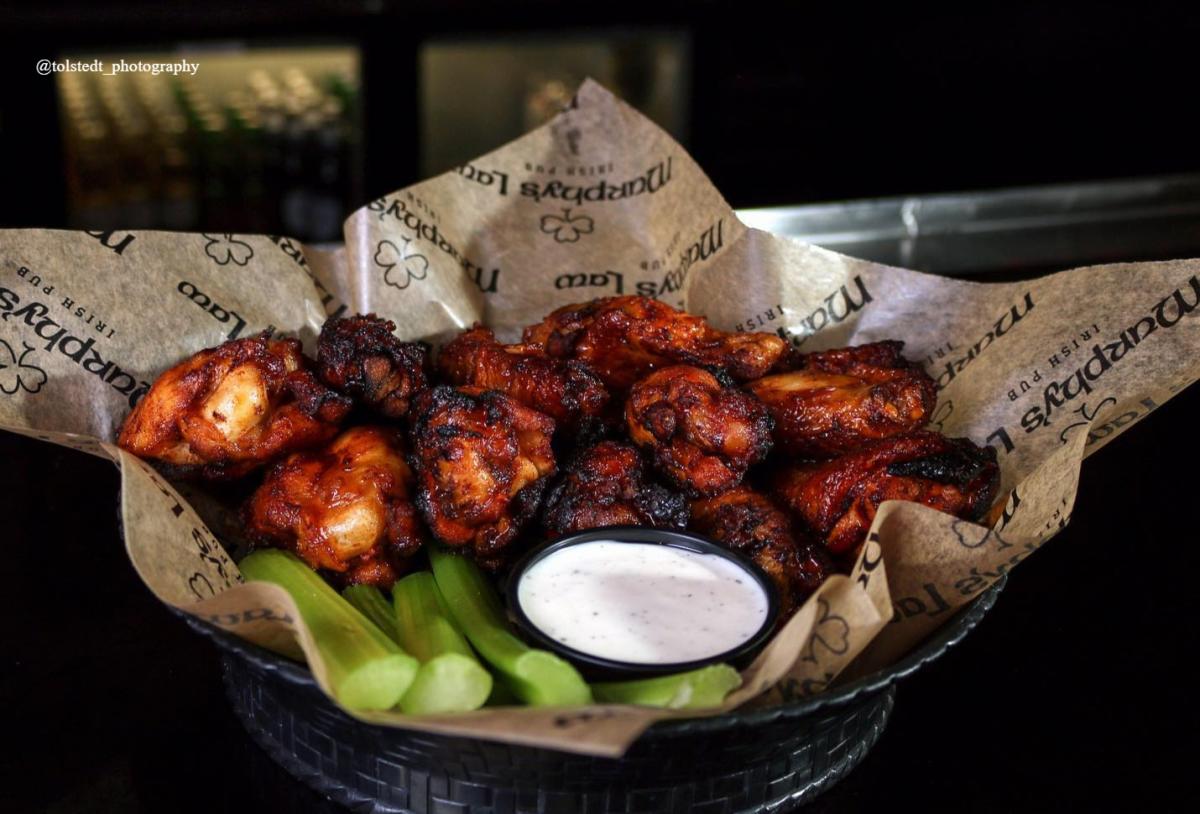 Murphy's Law
An Irish bar probably isn't the first place that comes to mind when you think wings, but Murphy's Law has some of the tastiest, unconventional chicken wings in Chandler. The bar smokes, then fries, its wings before tossing them in its special Jameson Irish Whiskey wing sauce. While you can still order your wings in a Buffalo sauce, you would be missing out if you do.
Murphy's Law has a great selection of craft beer to accompany its wings as well as an extensive whiskey menu featuring Bulleit, Jack Daniel's, Knob Creek, Maker's Mark, Woodford Reserve and others.
Map: 58 S. San Marcos Pl., Chandler AZ 85225 or (480) 812-1588