The Stillery has brought an authentic piece of Nashville to bustling Downtown Chandler with its nightly live country music performances, mason jar cocktails, and spicy Nashville hot chicken sandwiches. The gastropub's first two locations were opened by business partners Steve Sargent and Steve Kovach in the heart of Nashville and in late 2020, the two Arizona natives decided to bring the concept to their home state.
"The spot in Chandler became available to us a couple of years ago and it felt right," says Sargent. "We both have a bunch of friends out here, so we had that connection. And since it's Steve Kovach's hometown, it made sense."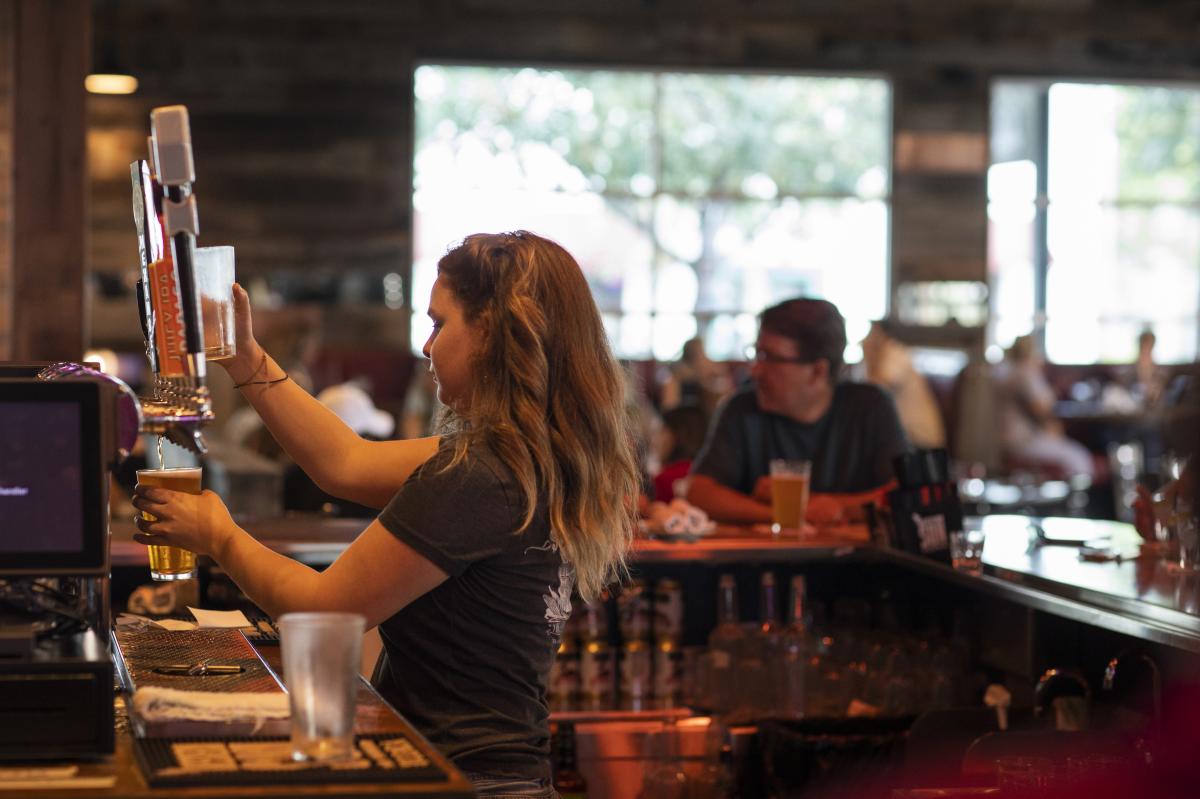 When guests arrive, they're welcomed by country music, a warm atmosphere, and a horseshoe bar serving up local beers, wines by the glass, and a variety of classic and creative cocktails. Start your experience with the sweet, bourbon-heavy Stillery Sour with blackberry jam or the best-selling Blueberry Smash crafted with blueberry vodka, smashed blueberries, simple syrup, lime, and soda.
For lunch and dinner, diners can look forward to rustic pizzas, hearty sandwiches, creative burgers, and salads. However, before you pick your entrée, you won't want to skip the selection of starters, which range from the meat-and-cheese-topped snack board to the cast iron wings and Sriracha deviled eggs. While it's hard to go wrong with a main course, you'll get the full Nashville experience with the Hot Chicken sandwich made with a generous portion of crispy chicken, fried pickles, lettuce, tomato, and creamy bleu cheese.
"We've become known for our Hot Chicken sandwich," Sargent says. "It's a Nashville thing and it's probably our No. 1, most popular item."
When it comes to burgers, it's hard to top the one-of-a-kind MC Burger with cheddar, bacon, prosciutto, fried egg, and roasted garlic aioli on an oversized English muffin. Plus, each burger is sure to satisfy with its double patties made with a house-ground mix of brisket, chuck, and pork belly.
There are also nearly a dozen brick oven pizzas to choose from. Stick with the hot chicken theme with the Hot Chicken Pie served on a ranch crust, opt for an elevated pepperoni, or try the mouthwatering Brussels sprout pizza made with garlic oil, caramelized onion, roasted Brussels sprouts, bacon, mozzarella, parmesan, and fresh herbs. House specialties include mac 'n cheese, Hot Chicken tenders, and catfish with house-cut fries. The must-have is the hanger steak grilled to perfection and topped with compound butter served alongside fries and greens.
The Stillery is also the perfect spot for a Southern weekend brunch with its shareable beignets, variety of eggs Benedict dishes, house-made biscuits with gravy, hot chicken and waffles, and chorizo pizza with scrambled egg, queso, mozzarella, cheddar, and a generous portion of chorizo— all which pair perfectly with one of the three Bloody Mary offerings, a mimosa or Bellini. 
While the grub will keep you coming back for more, the live country music—which diners can enjoy seven nights a week—will make you a fan for life.
"On Friday, Saturday, Sunday evenings, we feature a full band," says Sargent. "It draws a good crowd, and you get a lot of people dancing, having a good time. During the weekend, we even fly one of our artists from Nashville in to play three or four shows. It brings that authenticity."
Map: 130 S. Arizona Ave, Chandler, AZ 85225 or (480) 590-1409