The Perch is the type of brewery you tell friends about—the beer is outstanding, live music plays five nights a week, and the misted patio is home to more than 70 rescue birds. It also boasts one of the best rooftops in the Valley following a $1.5 million renovation that tripled its size.
"We hear that it's like being in Las Vegas when you're on the roof," says owner Rebecca Lavenue. "There are high-end, stainless steel designer panels and an upgraded lighting system. We used a crane to get a 1957 Grumman bread truck up there."
The truck serves shareable foods available only on the roof, including three types of tacos, two bruschetta options, house made chicharrons, and meatball sliders. Munch on these as you sip a cold beer from one of the rooftop's 60 taps, some of which are exclusive to the upstairs bar.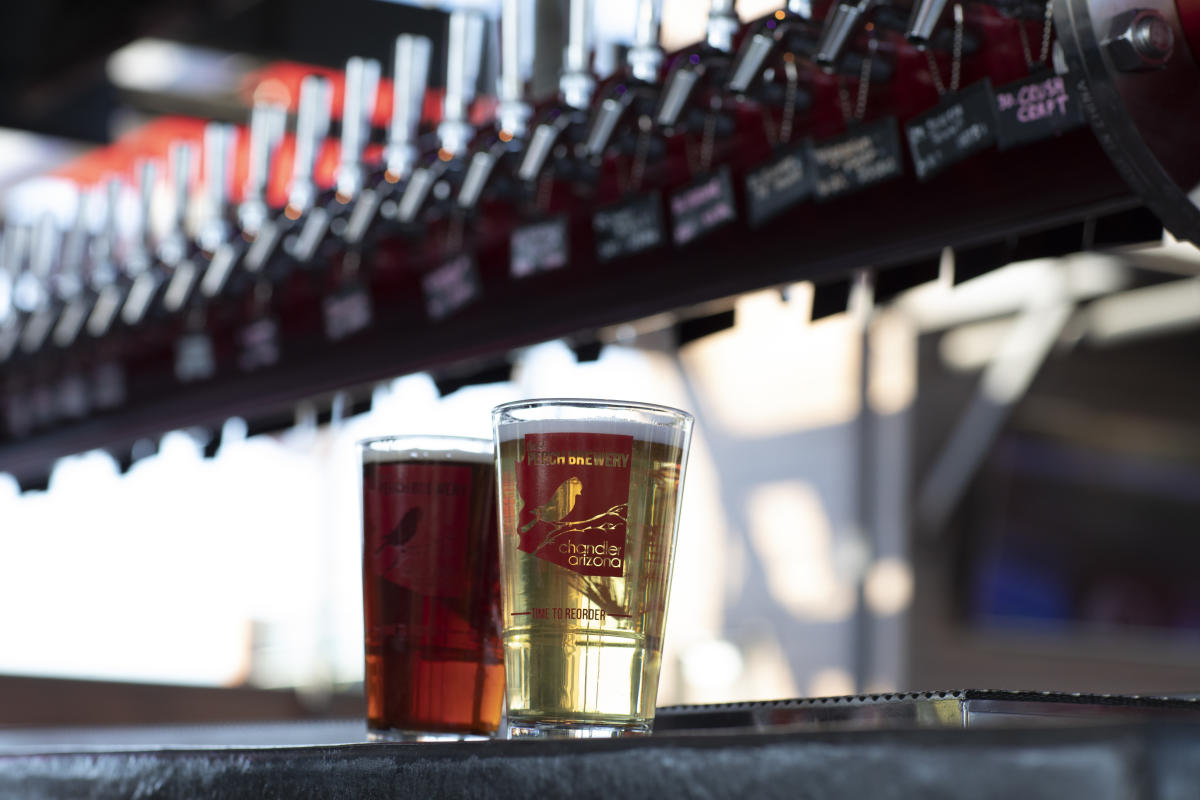 Adding to that Vegas atmosphere, the roof has 11 new TVs, and music plays most nights and twice on Saturday and Sunday.
However, one of the most appreciated upgrades is the addition of four bathrooms on the roof. "People are glad they don't have to go downstairs anymore," Lavenue says.
You don't need a reservation to enjoy the rooftop. The 6,000-square-foot area can accommodate more than 400 people and is perfect for a group outing. During the summer, it's open Wednesday and Thursday from 6 to 11 p.m., Friday from 6 p.m. to 1 a.m., Saturday from noon to 1 a.m., and Sunday from noon to 10 p.m.
The rooftop wasn't the only part of the Chandler brewery that got a makeover; the patio expanded from 600 to 1,200 seats. By removing a building on the property, Lavenue says she was not only able to increase the number of tables, but to also spread them out, allowing guests to better maintain their social distance from one another.
What hasn't changed is the great beer and food. The Perch Brewery taps an eclectic mix of beers brewed onsite, ranging from the popular All Saints Hefe, a refreshing hefeweizen, to the Sweet Potato Fi, a sour. Not in the mood for beer? Try an Adult Capri Sun, a spiked pouch drink concocted by the brewery's creative mixologists, or a glass of wine.
In addition to burgers, tots, and other pub fares, The Perch serves seared salmon, pork shank, braised beef short rib, and woodfired pizza for dinner and salad, wraps, and sandwiches for lunch. On the weekends, come for brunch to sample egg-topped tamales, chicken and waffles, or buttermilk pancakes.
Located in Downtown Chandler, The Perch is open Tuesday through Thursday from 4 to 11 p.m., Friday 11 a.m. to 1 a.m., Saturday from 9 a.m. to 1 a.m., and Sunday from 9 a.m. to 10 p.m. Happy hour runs Tuesday through Thursday from 4 to 6 p.m. with drink specials that include $2 off The Perch beers, $1 off well liquor, and $1 off house wines, as well as $6 appetizer specials.
Map: 232 S. Wall St., Chandler AZ 85225 or (480) 773-7688