Undoubtedly the heart of the suburbs, south Chandler has its fair share—and then some—of busy and bustling restaurants and eateries, including authentic Vietnamese cuisine, Mediterranean fare, and Chicago-style pizza. From a long-standing, family-owned sushi spot to an outpost of a beloved local sports bar chain, discover these eight stellar Chandler restaurants. 
BLD Chandler 
BLD (that stands for breakfast, lunch, and dinner) serves up farm-fresh comfort food. The light-filled restaurant exudes a contemporary, upscale-diner vibe with just a dash of quirk (walls are dotted with a variety of clocks) and the menu here is massive. Diners can pick from salads, burgers, steaks, tacos, sandwiches, and a variety of breakfast options, which, notably, BLD serves all day. Morning, noon or night, dig into hearty egg dishes like the South of the Border omelet, buttermilk fried chicken and waffles, or New York strip steak and eggs. Pair your meal with a variety of smoothies and espresso-based drinks like the Razzmatazz, a concoction of espresso, milk, raspberry syrup, and white chocolate.
1920 W. Germann Road
(480) 779-8646 
Cold Beers & Cheeseburgers
True to its name, Cold Beers & Cheeseburgers gives sports fans a fun, lively atmosphere to chow down on—what else?—cold beers and cheeseburgers, among many other fan favorites. Feast on cheeseburger fries, Buffalo chicken egg rolls, chicken wings, and sliders. And with a beer menu that features more than 150 brews, beer fans have a lot to cheer about. Burgers are inventive and can be topped with everything from mac and cheese, to peanut butter, grape jelly, cheddar, and bacon. If you've got quite the appetite, consider taking part in the Burger Challenge. If you can down three or more half-pound burger patties in record time, your meal is on the house. 
1980 W. Germann Road
(480) 899-2207
Oregano's Pizza Bistro
Serving up Chicago-style pizzas in the Valley since 1993, Oregano's was founded by Mark Russell, who created the restaurant in honor of his parents and their time-tested family recipes. Guests can look forward to thin crust, stuffed and pan pizzas; pasta dishes; and hearty salads. Finish your meal with Oregano's signature "The Original Pizza Cookie." This iconic—and oh-so decadent—dessert features more than half-a-pound of chocolate chip, peanut butter or white chocolate macadamia nut cookie dough that's slightly baked in a six-inch pizza pan and topped with three scoops of vanilla bean ice cream. Can you say "yum?"
1960 W. Germann Road
(480) 265-4580 
The Ivy Mediterranean Lounge 
Since April 2015, The Ivy Mediterranean Lounge has been serving fresh, flavorful food in a sophisticated setting. Nosh on healthy fare including hummus, bruschetta and a variety of pitas and salads. Pitas range from classic options filled with grilled lamb, lettuce, tomato, cucumber, onion and homemade tzatziki; to a vegetarian-friendly option filled with grilled Portobello mushroom, lettuce, tomato, cucumber, onion and homemade pesto. And don't leave without having the Ivy Fries, topped with the restaurant's homemade lemon sauce, feta and Parmesan cheese. When the weather is nice, lounge on the spacious, plush patio. During the winter months, fire pits keep diners warm and cozy. 
1890 W. Germann Road
(480) 699-6189 
Farmboy Market, Meats, Sandwiches 
Part upscale sandwich shop, part retail market, Farmboy is an unpretentious farm-to-table restaurant in the heart of south Chandler. In keeping with their commitment to promoting Arizona's natural bounty, the kitchen uses local ingredients whenever possible. Look forward to artisan breads made with Arizona heritage grains and fresh produce from local farms. Customers can also purchase a selection of local fruits, veggies and a variety of meats at the in-house market. Standouts include meats smoked or grilled low-and-slow with real wood. Customers can taste some of the fresh cuts when they order sandwiches like the Ocotillo BBQ Pulled Pork made with pulled pork, spicy barbecue sauce, slaw, pickle chips and onion served on a sourdough sandwich roll. Complement your meal with Arizona craft beer or wine. 
1075 W. Queen Creek Road
(480) 361-2153 
Stone & Vine Urban Italian
Treat yourself to classic Italian cuisine in a contemporary setting at Stone & Vine Urban Italian. Diners can enjoy Italian favorites like garlic knots, caprese, meatballs and bruschetta, soups, salads, panini and hearty entrees like osso buco, ravioli and lasagna. Wood-fired pizzas are a standout, with such creations as the Diavolo—tomato sauce, mozzarella, spicy salami and basil—or customize your own 13-inch pizza with choice of toppings including meatballs, ricotta, fig and kalamata olives. The menu is rounded out by a wide selection of beers and red and white wines. 
1035 W. Queen Creek Road
(480) 659-7438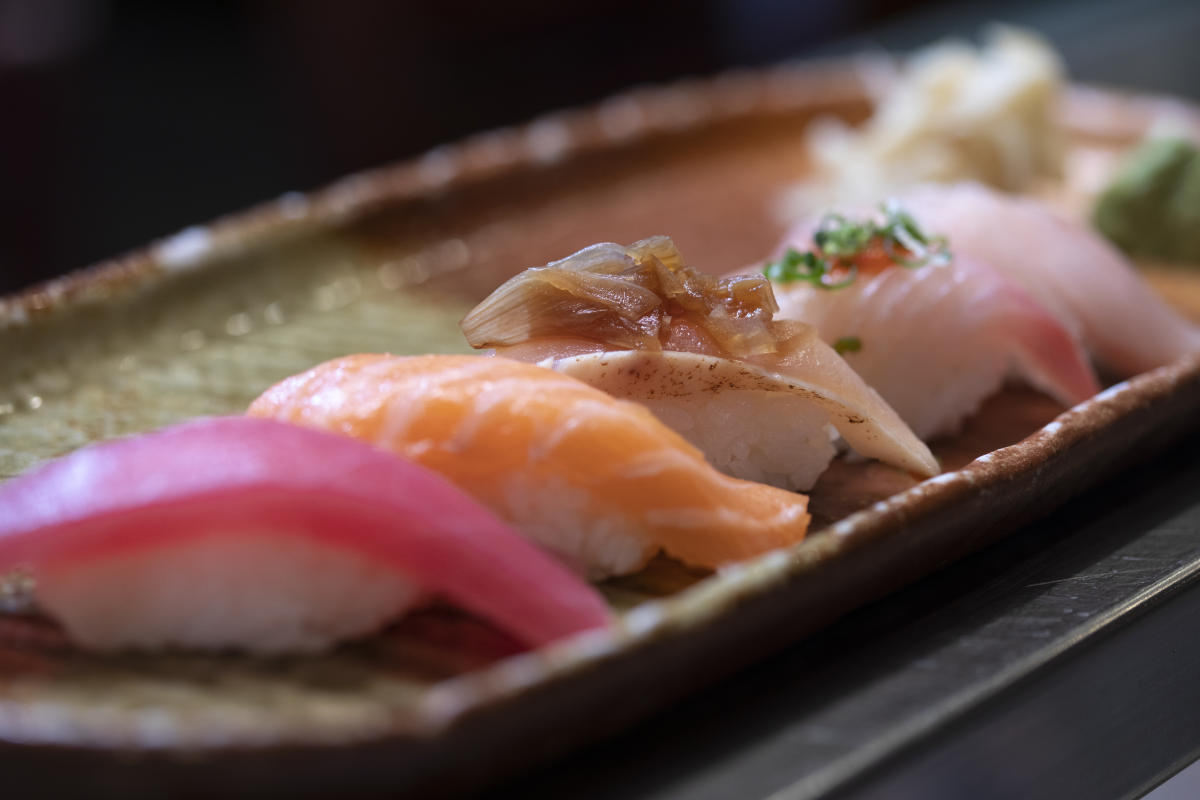 Mikado Sushi
Head to family-owned Mikado for Japanese food and fresh sushi. Sushi fans will love this haunt's extensive menu featuring everything from classic offerings like spicy tuna and salmon rolls, to inventive fare like the volcano roll or albacore garlic roll. Lunch combos are popular with diners, and it's not hard to see why. For starters, they're a steal. Enjoy a two-item combo for just $8.95. Choose from a variety of sushi including California rolls, shrimp tempura rolls and salmon sashimi (raw fish with no rice). Noodles, donburi or rice bowls, chicken, salmon or steak teriyaki round out the menu.
3125 S. Alma School Road
(480) 726-0255
Pho Chandler
Since 2007, Pho Chandler has been ladling out Vietnamese comfort food in a no-frills location. Diners can look forward to authentic, reasonably priced Vietnamese fare including spring rolls, vermicelli, rice and stir-fries. Order the pho noodle soup with your choice of toppings including meatballs, eye-round steak or sliced chicken breast, all served in a warm, tasty broth. Specials include sweet and sour chicken made with white meat chicken, red and green bell pepper and white onion served with white rice; and cashew chicken, chicken stir-fried with celery, zucchini squash, water chestnut, white onion, bell pepper and cashew that's also served with white rice. 
4055 S. Arizona Ave.
(480) 895-9090