In Chandler, it's easy to keep fit or get in shape even when you're on a business trip. Here are five ways you can stay active. 

Visit your hotel's fitness center or pool
Most hotels in Chandler have fitness centers with, at least, treadmills and free weights. Others offer more options. Either way, take advantage of what's available, including your hotel's swimming pool. 
However, if the fitness center is factor when selecting your hotel, consider staying at Element Chandler Fashion Center. Its large, 24-hour fitness center offers ellipticals, stationary bikes and an assortment of strength training equipment in addition to treadmills and free weights. 
DoubleTree by Hilton Phoenix Chandler is another good option. Windows on all four walls make it feel open, instead of boxy and dark as you work out using treadmills, stationary bicycles, strength training equipment, dumbbells and exercise balls.

Try a state-of-the-art workout
The new Marriott Phoenix Chandler takes working out to a whole level. In addition to treadmills, a stair stepper, free weights and workout equipment, its fitness center has a Peloton bike with more than 10,000 possible pre-recorded spin classes with various degrees of difficulty and ranging from 5 to 90 minutes. 
You can also mix up your workout routine during your stay at the hotel with a virtual fitness class that lasts 25 minutes or less. Choose from cardio, strength, HIIT and other popular options. Yoga mats, dumbbells, kettle balls and exercise balls are available to enhance your experience.

Play a round of golf
Want to combine work and play? Tee up with business colleagues on Arizona's first grass golf course, San Marcos Golf Course. Located a short walk from the Crowne Plaza Phoenix Chandler Golf Resort, this 18-hole, par-72 course features wide fairways lined with century-old tamarisk, shade trees and palm trees. Since opening in 1913, it has been played by celebrities, dignitaries and professional golfers.
If you don't have time for a full round of golf, though, take advantage of the Little Marcos Pitch and Putt course. A 9-hole round on the short, family-friendly course takes less than an hour.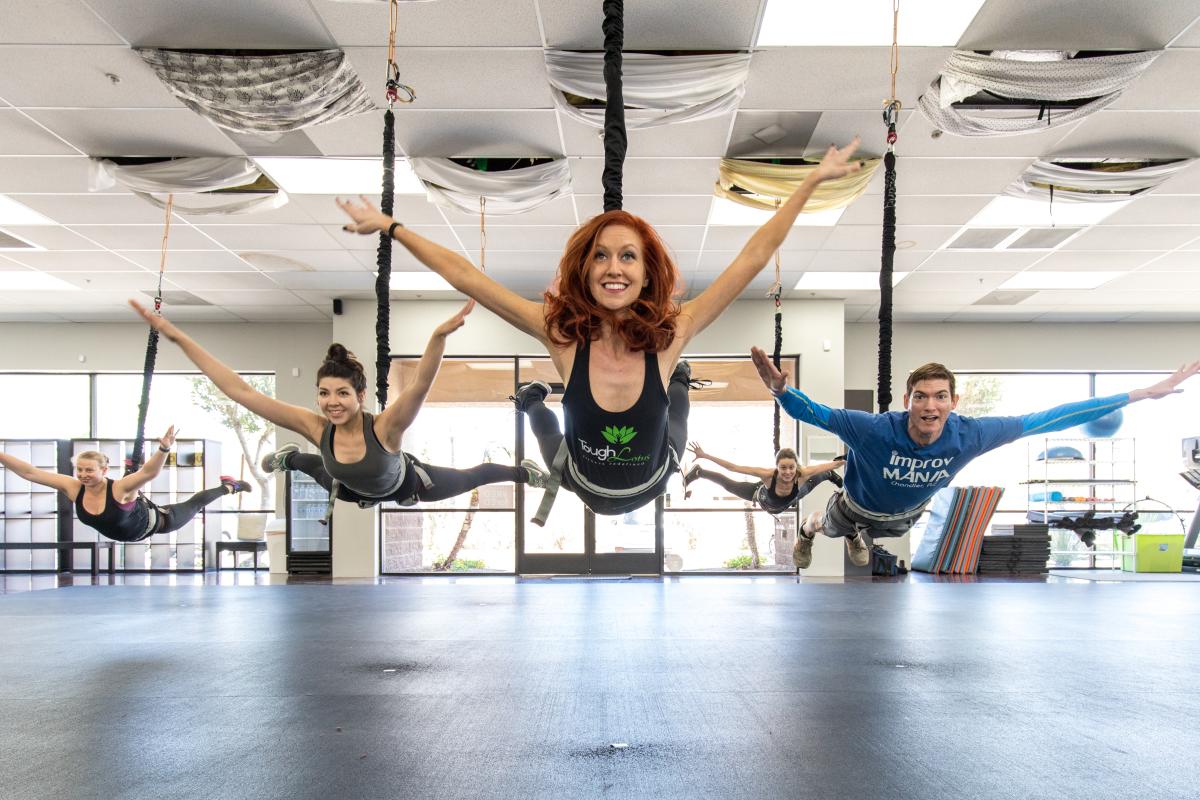 Take an aerial fitness class
Tough Lotus in Chandler isn't your typical fitness studio. Instead of working out on mats or with equipment, you'll be in the air, hanging from bungee cords attached to the ceiling. Classes include Aerial Yoga, Aerial Ballet, Cardio Swing and Tough Tone (first time visitors are required to take Intro to Aerial), and the focus is always on having fun while getting fit.
You can pay on a per class basis, or if you know you'll be returning to Chandler regularly for business, you can purchase 5, 10 or 20 classes at a discounted rate. 

Hike in a desert park 
You don't have to leave Chandler for an amazing hike through the desert. The 113-acre Veterans Oasis Park has 4.5 miles of trails, including a paved solar system walk showing the relative distances between the sun, planets and other celestial objects. Watch for birds as you explore—more than 150 species of birds have been spotted in the park.
Or head further south to Paseo Vista Recreation Area. The park's curved walking path offers 360-degree views of the East Valley as well as access to the 6.5-mile Paseo Trail, a multi-use pathway for walking, jogging and bicycling.