Whether you're looking to unwind with coworkers or grab a few drinks with friends, Chandler has you covered. From enjoying a Chandler craft beer to the best happy hour snacks - we have put together a list of the 10 best happy hour spots in Chandler where budget-friendly food and drink deals combine with friendly service and a great atmosphere.

Cooper's Hawk Winery & Restaurant
With its own award-winning, hand-crafted wines—including reds, whites, sparkling and hard seltzers—Cooper's Hawk is the wine lover's go-to place for the happiest of hours. Available Monday to Friday from to 2 to 5 p.m., the restaurant's happy hour offers wines by the glass, sangrias, and wine specialty drinks, including their wine-centric versions of a classic Bellini, mimosa and Champagne cocktail.
Speaking of cocktails, select drinks are available, as well, such as the Island Mojito, Dana's Pineappletini, and the Bin 61 Sour made with Woodford Reserve bourbon, lemon sour and nightjar.
Happy hour fare covers a range of appetizers, soups and flatbreads. Try the Drunken Shrimp featuring bacon-wrapped shrimp, tequila lime butter sauce and fresh guacamole; or the Italian sausage and whipped burrata flatbread.
Map: 3325 W. Chandler Blvd., Chandler AZ 85226 or (480) 936-7711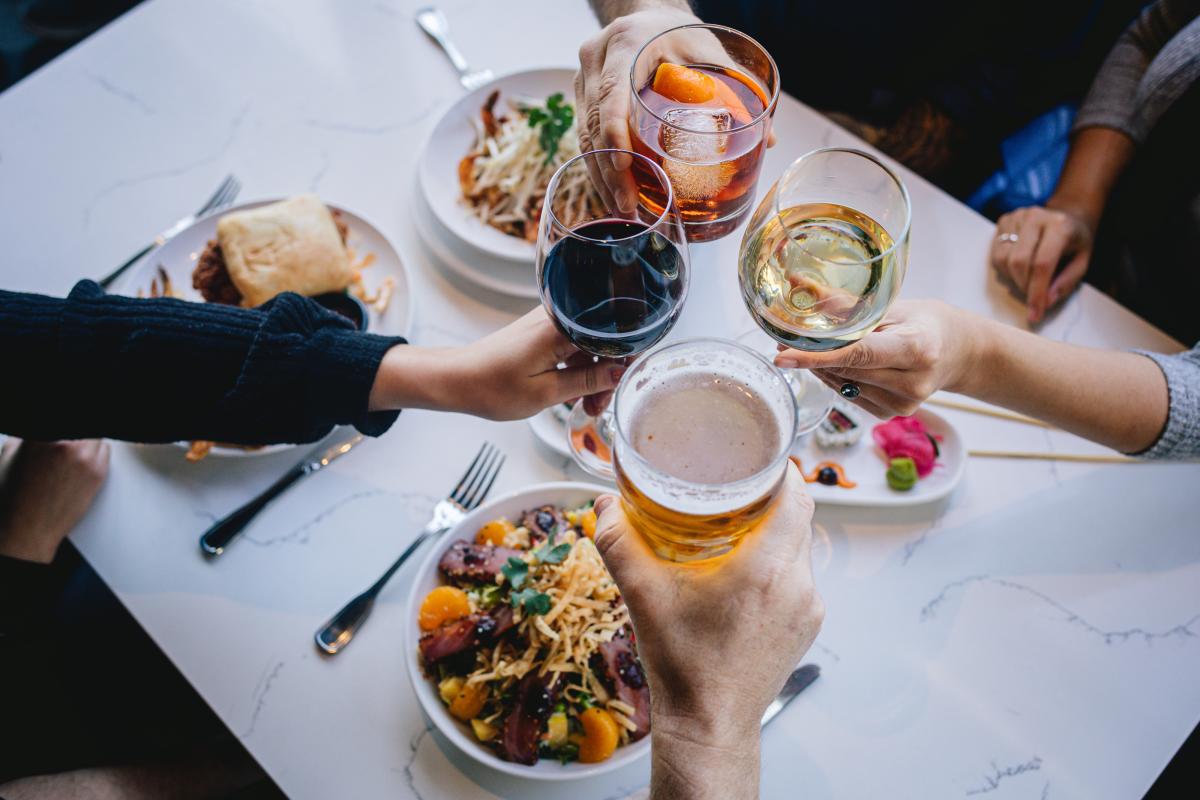 Thirsty Lion Gastropub
With its prime location next to Chandler Fashion Center, this is the place to take a load off after a busy day of retail therapy. Available from 3 to 6 p.m. every day (yes, every day!), Thirsty Lion's happy hour features discounts off premium well drinks, draft pints, cocktails, and wine from winemakers Three Thieves, Underwood, and 14 Hands.
The happy hour menu also offers tasty options, including the spicy fried cauliflower, a definite step up from your grandmother's social hour crudité platter. The blossoming cruciferous vegetable is taken up a few notches in this modern-day appetizer interpretation that is fried with sesame tempura, spicy black bean hoisin sauce, toasted cashew, scallions, cilantro and Sriracha aioli.
Map: 3077 W. Frye Road, Chandler AZ 85226 or (480) 786-5799
Parlay Kitchen + Cocktails
Also serving happy hour every day (yes, every day!) from 3 to 6 p.m. is Parlay Kitchen + Cocktails, who takes it to the next level by extending it to all day on Sunday. Daily specials include $2 off draft beer, $5 house wine, and $5 premium well drinks, along with a small, but mighty food menu that includes spicy charred edamame, roasted poblano hummus, and house made egg rolls made with Korean pork belly and pesto.
On Wednesdays—or Winesday as Parlay likes to call it—guests can get $10 or $20 off select wines, which come with a chef's choice meat and cheese plate. Fridays and Saturdays feature live music from 6 to 9 p.m., and Sunday Funday shows all the NFL games in action with DJ Alan spinning your favorite tunes.
Map: 1245 S. Price Road, Chandler AZ 85286 or (480) 500-5247
Modern Margarita
Located in south Chandler, Modern Margarita brings a wide selection of freshly made margaritas, gourmet street tacos, and shareable plates.
Perfect for friend groups, work-from home warriors, and anyone looking for a friendly neighborhood hangout, the restaurant's happy hour is served Monday to Saturday from 3 to 6:30 p.m., and all-day Sunday. Enjoy discounts on well drinks, beer and wine, as well as on a select offering of their signature margaritas, including the namesake Modern Margarita made with Herradura Blanco, Aperol, fresh grapefruit, lime juice and simple syrup. Food specials include carne asada tostadas, chips and dip, tacos, wings and quesadillas.
Map: 4165 S. Gilbert Road, #5, Chandler AZ 85249 or (480) 687-4264
The Sleepy Whale
This Downtown Chandler's happy hour scene makes quite a splash thanks to its super unique concept. The Sleepy Whale is a beer bar and bottle shop, run by Justin Evans of The Wandering Tortoise in Phoenix and Hops On Birch in Flagstaff. The pedigree alone guarantees some of the best beers and drinks being served in the heart of Chandler.
Happy hour is the place to be from 5 to 7:30 p.m., as well as specialty nights such as Thirsty Thursdays and Wine Wednesdays (sometimes Mead Wednesdays). And for industry folk, The Whale, as it's affectionately called, offers a reverse happy hour on Sunday and Monday nights from 10 p.m. to 2 a.m., a small gesture of appreciation for all their hard work.
Map: 290 S. Arizona Ave., Chandler AZ 85225 or (480) 758-7949

Brickyard Downtown
If you love craft cocktails, you'll love the Brickyard Downtown, especially at happy hour. The bar is known for its take on the classics, such as the French 75, Hemingway Daiquiri and Sazerac. Sample these and other great drinks for less Tuesday through Sunday from 3 to 6 p.m.
The happy hour menu offers select cocktails ranging in price from $7 for the French 75, Old Fashioned and Dark N Stormy, to $9 for the Mai Tai. Menu offerings begin at $7 for the mini churros served with berries, chocolate and crème anglaise (yes, please!) and go to $12 for the mini "bricks," beef patties with cheese, onion, lettuce, house dressing and fries.
Map: 85 W. Boston St., Chandler AZ 85286 or (480) 963-1373
The Sugar Bar Craft Beer & Wine Taproom & Bottleshop
Located in the northeast part of Chandler, the Sugar Bar touts itself as Arizona's first craft beer and wine taproom and bottle shop with its very own—ready for this?—candy store! It's a sweet dream come true.
The numbers are staggering. With 31 rotating taps; more than 240 beers, ciders, kombuchas and seltzers; and 80-plus different types of candy and snacks, this place has it all…especially during happy hour. Available Monday to Friday from open to 6:30 p.m., guests can enjoy $1 off drafts and craft cans, and $1 off wine by the glass. There are also daily specials like Taco Tuesdays, WTF Wednesday (featuring a $5 mystery canned beer), Thirsty Thursdays and more.
Adding to the fun is a reverse happy hour for a Saturday happy hour in Chandler from 7 p.m. to close and all-day happy hour on Sunday.
Map: 960 E. Warner Road, Suite 6, Chandler AZ 85225  or (480) 572-0804
Sandbar Mexican Grill
If you like your happy hour in a more tropical setting, break out your flip-flops and head over to the Sandbar Mexican Grill in West Chandler. Easy, breezy and super chill, this favorite hotspot has got it all: a great menu filled with Mexican food favorites you'll enjoy under the shade of an umbrella on the expansive patio; a wide selection of world-class beers and tequilas; and some of the best entertainment in town.
Happy hour at the Sandbar Mexican Grill runs from 3 to 6 p.m. Monday to Friday, with such drink specials as $5 domestic drafts, $6 well cocktails, and $8 house margaritas. Wine by the glass is $2 off. Food specials include $8 chile con queso, $9 taquitos and mini chimis, and $10 quesadillas.
Map: 7200 W. Ray Road, Chandler AZ 85226 or (480) 961-1700

Ginger Monkey Gastropub
What do you get when two longtime friends open a restaurant and bar? The perfect place to enjoy great food and drink for happy hour! Restaurant industry pros Jackson Armstrong ("Ginger") and Doug Collins ("Monkey") opened Ginger Monkey in 2017, creating a unique family (and pet!) friendly neighborhood spot where you can go for great food, fun times and a happy hour that can't be beat.
The south Chandler gastropub offers two chances for specials on food and drink. Power Hour is held from 2 to 3 p.m. Monday to Friday, and features $2 domestic pints and bottles, $3 wells, $4 house wines, and $5 calls. The fun continues with more drink specials during Happy Hour from 3 to 6:30 p.m., when discounted appetizers and entrees are also offered.
Map: 135 W Ocotillo Rd, Chandler AZ 85248 or (480) 802-6659