Chandler Area Attractions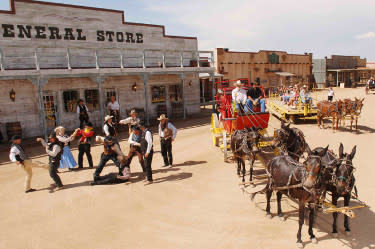 If you are traveling with the family, you'll have lots of things to do with kids in and around Chandler. They can see vintage rail cars at the Arizona Railway Museum or visit Rawhide Western Town & Steakhouse. There's also the zoo, the Arizona Science Center and more!
53 N. Macdonald, Mesa • 480.644.2230, azmnh.org
Kids will enjoy the reenactments of a desert flash flood at Dinosaur Mountain as well as an exploration of Arizona and the Southwest region from creation until now.
Arizona Museum for Youth
35 N. Robson Street, Mesa • 480.644.2467,arizonamuseumforyouth.com
Museum dedicated to art and children. Don't miss ArtVille, an experiential play place designed for young crawlers to curious toddlers who keep busy in a town built to cultivate awareness of color, line, shape and texture.
330 E. Ryan Road 
480.821.1108, AZRyMuseum.org
The Arizona Railway Museum is a great place to explore the past. View antique rail cars from the days when rail transportation was in its heydays. Kids can climb in and ring the train's bell!
600 E. Washington St., Phoenix 
602.716.2000, azscience.org
With five galleries, an IMAX theater, the Dorrance Planetarium, and more than 300 hands-on exhibits - this is an excellent outing for your up-and-coming scientist.
Children's Museum of Phoenix
215 N. 7th St., Phoenix 
602.253.0501, childrensmuseumofphoenix.org
Kids can get creative in the art studio or travel through the Noodle Forest at this museum full of hands-on fun.
1201 N. Galvin Pkwy., Phoenix • 480.941.1225, dbg.org
Featuring five thematic trails, a seasonal Butterfly Pavilion each fall and spring, and flashlight tours in the summer - there are numerous activities and events that highlight native plants and unusual cacti.
6101 E. Van Buren St., Phoenix• 602.275.3473, HallOfFlame.org
What kid doesn't fantasize about being a firefighter? This museum will give them a chance to dream those dreams - full of firefighting equipment, engines, and even a hands-on area where kids can learn valuable safety lessons.
Musical Instrument Museum
4724 E. Mayo Blvd., Phoenix • 480.478.6000, mim.org
The world's first global musical instrument museum celebrates the world's cultures as expressed through music.  Families will enjoy the Experience Gallery where you can play unique instruments
from all corners of the world.  
455 N. Galvin Pkwy., Phoenix • 602.273.1341, phoenixzoo.org
Recognized as one of the top five zoos in the nation for kids by Child magazine, the zoo's exhibits are home to more than 1,300 animals, including 200 endangered species. Daily activities include safari trains, petting zoo, Monkey Village, and more. Cruising bikes and paddle boats for the lake are available for rent and offer a fun way to explore the grounds.
5700 W. North Loop Road • 480.502.5600, rawhide.com
1880's western town featuring cowboy stunt shows, gunfights, desert train rides, country music and specialty shops.