#iChooseChandler Local Business Initiative
The City of Chandler has launched the iChoose Chandler initiative to help support businesses through these unprecedented times and we would love to have all Chandler businesses involved.  The I Choose Chandler program provides stores, restaurants, entertainment venues and more with an avenue to engage with local residents and visitors to encourage them to say #iChooseChandler for all their purchasing needs. 
Become an active ambassador for #iChooseChandler!
Download "I Choose Chandler" logos and social stickers from the I Choose Chandler digital kit and share the movement 
Use the "I Choose Chandler" message in your social media posts, newsletters, e-mails or on your store receipts - be creative. 
Use hashtag #iChooseChandler on your social media posts and stories
Utilize any of the five #iChooseChandler Facebook frames available in Facebook by searching "I Choose Chandler" Questions? - Facebook help here.
Submit your businesses to the "iChoose Chandler" map 
Remember to thank your shoppers for Choosing Chandler
Tell us about your Chandler business
The #iChooseChandler team is looking to share more  #LocalLove during this time by highlighting the variety of businesses that call Chandler home and the services they offer. If you have a business located here in Chandler, AZ and wish to participate, please take a few minutes to complete this on-line questionnaire for a chance to be featured as a #LocalLove spotlight!
Have an idea?
If you would like to collaborate; submit, and share content for us to showcase on our website and social media platform to help encourage engagement - please tag us on Facebook and Instagram using @VisitChandler and use hashtag #iChooseChandler or email us directly with your ideas!
Additional Business Resources
#MaskUpChandlerAZ Posters
Encourage your customers to #MaskUpChandlerAZ with printable "I Choose Chandler" branded posters available in a number of styles including Spanish.  Print your own poster(s), selection between a 24" x 36" size or 8 1/2" x 11"size.
Protecting public health and mitigating the spread of COVID-19 is our top priority. On June 19th, the City of Chandler issued a proclamation regarding the use of masks/face coverings in Chandler businesses and public spaces.  
People over the age of six shall wear face coverings where continuous physical distancing of 6-feet or more is not feasible.
The City of Chandler will revisit this decision every two weeks or until the Governor repeals or revises Executive Order 2020-40.
FAQs regarding masks/face coverings in Chandler businesses and public spaces.
Business Signage - English & Spanish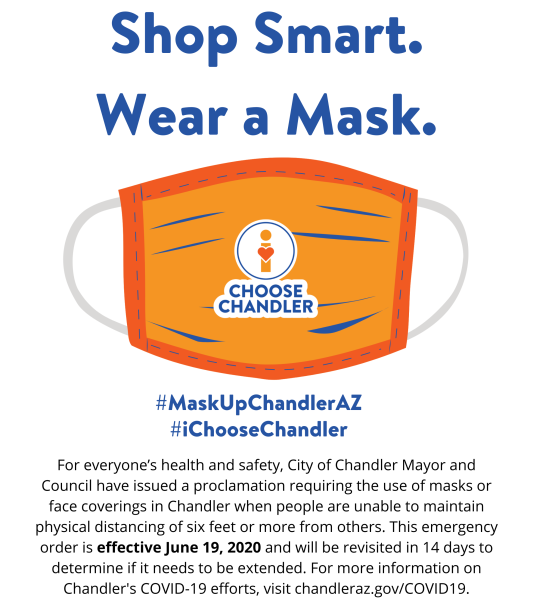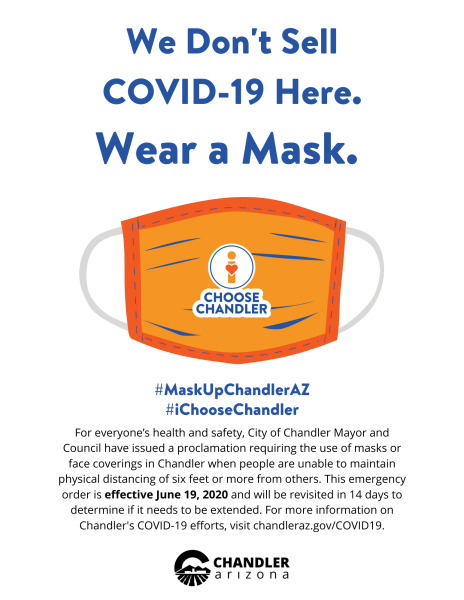 Business Signage - English & Spanish