While pizza and burgers are often the go-to choices for takeout or delivery, sometimes you just want to indulge with a juicy steak or gourmet seafood dish. If you're in the mood to treat yourself to a fine dining experience at home, here are a few restaurants happy to oblige.
Cuisine & Wine Bistro
For a romantic evening at home, do as the French and dine on such delicacies as soupe a l'oignon, or filet de canard a l'orange. Let Chef Fabrice Buschtetz be your chef de cuisine as you dine on his French-inspired creations, many of which he's crafted and perfected over his 30-year career working in restaurants in France. And what would dinner be without wine? Cuisine & Wine is now offering their "Somm Discovery" wine selection, each focusing on a region or vintage.
Map: 4991 S. Alma School Road and (480) 275-6700
Roy's
For a taste of the tropics, order dinner from Roy's Restaurant in west Chandler. Started by James Beard Award winner chef Roy Yamaguchi, the restaurant blends European techniques with Pacific Rim cuisine, resulting in an inspired menu of fresh seafood, signature sushi, and hearty steak and poultry dishes. Order from the restaurant's Craveable Carryout menu, featuring dishes by chef-partner "BJ" Dalumpinis. Selections include sushi and starters, as well as signature entrees including the parmesan bacon crusted Chilean sea bass, misoyaki butterfish, and braised short ribs of beef.
Map: 7151 W. Ray Road and (480) 705-7697
Fleming's Prime Steakhouse
Known for their expertly prepared prime steaks and exceptional service, Fleming's is where you go if you want to feel a little bit spoiled. Available for carryout and delivery (limited service area), the menu certainly won't leave you hungry for more. Choose from hearty starters and salads; burgers and sandwiches made with prime meats; classic cuts including filet mignon, New York strip, and certified Angus beef ribeye; and comforting side dishes. End your feast with a specialty dessert, including the chocolate gooey butter cake. Fleming's also offers specials like the steak and lobster dinner every night, three-course family meals, and Tomahawk Tuesday, featuring a 32-oz. prime cut of beef ribeye.
Map: 905 N. 54th St. and (480) 940-1900
DC Steak House
While the location may be new, DC Steakhouse still continues to serve its American chophouse cuisine. Now located at the modern New Square development, the restaurant offers a delicious array of upscale cuisine for takeaway. Begin the shrimp cocktail filled with plump, tender shrimp, then feast on one of their entrée selections, which include filet mignon, lamb chops, and walleye pike, to name a few. (You can also add a lobster tail to any entrée, because why not?) Speaking of lobster, dress up your entrée with a side, including lobster mac 'n cheese or lobster mashed potatoes.
Map: 180 S. Arizona Ave. and (480) 899-4400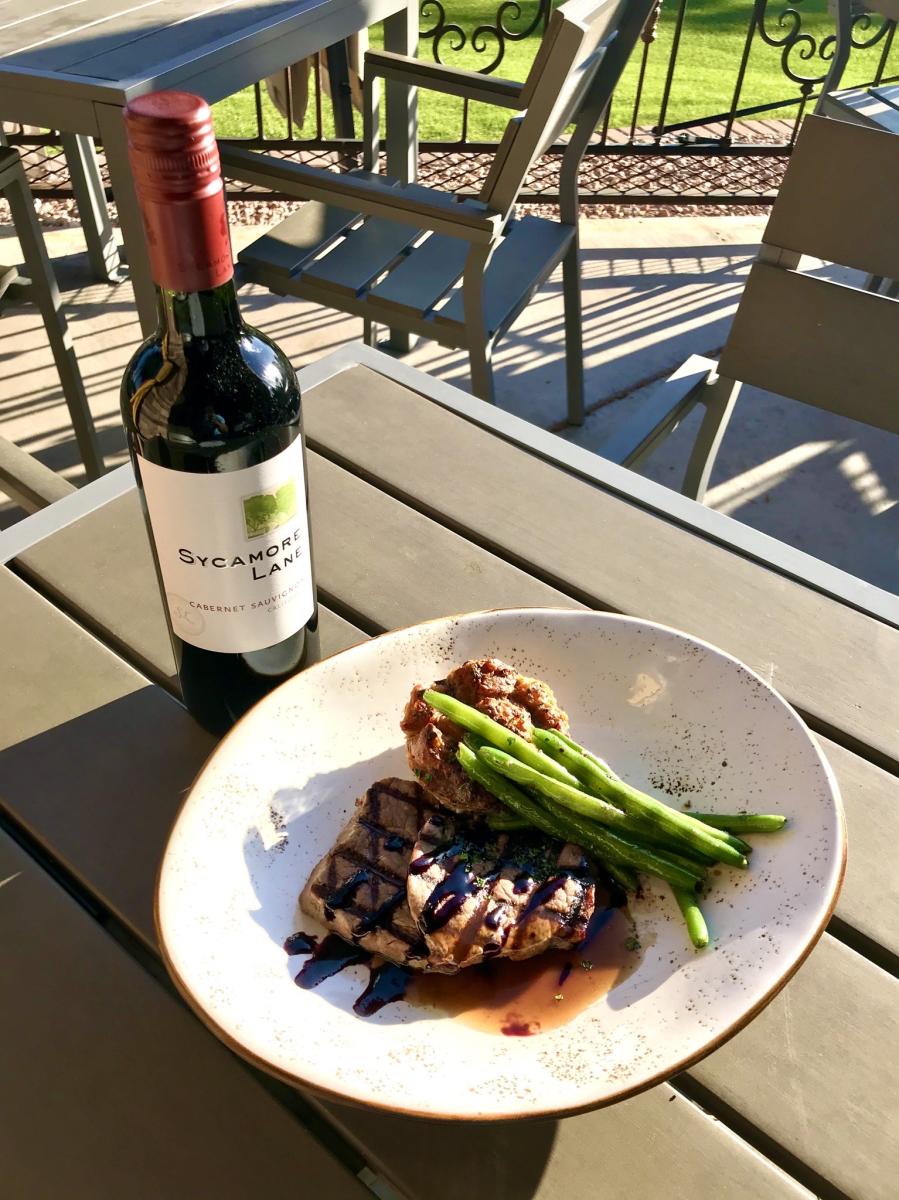 St. Amand Kitchen & Cocktails
With an emphasis on vibrant, flavorful dishes, St. Amand blends old and new world flavors. The curbside carryout menu features an array of delicious selections, from the crab and whitefish burger served with a pesto cream sauce and seasonal vegetables, to the medallions of beef tenderloin served with wild mushroom, bread pudding, and port wine syrup. And because no meal is complete without dessert, indulge in St. Amand's signature lemon cream cake.
Map: 3990 S. Alma School Road and (480) 782-5550