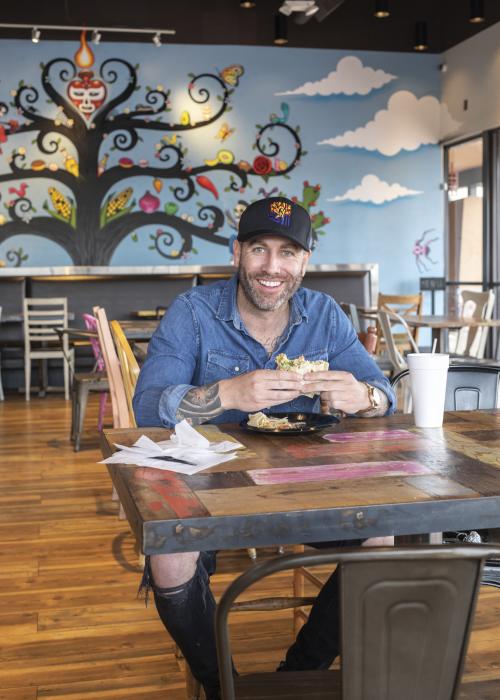 Mike Spangenberg, co-founder and CEO of State Forty Eight, was raised in Chandler, but he and his elementary school pals didn't travel far to open their state-themed apparel company located in the heart of the community at Pollack Plaza on Arizona Avenue.
"When we started State Forty Eight, it was important for us to stay in Chandler. It's trendy to go to other locations and establish a business, but there's a sense of pride in staying close to home and being able to showcase Chandler," says the young entrepreneur.  
Growing up in Chandler, Spangenberg, 33, remembers plenty of wide open spaces and the Loop 101 being built. "I reflect on how much it's grown, but what I like about it still is that it's 15 minutes from everything."
Spangenberg's sense of community pride is equally evident in his neighborly dining habits. He prefers to support and frequent locally-owned establishments in Chandler to grab breakfast, lunch and dinner. Here are his top picks for getting in those three squares.
Breakfast: Los Taquitos 
In the a.m., Spangenberg heads with his laptop in tow to this casual, award-winning restaurant that originally began as a food cart. Owned by five sisters, the restaurant has grown and thrived—and was even featured on Guy Fieri's "Diners, Drive-Ins and Dives." 
The restaurant serves authentic, homemade Mexican food like street tacos, tortas, quesadillas, chilaquiles and burritos based on their mom's recipes. 
"I'm a big fan," says Spangenberg, adding that his favorite morning selection is the carne asada burrito. 
"I like to tell myself burritos in the morning aren't that bad for you—eggs, potatoes, cheese and asada. Most of it's just breakfast food rolled inside of a tortilla," he says with a chuckle.
If you go:
Los Taquitos
2855 W. Ray Road
(480) 264-4371
Lunch: Floridino's Pizza & Pasta
For lunch Spangenberg's choice is Floridinos on Alma School Road, where he orders an antipasto salad and a muffin—a pizza muffin to be exact.
"They are to die for," he says of the signature dish at this long-running Italian restaurant. Established in 1996, Floridino's serves pizzas, calzones and sandwiches, and is popular for its lunch specials and banquet room.
"It's a tradition for me to go here. I used to go with my dad and stepmom almost every Sunday," he says. "I sit at the bar and since it's a family-owned restaurant, you always know who you're chatting with."
If you go:
Floridino's Pizza & Pasta
590 N. Alma School Road
(480) 812-8433
Dinner: Pesto's Italian Kitchen & Wine Bar
Spangenberg's dinner pick is Pesto's, another family-owned business at Ray and Dobson that he's frequented since childhood. The restaurant and bar menu features creative Italian recipes handed down from three generations, a secret sauce and more than 50 wine selections.
"I know Frank and Deb and their children. And my stepmom is semi-retired and works there as well," he says.
Spangenberg typically orders stuffed mushrooms, penne with pesto and Italian sausage, and finishes with a cannoli for dessert. "In my opinion, Pesto's is a hidden gem."
If you go:
Pesto's Italian Kitchen & Wine Bar
1960 W. Ray Road
(480) 821-2949