Kevin Hartke only has been on the job as mayor of Chandler since January 2019, but he's been the city's biggest advocate for decades. Prior to being elected mayor, Hartke was a Chandler city council member for nine years and twice served as vice mayor. He's also served on many nonprofit, faith-based, business and economic committees, helping to shape the well-being of citizens of Chandler and residents throughout the state.
"Chandler is a fantastically run city and the best value for living—the sales and property taxes, the water bills—it's the lowest cost of any service in the city," says the mayor, who  has been a pastor at Trinity Christian Fellowship since 1985. "Chandler also has great people and I love the parks. Plus, it's easy to get around. It's hard to get lost in Chandler."
In addition to his mayoral duties, Hartke still spends 20 hours a week pastoring and reads to Chandler schoolchildren as a volunteer literacy advocate, so his schedule makes it difficult to dine out frequently. But when he does, what are his faves?
As one would expect, Hartke responds with a civics lesson in diplomacy by suggesting all Chandler restaurants are great. "I don't have a single favorite spot, but I gear towards downtown because it's convenient." Here are some of the mayor's regular go-to spots for breakfast, lunch and dinner:
Breakfast: Downtown Chandler Café & Bakery, Peixoto Coffee Roasters
A typical breakfast destination for Hartke is either Downtown Chandler Café & Bakery or Peixoto Coffee. "Both are great and I can see them from City Hall," he says. "They are the most common places I go for meetings."
At Downtown Chandler Café & Bakery, visitors can choose from a lineup of fresh pastries, and breakfast and lunch options, including salads and sandwiches made with homemade artisan breads baked onsite. "I'm a donut guy, but I try and stay clear of them," says Hartke, who usually picks the Mediterranean omelet, or the bacon and eggs to start the day.
While Hartke keeps it simple at Peixoto Coffee Roasters with a black brew, he's especially fond of the story behind the fair-trade operation that sources its beans from owner Julie Peixoto Peter's family-owned farm in Brazil. Besides a rotating crop-to-cup menu of espresso and hot and cold brews, the modern-rustic coffee shop in historic downtown Chandler partners with local bakers to offer fresh pastries daily.
If you go:
Downtown Chandler Café & Bakery
40 S. San Marcos Place
(480) 855-3212
Peixoto Coffee Roasters
11 W. Boston St.
(480) 275-2843
Lunch: Charm Thai
The place Hartke tends to visit most often for lunch is another downtown destination, Charm Thai, a contemporary casual eatery that focuses on fresh ingredients and prime meats with a classic Thai menu that includes curry options, drunken noodles and pad thai entrees with protein selections.
"It's a lovely independent-owned place right next to Peixoto Coffee," says the mayor, who typically orders yellow curry or basil fried rice topped with an egg. "They have great egg rolls too. I've never had a bad meal there. It's a good experience."
If you go:
Charm Thai
11 W. Boston St.
(480) 917-7222
Dinner: Serrano's, West Alley BBQ & Smokehouse, Puro Cigar Bar
Hartke normally heads homer for dinner, but he does love Mexican fare so he sometimes stops at Serrano's, the oldest continuously owned family business in Chandler (the Serrano formerly owned a department store) whose flagship restaurant opened in downtown Chandler in 1979. Serrano's prides itself on using fresh, quality ingredients for its traditional Sonoran signature dishes and the family's well-known original bean dip.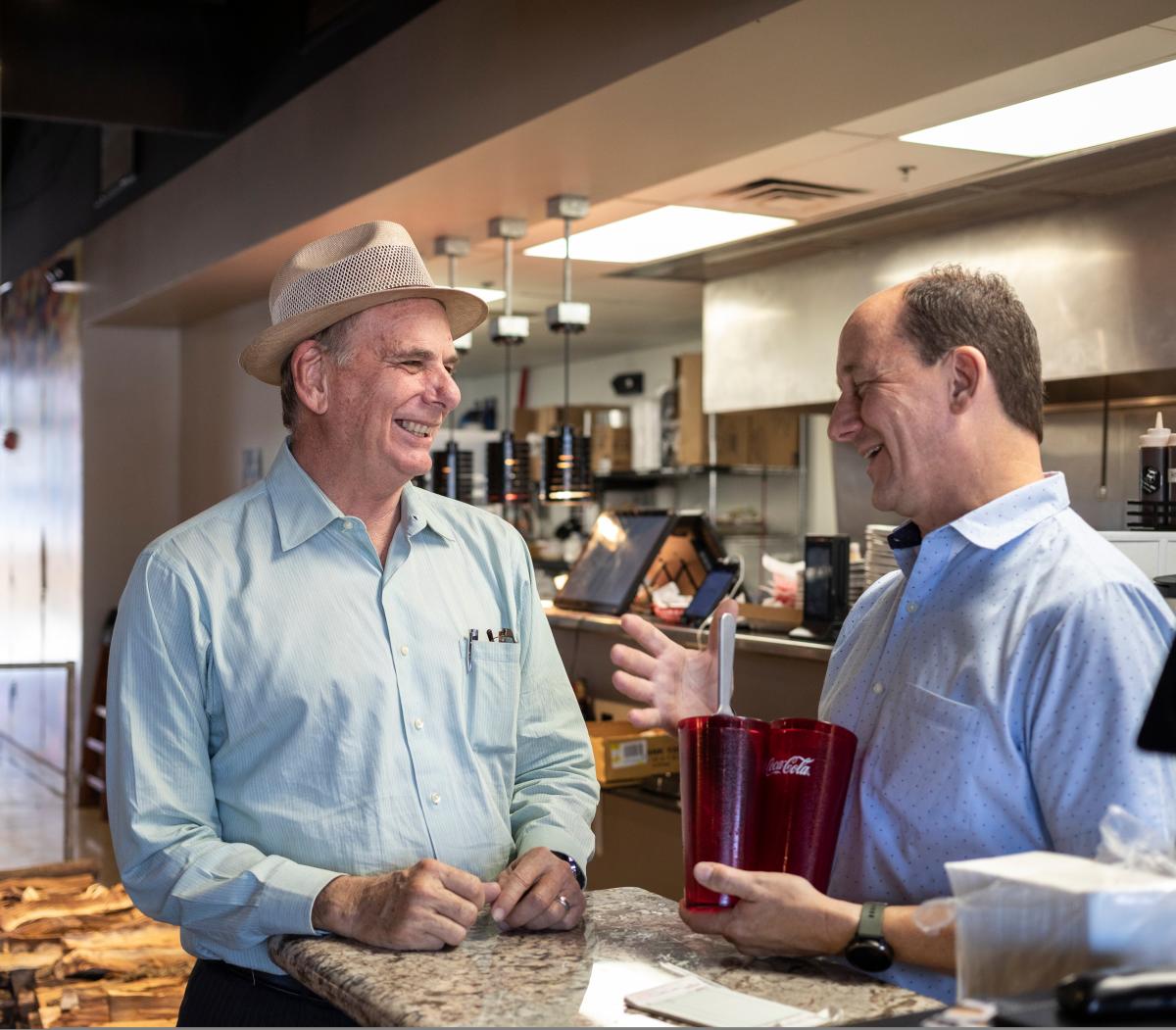 He's also a fan of West Alley BBQ & Smokehouse, which serves dry-rub, Tennessee-style barbecue cooked in an onsite pit. Customers can expect vinegar-based sauces and creamy coleslaw, as well as catfish and other Southern-style eats as part of the lineup. Hartke applauds owner Bardo Brantley for creating a hip, memorable, dining atmosphere with live music nightly. "It's a great place to meet up with friends and it really takes eating into a nice evening experience and not just a great meal," he says.
The mayor also enjoys Puro Cigar Bar, upstairs room West Alley BBQ, which he says is a great relaxing spot for small-group conversations. "I'm not a cigar smoker, but I like the concept. You can order food from West Alley and they bring it up," says Hartke. The premium cigar bar and lounge features multiple beer taps and TV screens and a killer view from the rooftop patio.
If you go:
Serrano's
141 S. Arizona Ave.
(480) 899-3318
West Alley BBQ & Smokehouse
111 W. Boston St.
(480) 248-8819
Puro Cigar Bar
111 W. Boston St.
(480) 899-3355