Kristen Drathman knows the lyrics to most songs from the '70s and '80s, but it's the sounds of the future she's hoping to perfect. Drathman is the youth music director at Chandler Center for the Arts, where she's led a summer music camp for the last 10 years for kids age 7 to 14. 
"It's about giving kids experience with the performing arts and not so much about the production at the end of the week," she says.
Besides helping kids (and adults) polish their chops for careers in musical theater as a vocal and acting coach, Drathman's resume includes professional actress, singer and concert performer. When she's not teaching and grooming the next wave of musical entertainers for auditions, she's performing in local and national productions including cabarets, musicals, show revues and symphonies. 
"I'm pretty versatile, but dance is the short end of the stick," she says of her performance range. 
Even though she still gets a bit nervous under the spotlight, the stage is Drathman's happy place. She also enjoys dining out with her husband and kids, so when the curtain falls, you might find Drathman at one of her favorite breakfast, lunch or dinner haunts.
Breakfast: BLD Chandler
It's probably the show girl in Drathman that favors BLD Chandler for breakfast. The bright and cheery neighborhood hangout serves it up all day, but it's the A.M, routine that attracts her to the south Chandler bistro.
The locally-owned establishment features farm-fresh, scratch-made fare in a stylish eatery that includes a drive-thru window. Delicacies like the eggs Benedict served with wine-braised short rib, buttermilk fried chicken, vanilla malted waffles, and the Hatch chili hash make the early-morning list at BLD, which also has a full lineup of salads, sandwiches and dinner options such as burgers and barbecue plates. 
"The food is sassy—sassier than going to a diner and not necessarily something you'd make at home," says Drathman. Plus, she points out the high quality of BLD's Bloody Marys.
1920 W. Germann Road
(480) 779-8646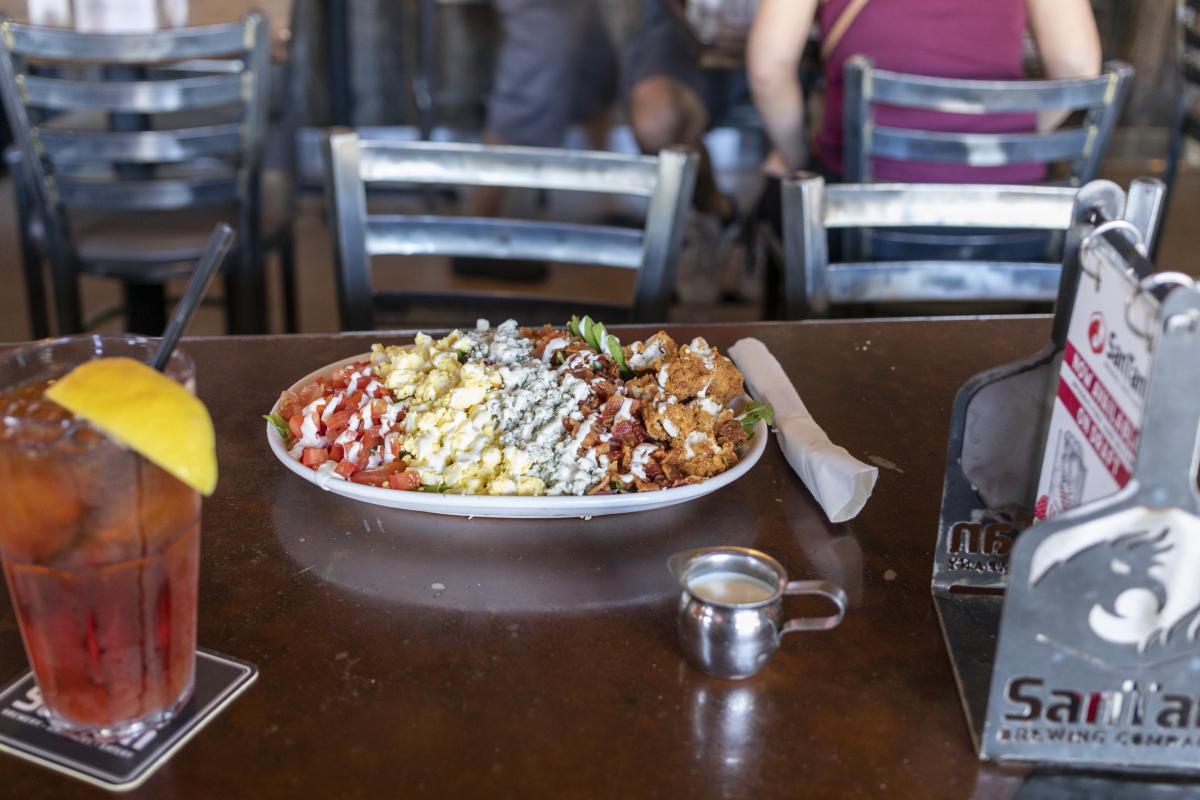 Lunch: SanTan Brewing Company
Drathman admits she's not much of a beer drinker, but it's no surprise the local brewery and distillery in downtown Chandler makes her feel like a TV character: Norm from the hit series Cheers. 
"It's a staple in the Chandler community. It's a fun, loud place to get together," she says of the friendly vibe of the tap house that serves lunch, dinner, weekend bunch and hosts two happy hours. 
While the in-house brews and spirits are the stars of the menu, the pub grub is a hit, too, according to Drathman. "The food is delicious and tasty. I especially like the salads," she says of the lineup that includes hearty omelets, appetizers, burgers, pizzas, hand-crafted sandwiches, and many gluten-free choices.
8 S. San Marcos Place
(480) 917-8700
Dinner: DC Steak House
Final dining call for Drathman is DC Steak House, which gets top marks for production value from the theater pro. 
"Really a great bang for your buck," she explains of the fine dining atmosphere that features murals depicting Chandler's history; a surf-and-turf menu with steaks like filet mignon and porterhouse; seafood such as Alaska King crab legs and grilled swordfish; chops; and specialty cocktails, beer and premium wine selections.
Ribs, chicken and pasta items also are available, as well as homemade lobster, mac 'n cheese, sandwiches, a full array of salads and even cheese curds at the upscale dinner establishment owned by Wisconsin transplants, Dean and Lorie Laplant.
"They make you feel like you are the most important person in the room and so willing to make everything perfect," says Drathman.
98 S. San Marcos Place
(480) 899-4400