Last week, fall was in the air at the Fulton Ranch Towne Center as the #iChooseChandler team greeted Duck Donuts customers for another #FeelGoodFriday.
Tucked away in the plaza at the southwest corner of Arizona Ave. and Ocotillo Road, Duck Donuts serves made-to-order cake donuts that are freshly prepared and customized with your favorite toppings and served warm.  Of course, while the team was there– the season fall toppings were a popular choice, especially the Carmel Apple Pie and Pumpkin Roll!
Accompanied by City of Chandler Mayor Kevin Hartke, the team had a chance to connect with Chandler residents, visitors and those who work in the community.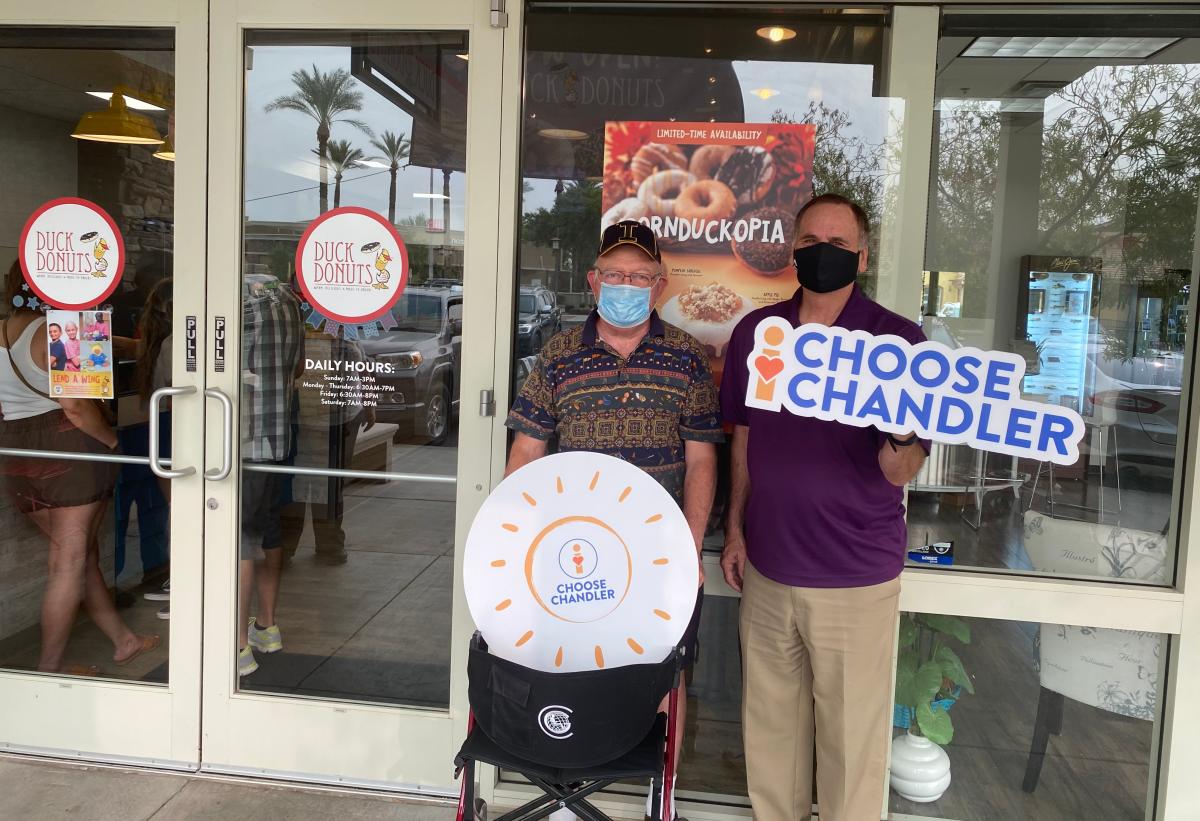 Walt
The #iChooseChandler team met Walt, a resident of the Chandler community for more than 30 years.  Following years of military service which had Walt living in abroad in South Korea, Germany and more till he was living in cold Illinois.  That all changed 30 years ago, during a visit with his Uncle in Apache Junction who toured him around Chandler and told him he should consider moving to the well-planned community.  Well, that's just what happened.  He returned to Illinois later that week and came out the following Monday and purchased the then model home that he and his wife live in today.  Walt loves the people in Chandler and has always felt that Chandler offered a strong, small-town feel in the community – which makes it easy to get to know everyone.
Walt too is a repeat customer of Duck Donuts after he and his wife met the owner last year while enjoying breakfast at nearby Egg N' Joe. The donut shop owner was set up to interview potential employees prior to the fall 2019 opening.  With a wink in her eye, Walt's wife 'interviewed' for the job and they became customers for life. 
Walt pops in the store a couple time a month, generally for a coffee and his favorite, a bare donut and conversation with the staff who have become like family to him.  
Always ready for an adventure, Walt will be heading to Chon Thai in north Chandler to use his $25 gift card.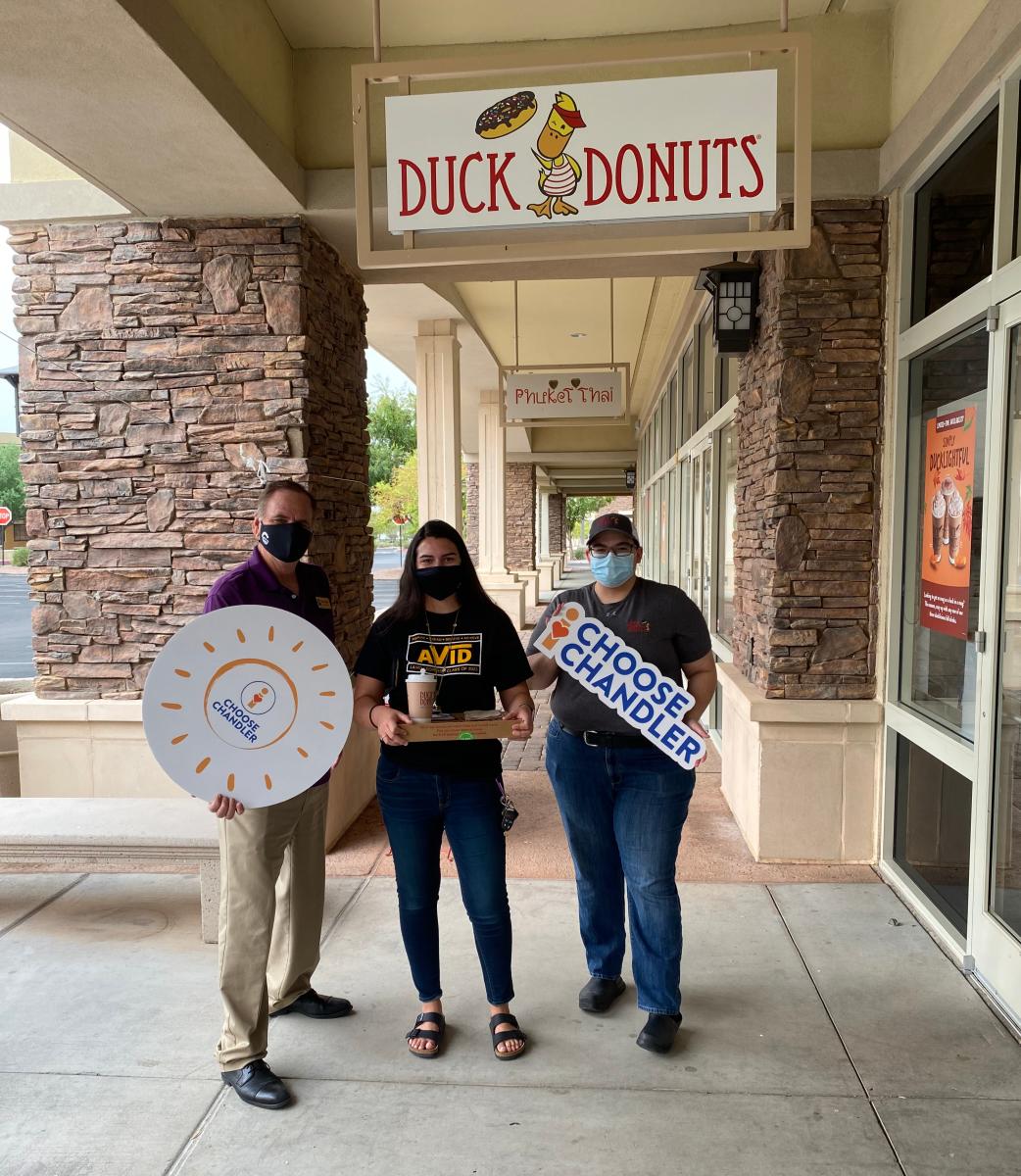 Jessica Monroe 
A proud graduate of Hamilton High School (Go Wolves!), Jessica grew up in Chandler after her parents moved to Arizona so her father could open his own branch of American Family Insurance.   After a rousing round of the American Family Insurance jingle, Jessica shared with the team that her favorite thing about Chandler was the fact that "Chandler is home."
Jessica has lived in a few other metro Phoenix communities and graduated from Arizona State University.  She and her husband moved back to Chandler to be closer to family and to be in the highly ranked Chandler Unified School District.  Jessica is looking forward to using her $25 Tryst Café gift card at the east Chandler restaurant.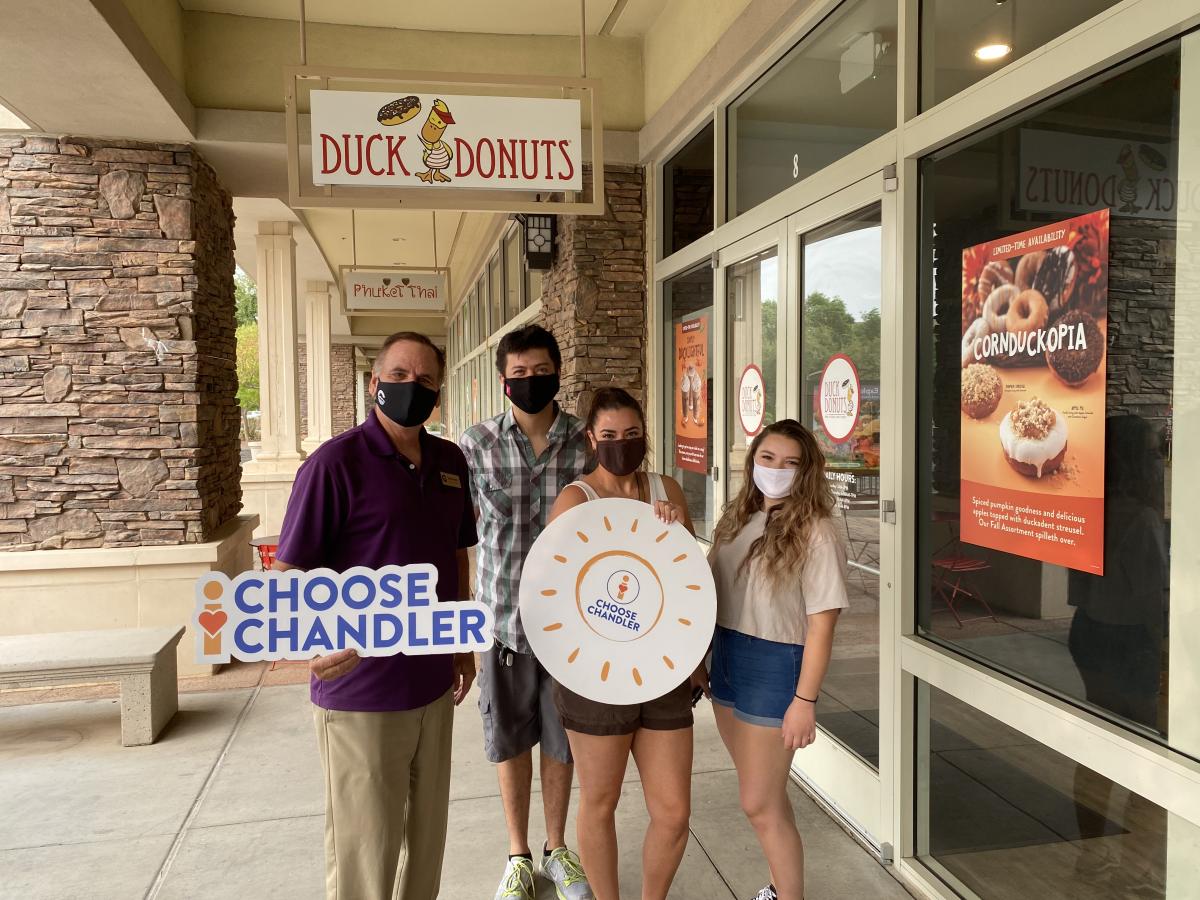 Ben Whitworth, 'Wonder Woman' Ellie and Jayden 
The team had a chance to speak with Ben and his family who were visiting him from Salt Lake City, Utah.  Having moved to Chandler about 2 ½ years ago, Ben fell in love with the easy, low-key feel of south Chandler and that while it "feels very relaxed, but it is close to all the action and full of great people".  He enjoys heading out to Chandler Fashion Center and has many favorite Chandler restaurants. 
A loyal customer of Duck Donuts, Ben finds himself at the donut shop a few times a week, grabbing a donut or two for himself and surprising friends, local school teachers (today's lucky recipients) and others with donuts as often as he can.  As a frequent customer, Ben is well known by the staff, by name and order.  He's become especially close with the owner who he affectionately calls Uncle, Daniel Bruno.
Looking out for his visiting family, Ben opted for a $25 gift card to take his family to brunch at Tryst Café in southeast Chandler.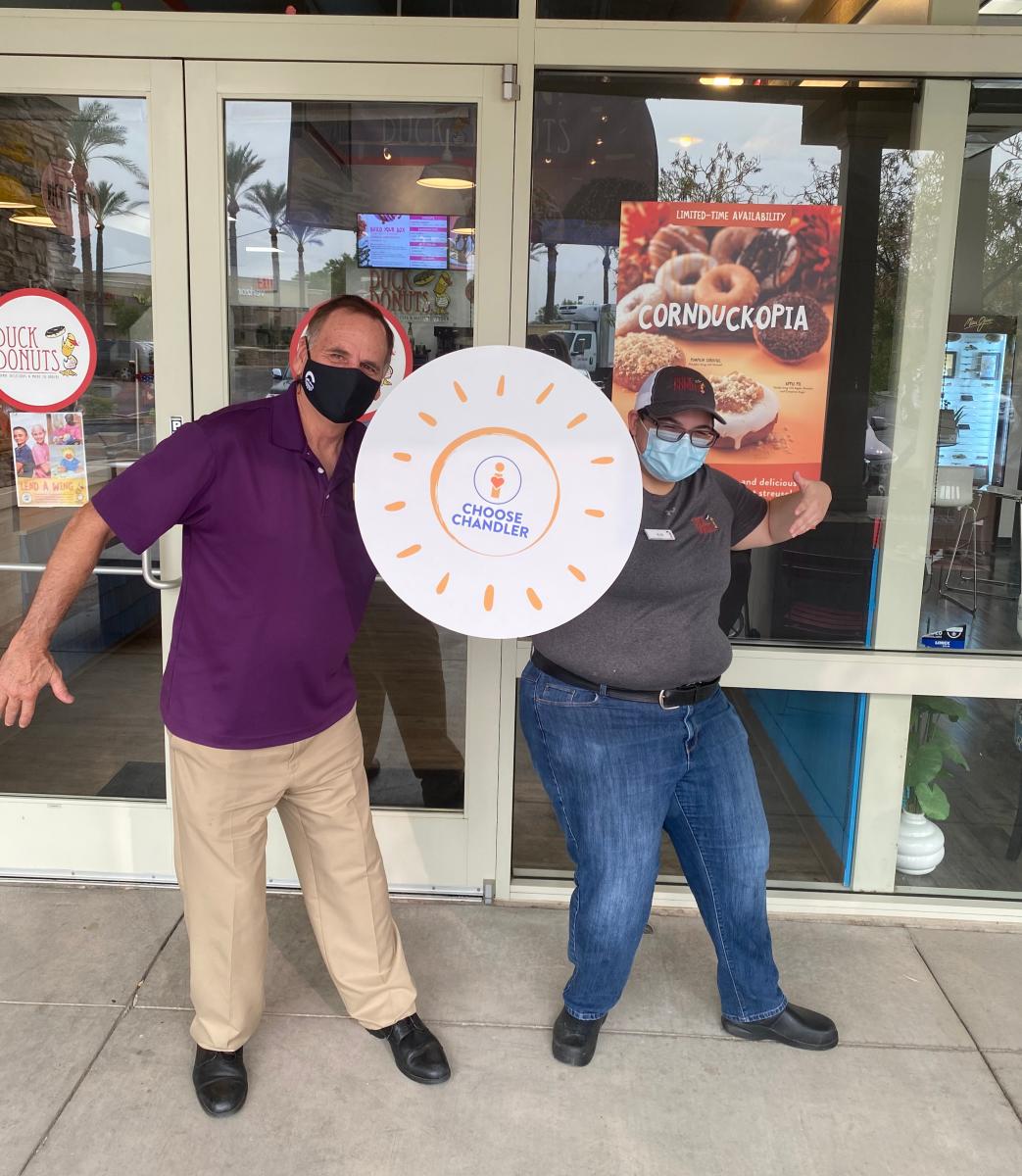 Kai Ochoa
Employed at Duck Donuts, Kai is a HUGE fan of the Chandler community – loving that neighborhood feel and loves taking care of her customers.  A nurturer at heart, Kai excels at making those connections and hearing the stories from her guests – hearing about the family, what's happening at work, where they travel and making them all feel welcome. 
Having researched the company, she was especially fond of the fun, family atmosphere and is loving that each September – the company team's up with Gabe's Chemo Duck program to encourage customers to "Lend a Wing" and round up change – 100% of that change going to the Chemo Duck Program for children undergoing cancer treatment.
Pursuing a degree to ultimately lead her to an English as a Second Language (ESL) instructor, Kai looks forward to spending her $25 gift card at Rewind Ice Cream + Tea.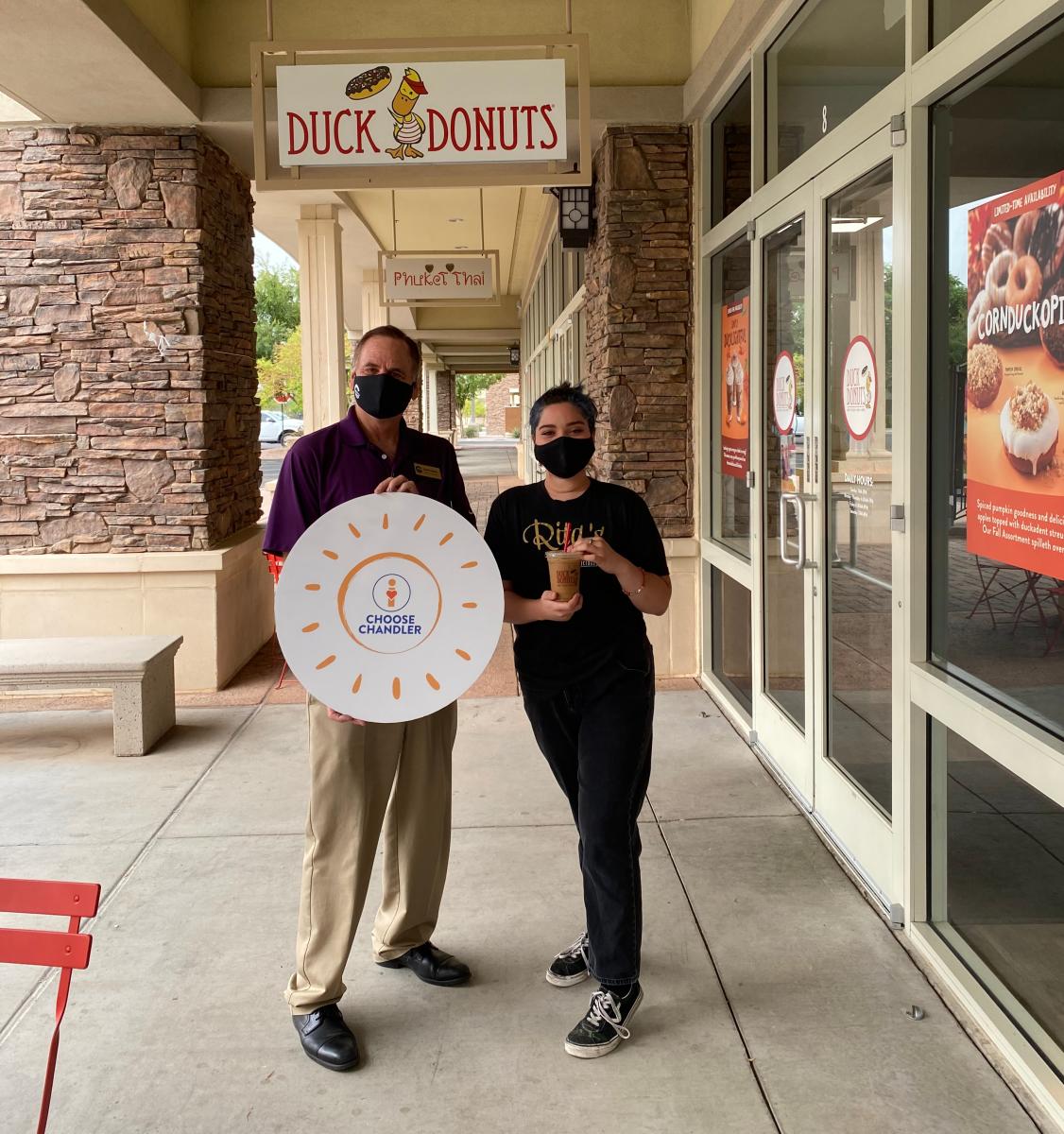 Kate
It was an early morning as the team caught up with Kate and her iced coffee before her shift started at nearby Rita's Burritos - a Chandler, AZ staple for burritos! Commuting from Gilbert, Kate is a huge fan of Chandler's strong sense of community and that feeling of belonging.  Spending a few minutes with the team, it was a quick choice to opt for the $25 gift card to Kind Bean to fuel her love of coffee.
Stay Connected
Thank you to everyone who continues to support Chandler's local businesses.  Purchasing goods and services from our small businesses keeps those dollars in our economy, retaining jobs and building revenues that support Chandler's high quality of life.  Keep an eye out to catch us on a future Feel Good Friday - you never know where you might see the team!
Be sure to follow us on social media: Instagram, Facebook, Twitter and LinkedIn to learn more about Chandler restaurants, stores and businesses and the importance of shopping local.
Until then, we hope you all are staying safe, healthy and Choosing Chandler! #MaskUpChandler!