Five lucky groups ran into the #iChooseChandler team during last week's #FeelGoodFriday at Press Coffee in Downtown Ocotillo. 
Press Coffee, an Arizona coffee roaster has been in business since 2008 after owners Steve Kraus and Tram Mai decided no other area coffee brand met their high standards. Today, Press Coffee operates eight unique locations across the Valley and has become an award-winning , local coffee roaster and staple among specialty coffee enthusiasts.
During the team's August 7th visit, the crew handed out five $25 gift cards to visitors grabbing breakfast and or a cup of coffee in exchange for telling us a little bit about why they #LoveChandler!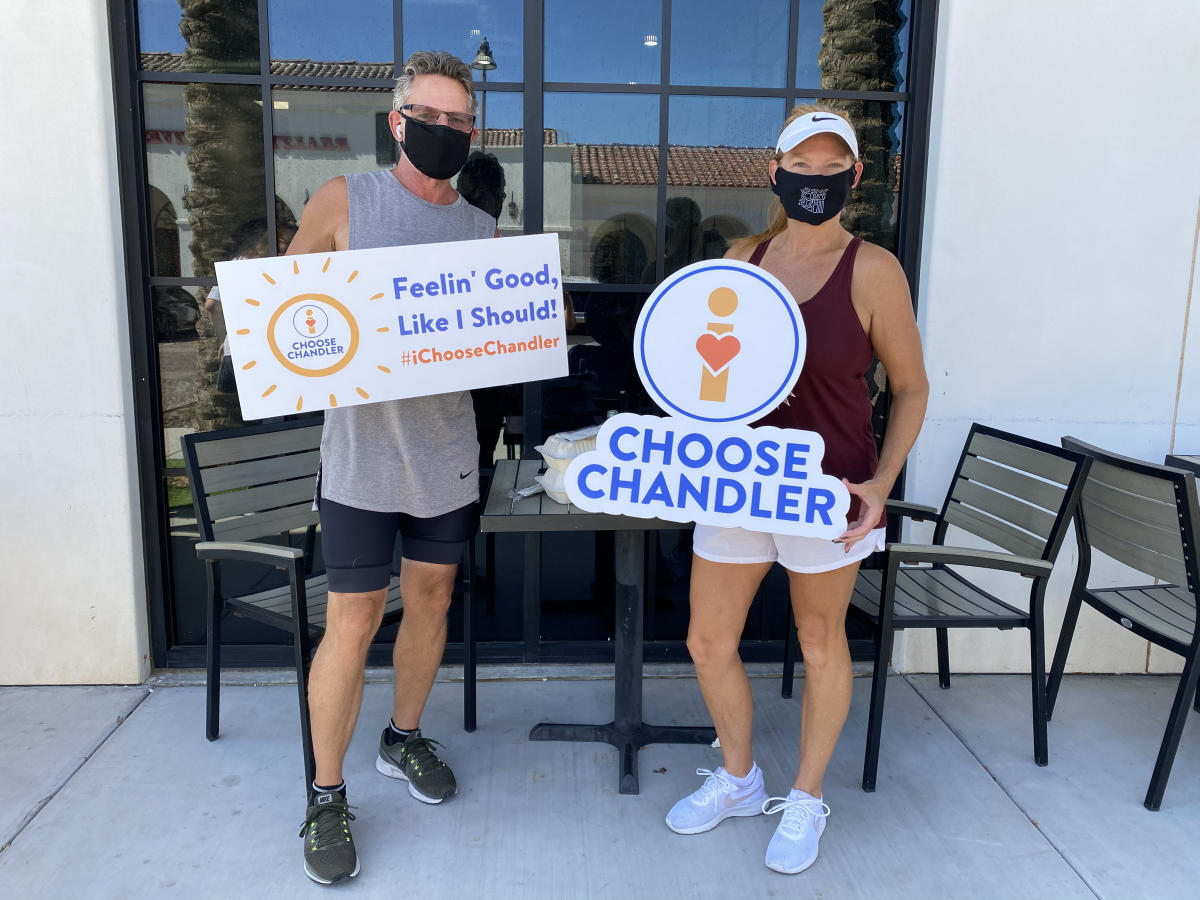 Lynn Crespo and Ken Morrow
Lynn and Ken connected with the team as they were enjoying a morning coffee following a bike ride to Press. They both live in the Ocotillo area of Chandler and absolutely love the neighborhood! They both have spent years living in the area, "We've been here forever," Lynn said. "It's an amazing community."
The two are active members of Chandler's community — Ken owns the nearby St. Amand Kitchen & Cocktails restaurant in South Chandler! The two are excited to use their $25 gift card to Helluva Brewing Company to try out another local spot and indulge in a craft beer.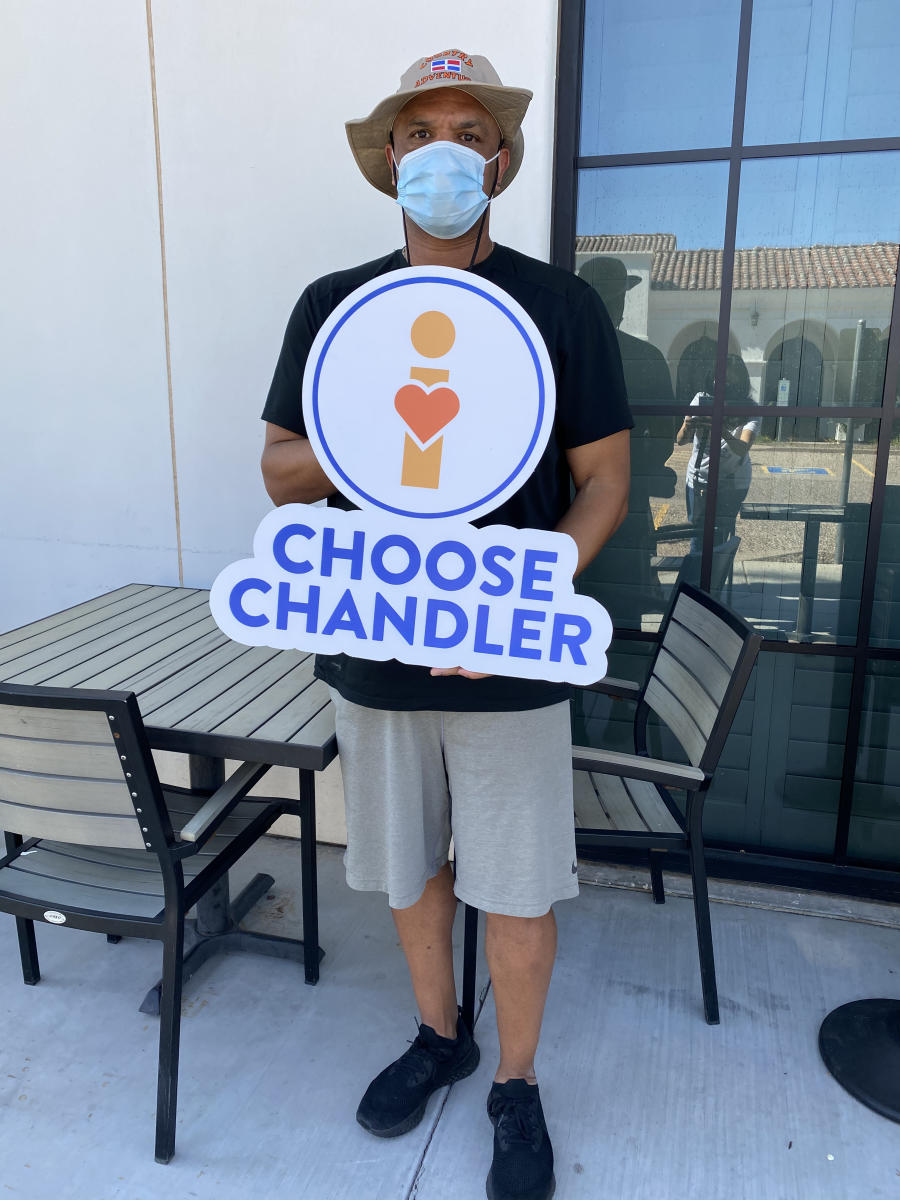 James Madison
James is a resident of Downtown Ocotillo and visits Press for a fresh coffee every morning! He is a fan of Chandler's unique and warm community, as well as the prevalence of high-quality restaurants and shopping. 
"I love the restaurants in Chandler and that everything you need is close by," James said. "I can get just about anything I need in a small radius here, and that's great." 
James snagged a $25 gift card to try something new to him and is looking forward to checking out the Kind Bean coffee shop.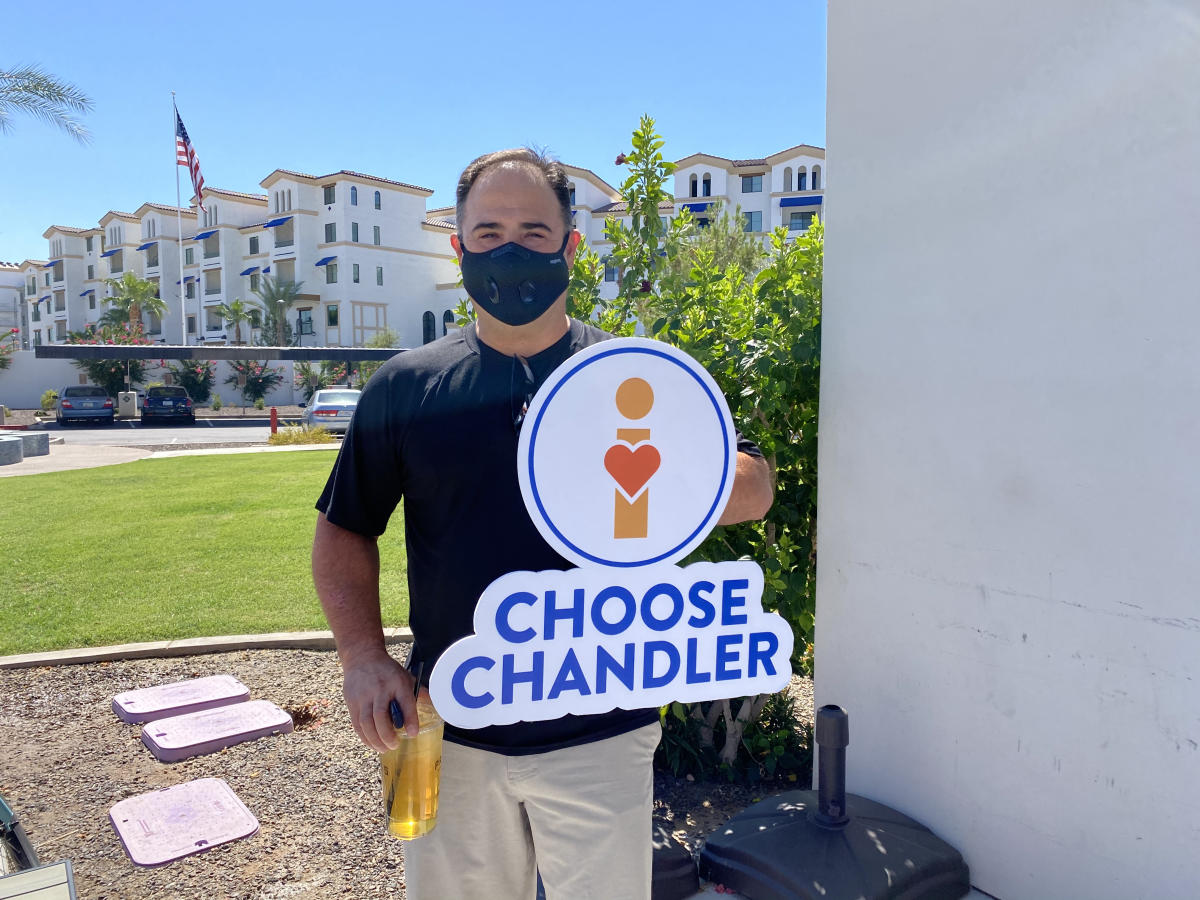 Leonard Reid 
Leonard has been working in Chandler for 23 years at nearby Intel.  He used to live in Chandler, having raised his family here before moving to Queen Creek. 
He's enjoyed watching the area grow and getting to try all of the new shops and restaurants near Intel's campus in the process. Leonard is a proud father of four. His adult son also works in Chandler "building rocket motors at Northrop Grumman." 
"I enjoy grabbing a drink at Press before work," Leonard said. He is looking forward to spending his $25 gift card at Grubstack grabbing lunch and trying a new to him spot in Chandler.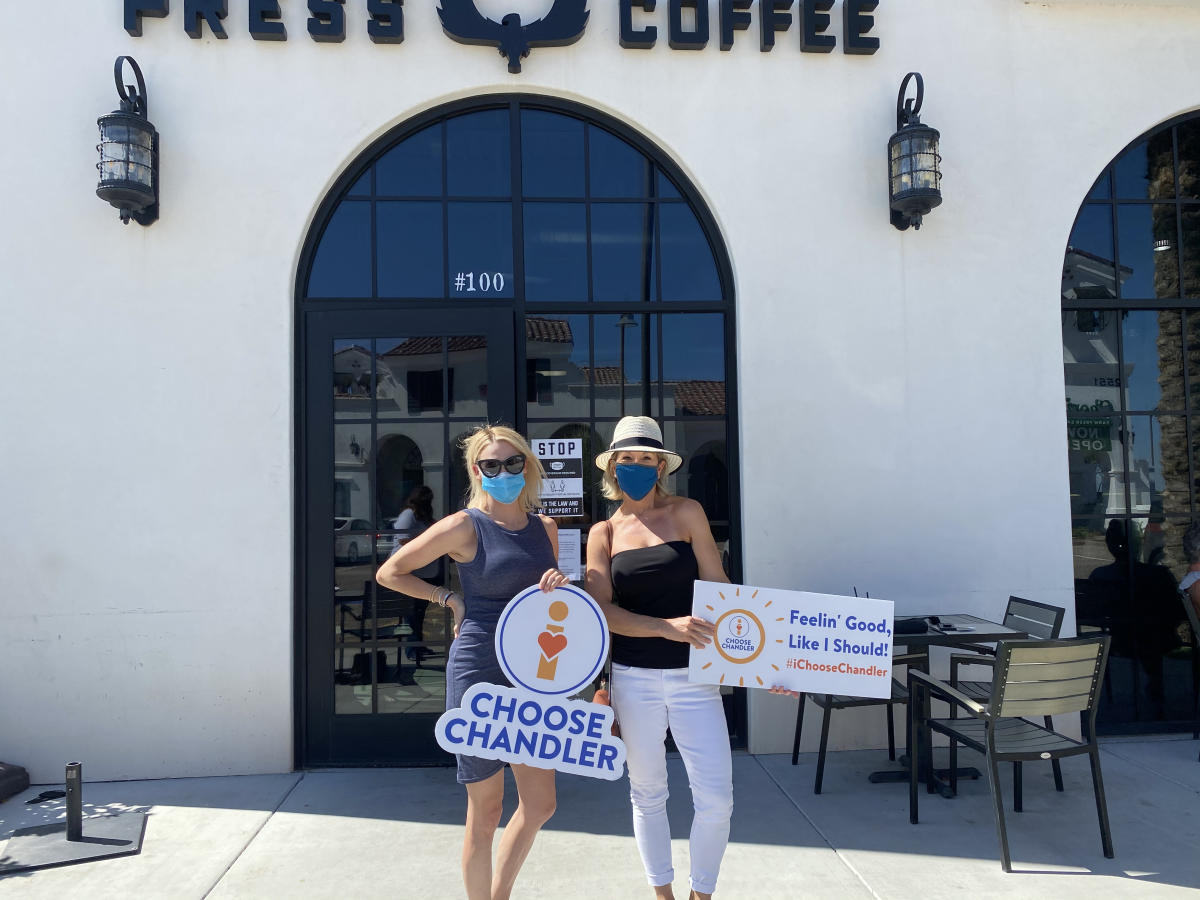 Tanya Rhodes and Sally Brown
Long-time residents and friends Tanya and Sally spend lots of time meeting up to try new spots around the city and in their own Ocotillo neighborhood. 
"Chandler has great people," Tanya said. "The city is well planned out, and there is a lot of diversity and a great corporate base. Still, it still feels small enough that you can see people you know when you're out and people will remember your name." 
The friends opted for a gift card to one of their favorite happy hour spots, The Parlay Kitchen + Cocktails.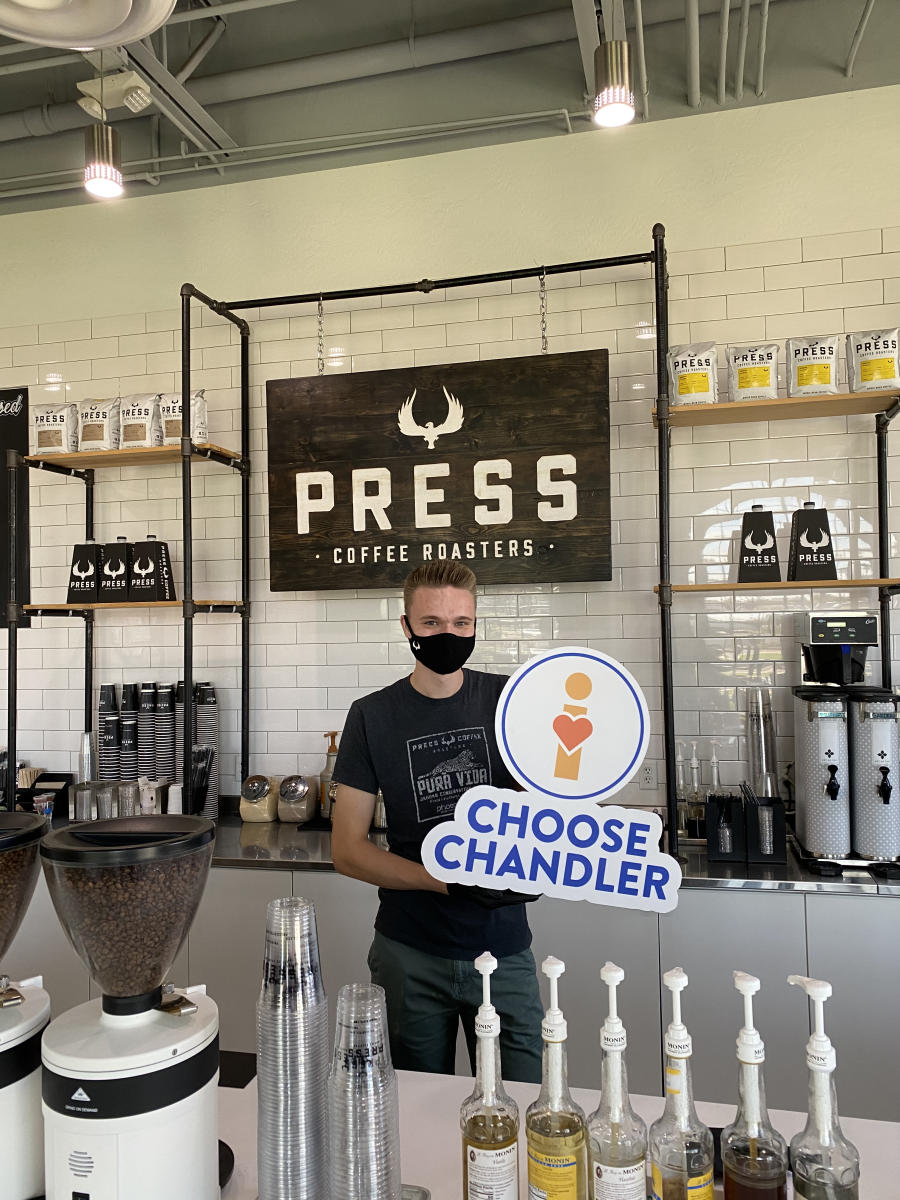 Ian Frer
Press Coffee barista Ian Frer grew up in Chandler and loves his community. 
"I just enjoy the general feeling of the city," Ian said. "It's clean, safe and fun to wander around and explore."
Ian's favorite area is Downtown Chandler where he likes to "walk around and hang out." He snagged a $25 gift card to The Sicilian Butcher and he is excited to try the made from scratch meatballs and pasta featured at the popular hotspot. 
STAY CONNECTED
#FeelGoodFridays continue and the #iChooseChandler team will be out and about on Friday, August 14th so if you see us, be sure to say hello!
Stay connected with the #ChooseChandler initiative to support Chandler businesses.  You'll find local business spotlights, interesting profiles and articles about all things Chandler on our Instagram and Facebook pages.