The team was at it again for another #FeelGoodFriday excursion on July 31st. The #iChooseChandler team greeted Chandler shoppers departing Merchant Square Antique Marketplace, Arizona's largest antique mall located in Uptown Chandler. The Chandler shoppers received free gift cards from the team, accompanied by Chandler City Councilmember Sam Huang who thanked visitors for loving and supporting Chandler businesses, at a social distance of course.
Merchant Square is a 58,000 square-foot marketplace that houses antiques, decor, furniture, accessories and collectibles from more than 250 unique merchants and a salvage yard, Pickers Alley. Shopping at Merchant Square is a grand, one-of-a-kind experience that you have to see for yourself! Next time you stop by, don't forget to grab a homemade sandwich at the in-house restaurant featuring house-smoked meat, fresh-baked bread and locally grown produce at American Way Cafe and huge, delicious cookies by Chandler's very own Tattered Aprons.
Check out these highlights from our fifth week of #FeelGoodFriday — where local shoppers were greeted and given gift cards to check out some new to them, local Chandler businesses.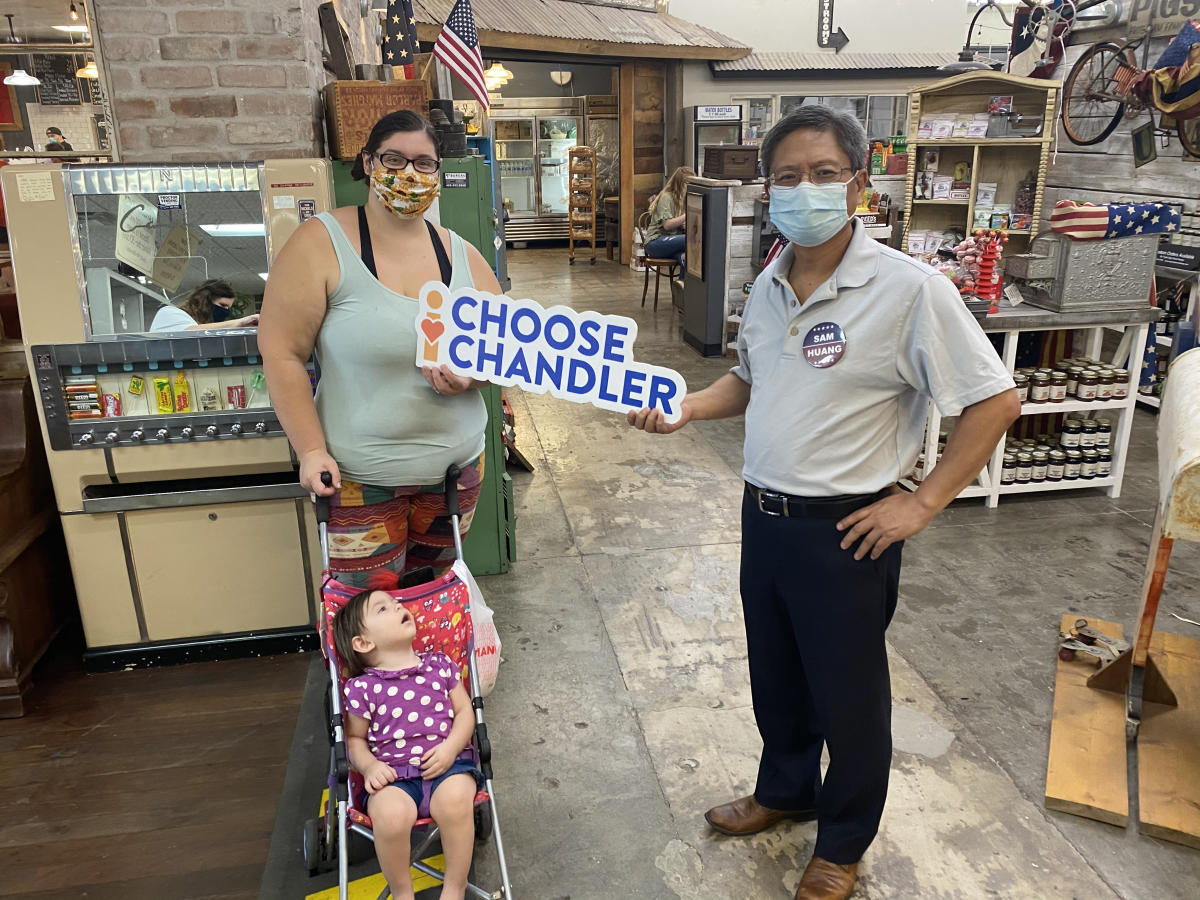 Rebecca Mezines
Rebecca and her family live in Mesa, but they were excited to head to Chandler to shop at Merchant Square and peruse items of yesteryear.  As a mom of three young children, she's found it to be a great way to talk about the changes in technology when they come across payphones, record players and vintage toys.
"We're fans of other antique malls in Chandler and wanted to try this one out when one of the merchants shared information about the plaza on social media," Rebecca said. "We like to visit Chandler to enjoy all the unique shopping there is here, and the kids love the Playtopia! Playground at Tumbleweed Park.  And we're looking forward to checking out the monthly Highland Yard Vintage Market next time." 
Thinking of her kids first, Rebecca took home a $25 gift card to Rewind Ice Cream + Boba Tea in Chandler, and they're all looking forward to cooling down with the artisan ice cream this summer.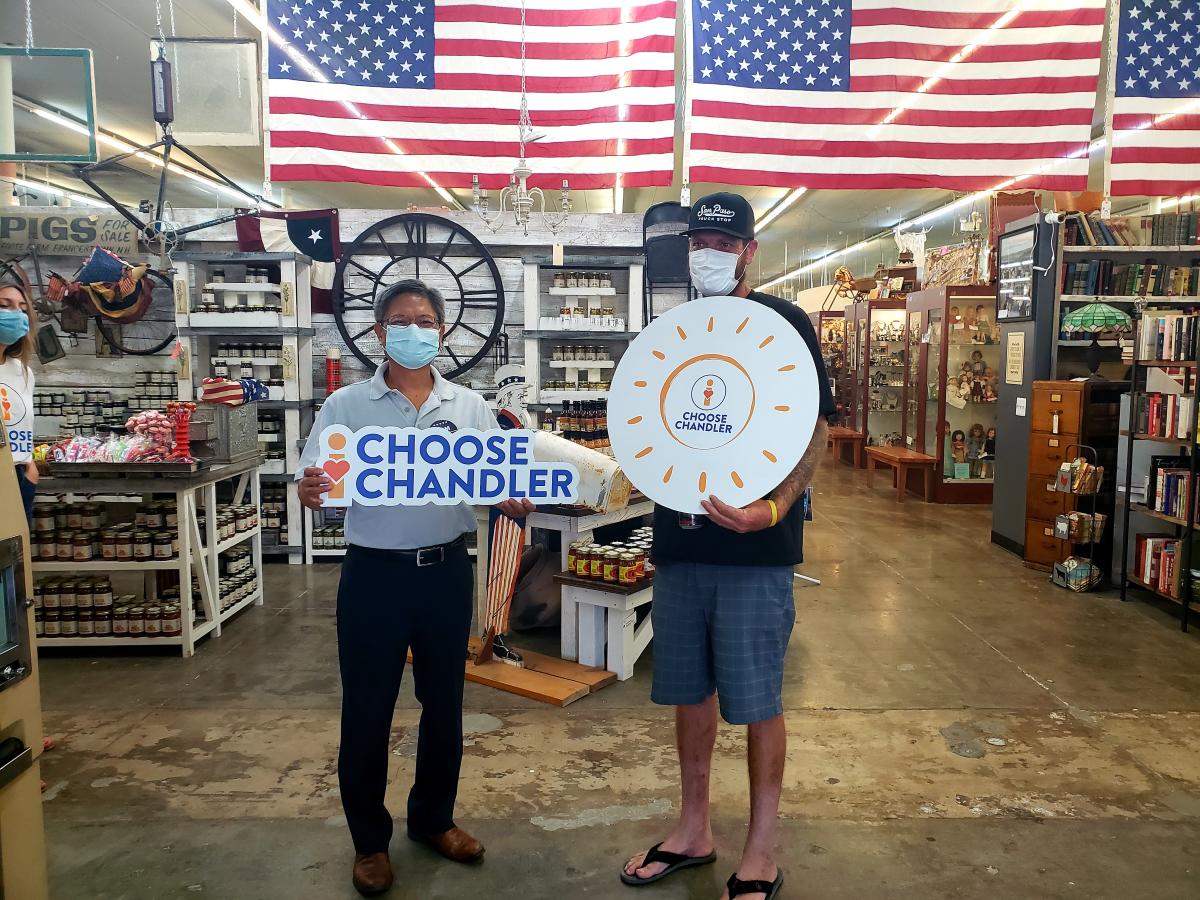 Sean Lowe
Sean, a Tempe resident takes any chance he can get to hang out in Chandler, particularly the Uptown Chandler neighborhood. His favorite restaurants to visit include Hot Pot Caribbean Cuisine and ATL Wings. We're sensing a spicy theme here!
"I love Chandler. I come here all the time to golf at the San Marcos Golf Course, shop and visit friends. Chandler is full of unexpected places and always has new things to try."
Sean snagged a $25 gift card to south Chandler based Grubstack, known for its twist on American comfort food, for spending some time chatting with the team.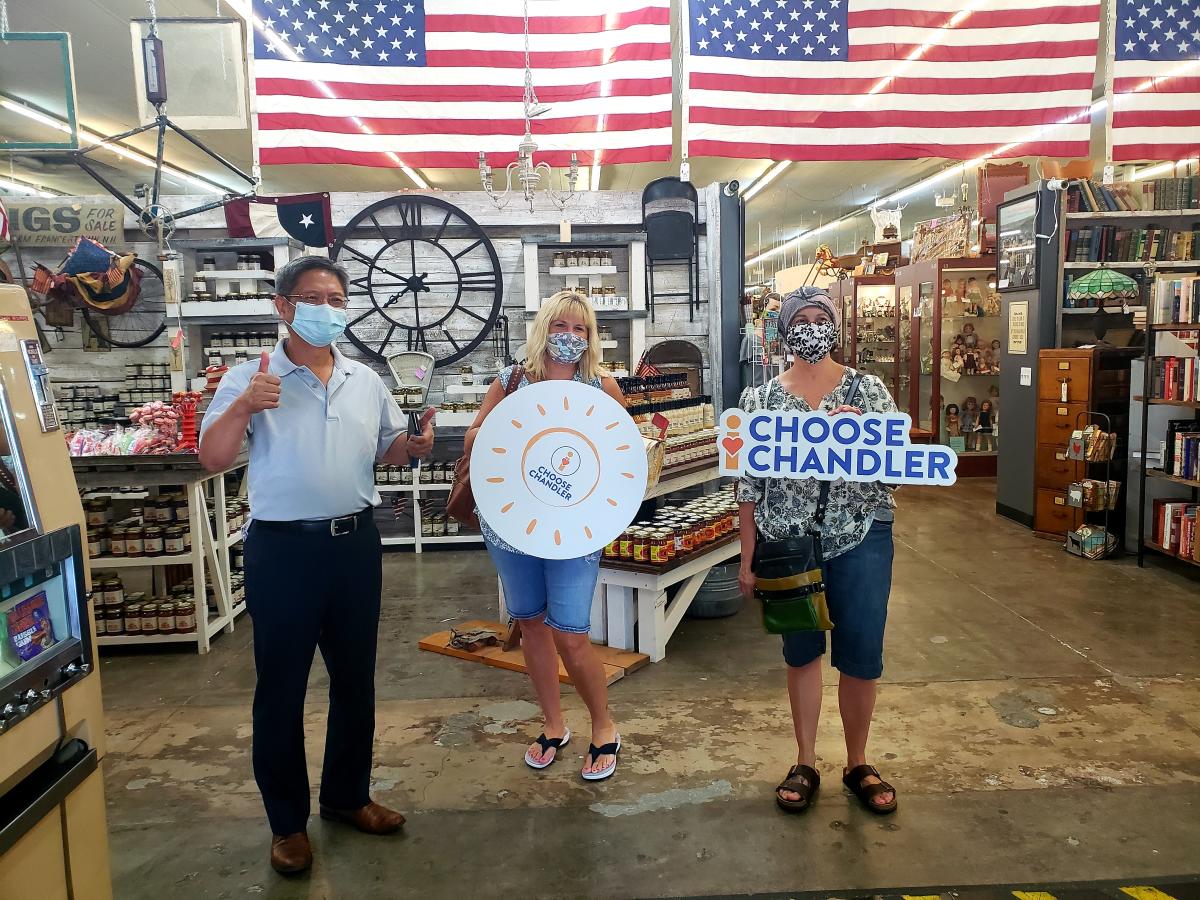 Kelly Boekes and Zarina Schober
Friends Kelly and Zarina love visiting Chandler to shop and check out unique spots like Merchant Square. They also enjoy a trip out to eat at Chandler restaurants and are excited to try out their new gift card to Hot Bamboo for their specialty, character bao (Chinese steamed buns). 
"We love supporting Chandler businesses and restaurants," Kelly said. "...we're also big fans of Chandler high school sports teams and support the schools. Go Chandler High School Wolves and Basha High School Bears!"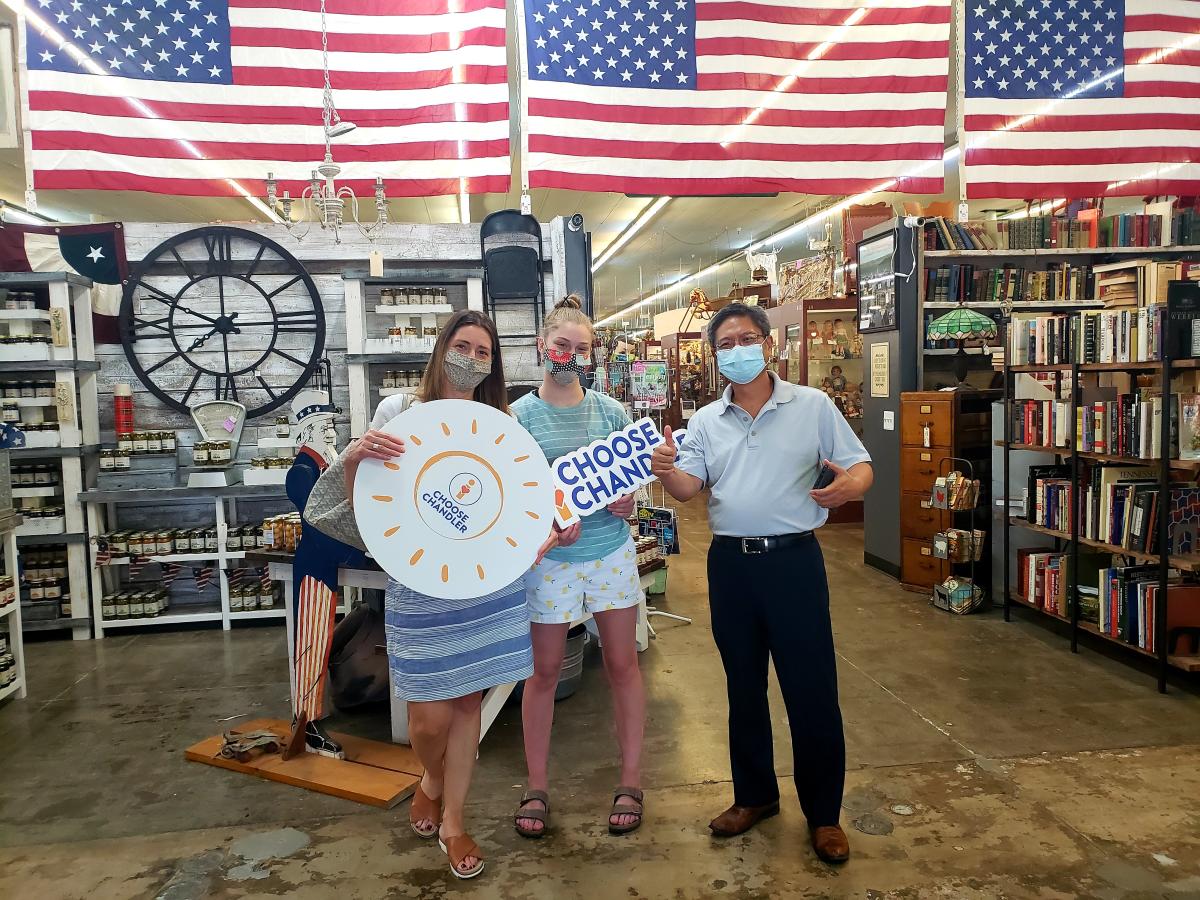 Tammy and Whitney Wilson 
The mother and daughter duo were enjoying time together with some shopping at Merchant Square and took home a $25 gift card for a future, fun brunch at Eggstasy after visiting with the #iChooseChandler team.
Native to Phoenix, Tammy wanted to move to Chandler for the sense of community and high quality of life that she and the family have found in their south Chandler home. 
"We love to eat and shop our way through Chandler," Tammy exclaimed.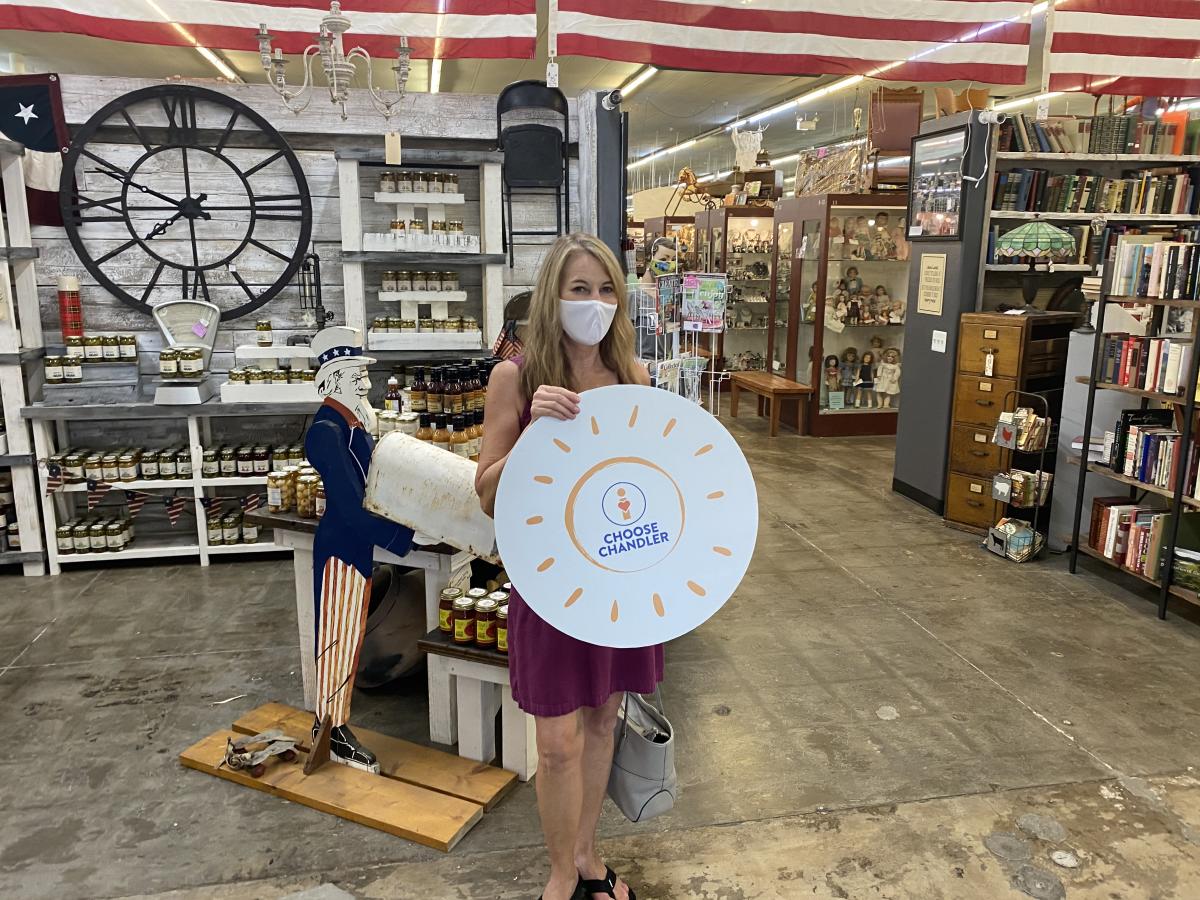 Barbara Remondimi 
Barabara lived in Chandler for 20 years before her move to Wickenburg, Arizona, but she still visits once a month to shop and visit all of her favorite spots from her time living here! 
"I love Chandler and I visit when I can to stop by all the best places," Barbara said. "My favorite places to visit are Downtown Chandler, Elmer's Tacos, Merchant Square and Hidden House."
Stay Connected
The #iChooseChandler team will be out and about on Friday, August 7th so if you see us, be sure to say hello!
Stay connected with the #ChooseChandler initiative to learn more about the benefits of supporting local Chandler businesses, local business spotlights, interesting profiles and articles about all things Chandler on our Instagram and Facebook pages.