After a short break...we are back with another #FeelGoodFriday adventure! This time, the #iChooseChandler team gave away gift cards to lucky shoppers at the PGA TOUR Superstore in Uptown Chandler on July 24th. Chandler City Councilmember Terry Roe joined the crew to chat (at a distance) and get to know why visitors love and support Chandler businesses!
PGA TOUR Superstore, located on Arizona Avenue in Uptown Chandler, is the store's only location in the East Valley. The "super-sized" sporting goods store offers club repair, golf lessons, custom fittings, an indoor driving range, full tennis court, tennis gear, tournament support and much more.
It is a draw for golf-lovers from Chandler and beyond, many of who also enjoy patronizing the several high-quality golf courses and clubhouses throughout the City of Chandler.  
Check out these highlights from our fourth week of #FeelGoodFriday — where these local shoppers were given a $20-$25 gift card to try out other spots in Chandler.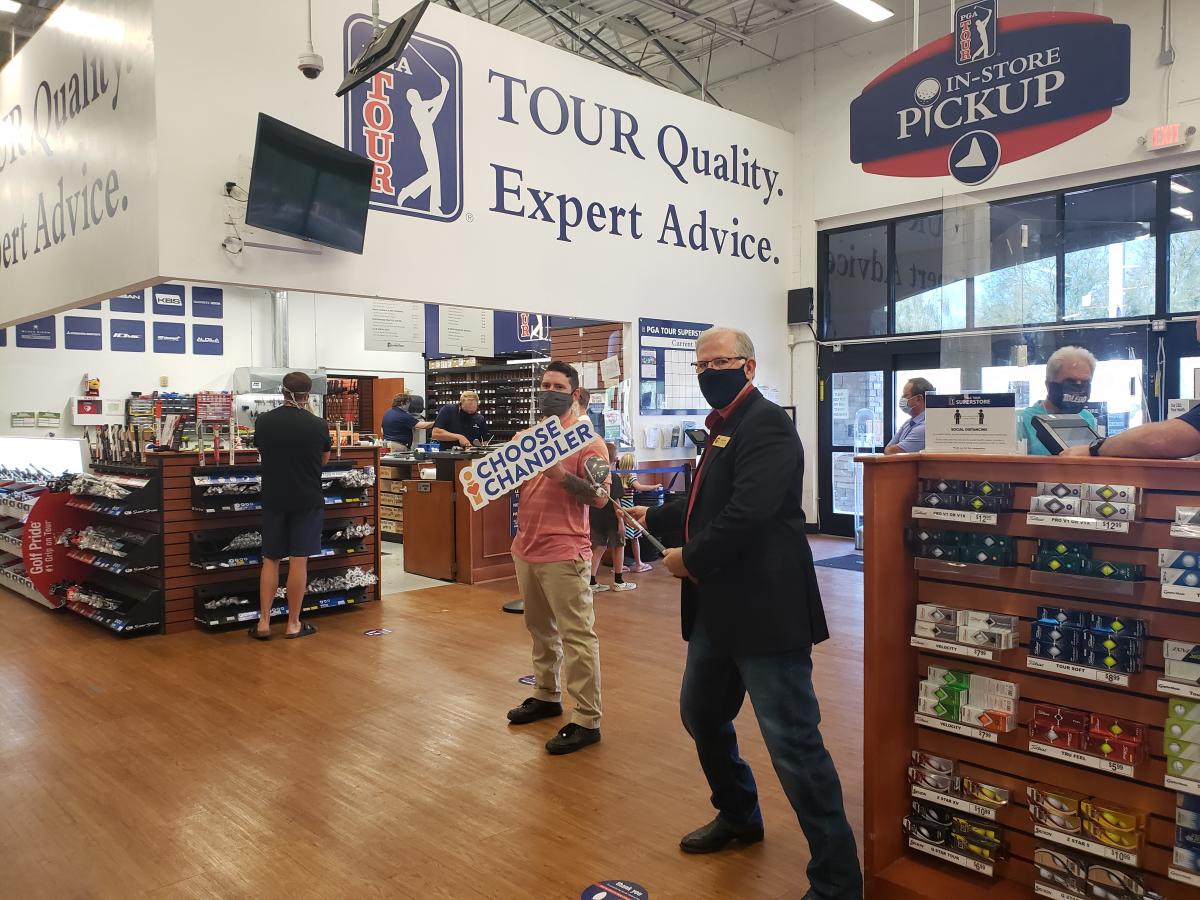 Matt Stark
Matt Stark lives in Uptown Chandler near Warner and Alma School. He loves living in Chandler because it is a quieter change of pace from his last home in Tempe and was pleased to hear about the #iChooseChandler initiative.
"Everything is close," Stark said. "I can get to anything I need without going far." 
Stark also appreciates golfing in the community, particularly at the San Marcos Golf Course, Arizona's first grass golf course.  Always looking to try something new and something local, Stark was happy to select a gift card from Roots Coffee Bar & Juicery located in south Chandler.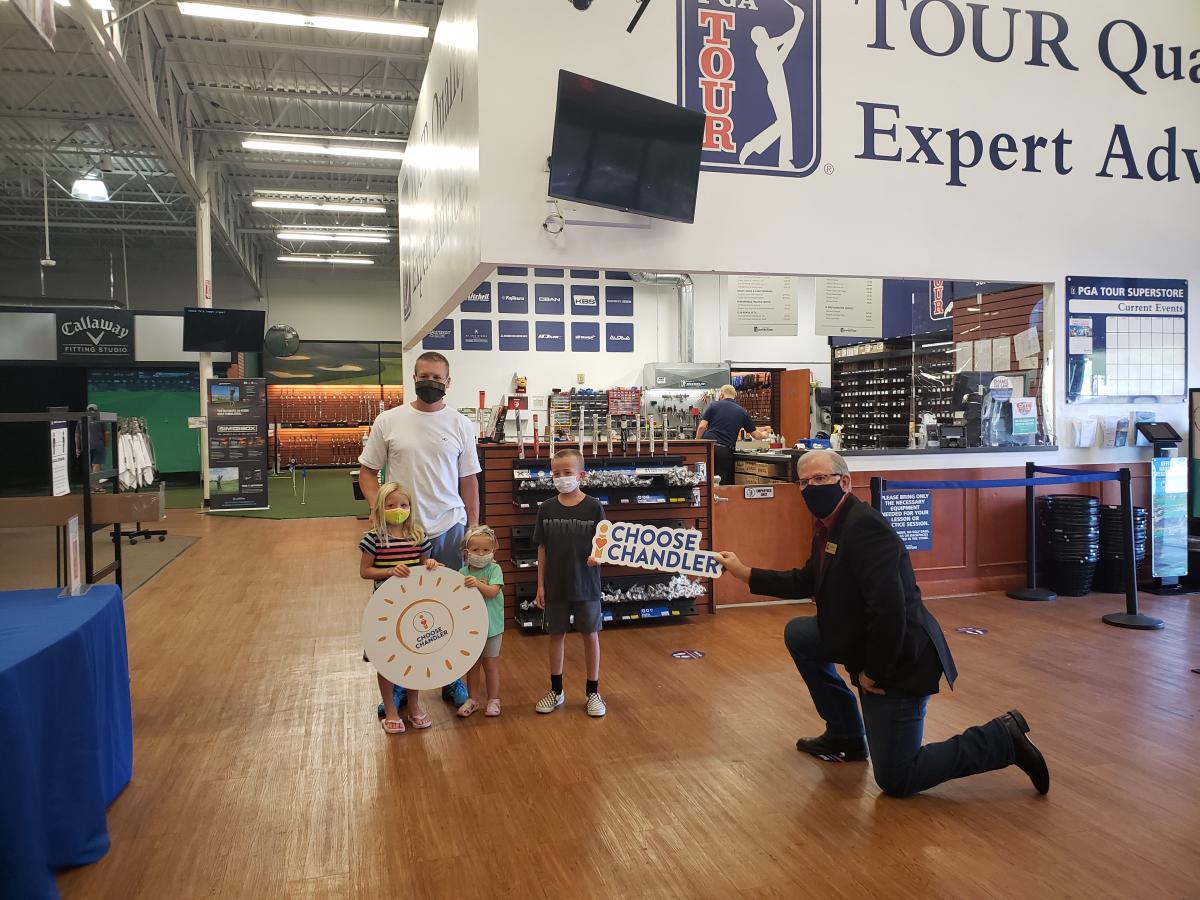 Jeremiah Butout and Family
Jeremiah and his family used to live in Chandler and still visit every once in a while for the shopping and entertainment. 
"We appreciate the cleanliness and safety of Chandler, and we enjoy the new development," Butout said. 
The Butout children are two, three and eight and a half. They enjoy visiting Chandler parks, particularly Tumbleweed Park and the Playtopia! Playground.  It's no surprise that the kids got starry-eyed when they heard about the scratch made pasta at The Sicilian Butcher and look to have family meal there soon.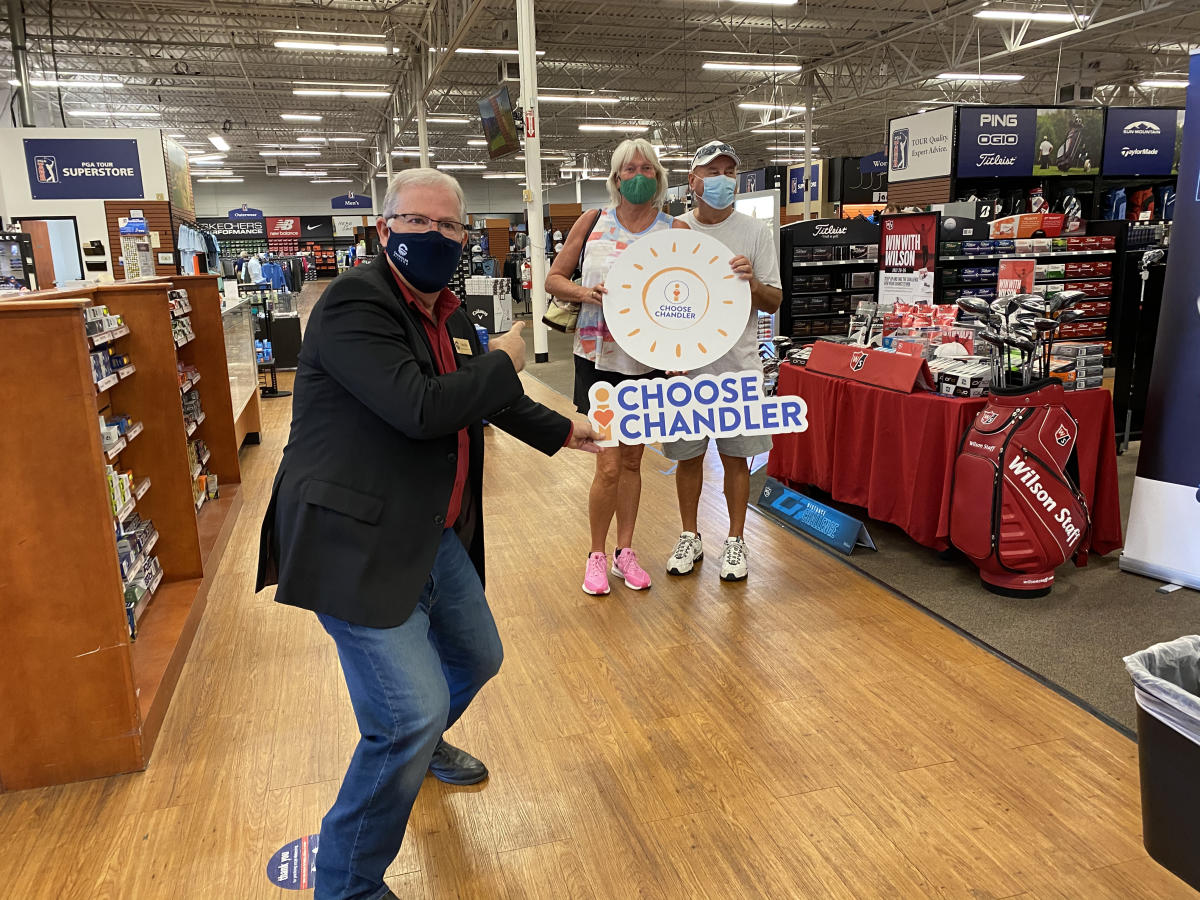 Bob and Robin Surdey
Bob and Robin live in Chandler off Pecos and Cooper. They are retired and love to golf in Chandler because of the variety of golf courses and the perfect weather.
"We love living here for all of the restaurants, shops and of course, golf," Bob Surdey said. "Everything is so convenient. Everything we need is less than five miles away."
The couple is eager to head over to Chase's Diner for American comfort food in its 1950's style décor.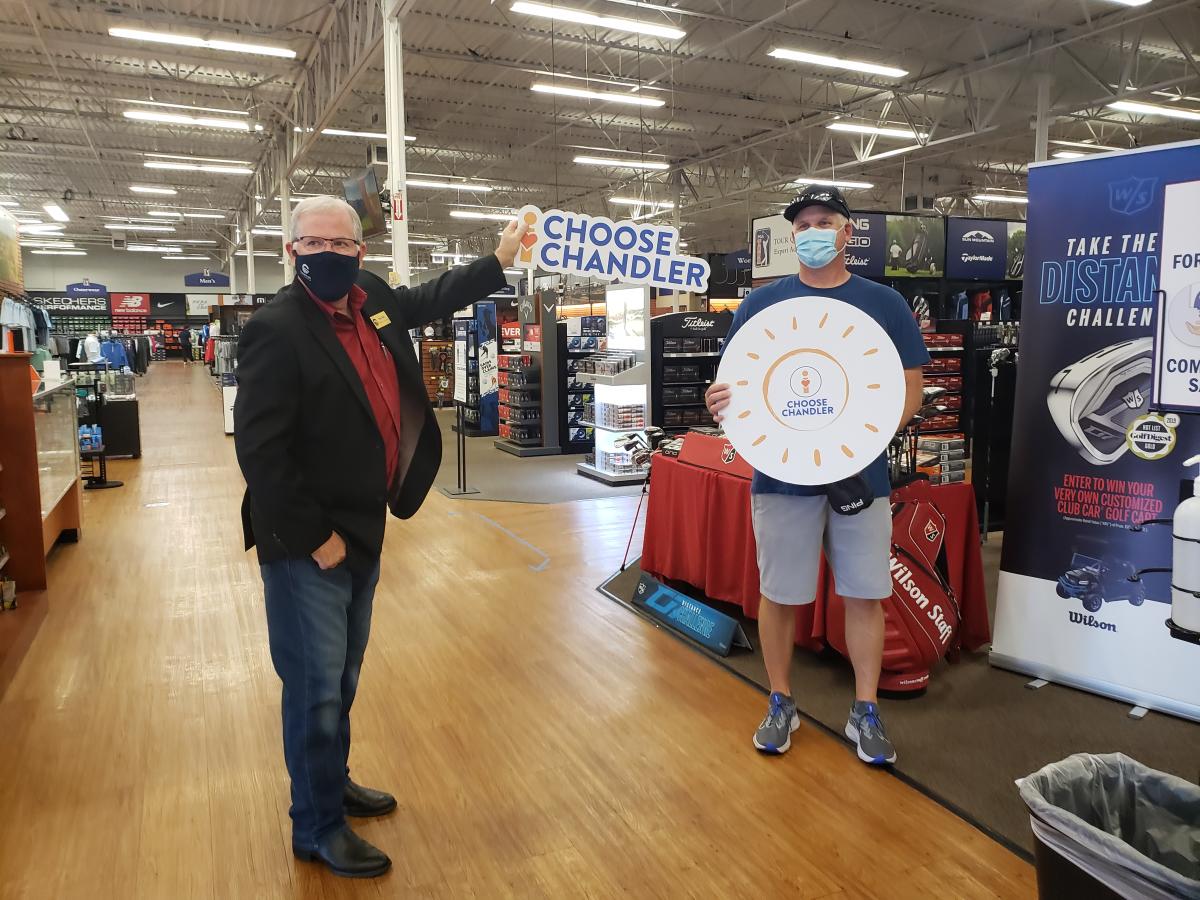 RJ Lambert
A big fan of golf, RJ has been playing the game for more than 20 years. It makes sense why Chandler's PGA TOUR Superstore is one of his frequent destinations!
"I enjoy Ocotillo Golf Club, as well as the other shops and restaurants around Chandler, and Hop Social Tavern is a fave spot" Lambert shared when he selected his gift card.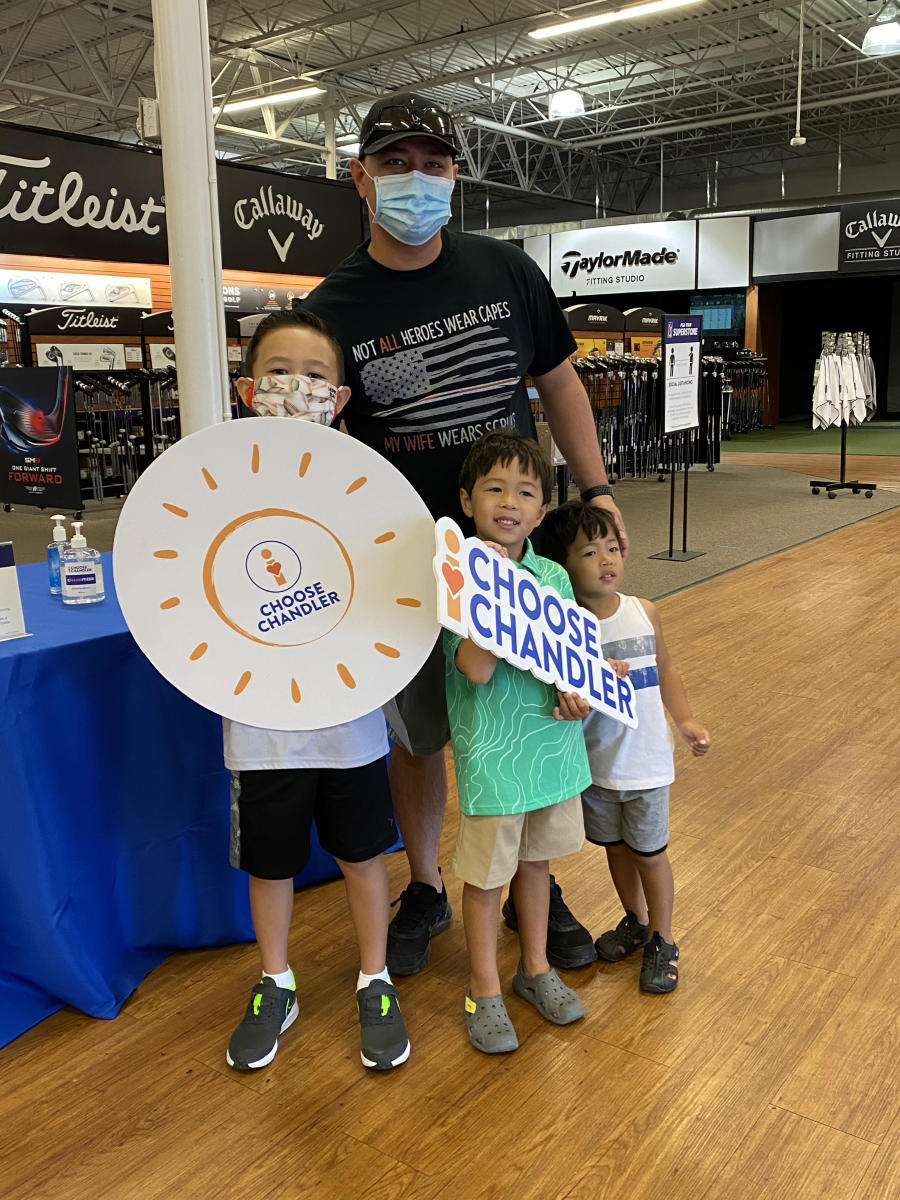 JP and Family
JP and his family are Mesa natives but enjoy a trip to Chandler to try something new. JP and his wife are avid golfers and enjoy Chandler's Ocotillo Golf Club most in the community. The family looks forward to trying the character bao (steamed buns) at Hot Bamboo with their $20 gift card.
Thank you to everyone who went out this week to support local businesses. Keep an eye out to catch us out again at a mystery spot around Chandler next week.
Be sure to follow us on social media: Instagram, Facebook, Twitter and LinkedIn to learn more about Chandler restaurants, stores and businesses and the importance of shopping local.
Until then, we hope you all are staying safe, healthy and Choosing Chandler!