The #iChooseChandler team was back at it on June 26th , for another #FeelGoodFriday. This time they hit up the Kind Bean on McQueen and Pecos roads. If you haven't been there before — you are missing out!
As noted on their website, the Kind Bean is a full-service coffee house featuring organic coffee, specialty cold drinks and a café with amazing vegan options, including quick service breakfast, lunch, baked treats, gourmet chocolates and soft-serve ice cream. If you're drooling now, we were, too! And if you don't feel comfortable going inside to order just yet, not to worry, they have to-go curbside service and will rush your order right to your vehicle.
In addition to mouthwatering treats (those scones!), you'll be blown away by their epic kindness. When you enter the neighborhood coffee and sweet shop, they say hello and you can just feel the smiles behind the masks. The owners, Clay and Jen, "believe in hospitality in every aspect of life, and that the world needs a little more kindness and a little less chaos." Sign us up!
Check out these highlights from our third week of #FeelGoodFriday — where these local shoppers were given a $25 gift card to try out other spots in Chandler: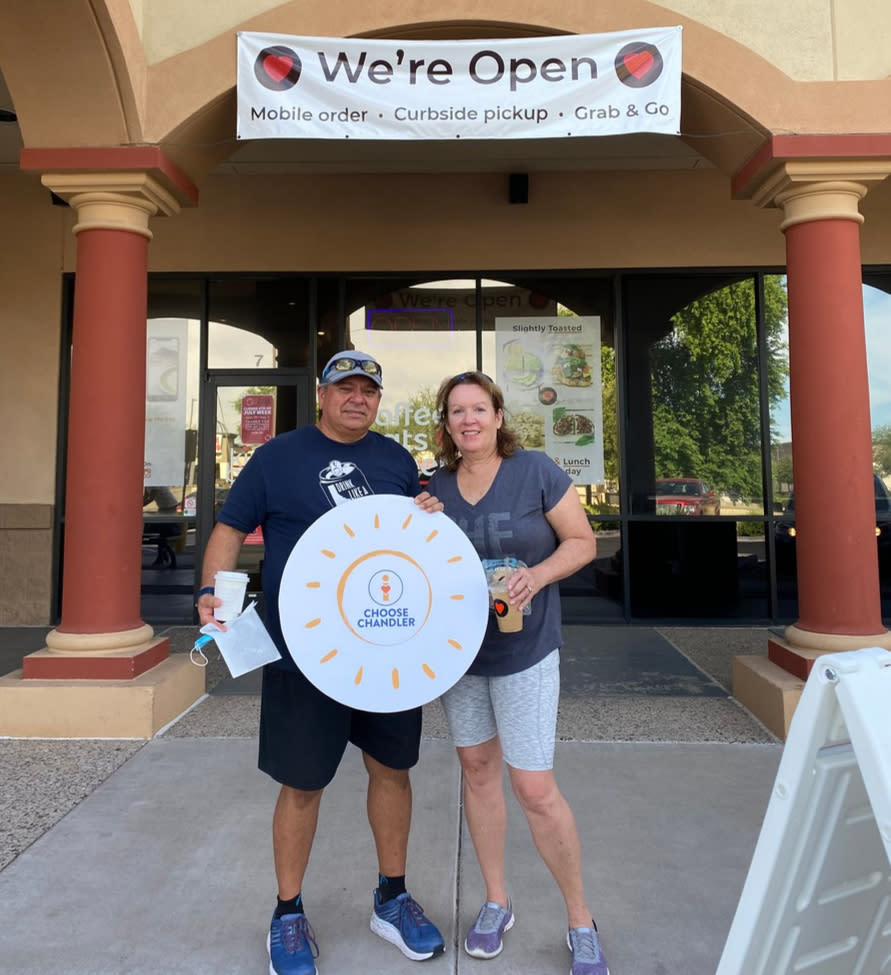 Annie Crawford
Annie recently moved to another East Valley city, but was a Chandler resident for more than 25 years. She shared how Chandler has grown so much throughout the years. She returned to her stomping grounds to enjoy some coffee and scones with her husband, who also works in Chandler.
Favorite things to do in Chandler: Races! The Turkey Trot, Donut Run and She Power are just a few of their favorite ones. In fact, Annie was sporting her She Power T-shirt from the popular Half Marathon & 5K that starts and end in Downtown Chandler.  Did you know that this is Arizona's largest all-female running event?  
Annie chose a gift card to Tryst Café, which is a focus on organic, natural cuisine, from the kitchen to the bar, striving to source its ingredients locally. If you haven't yet been, yet love a healthy, hearty meal… this is a must try!


Katie Bettis-Robinson
Katie relocated to Chandler five years ago from Iowa. Back home, there weren't many places she could take her kids.  Living in Chandler, she loves the city parks, KTR (Kids That Rip Family Action Sports Center) and variety of outdoor activities for kids.
Favorite things to do in Chandler: Any fun place she can take her kids and working out at the gym.
Katie works in the Price Corridor area, but has never been to The Parlay Kitchen + Cocktails. She said she is looking forward to trying this American Gastropub out as she has driven by it for months!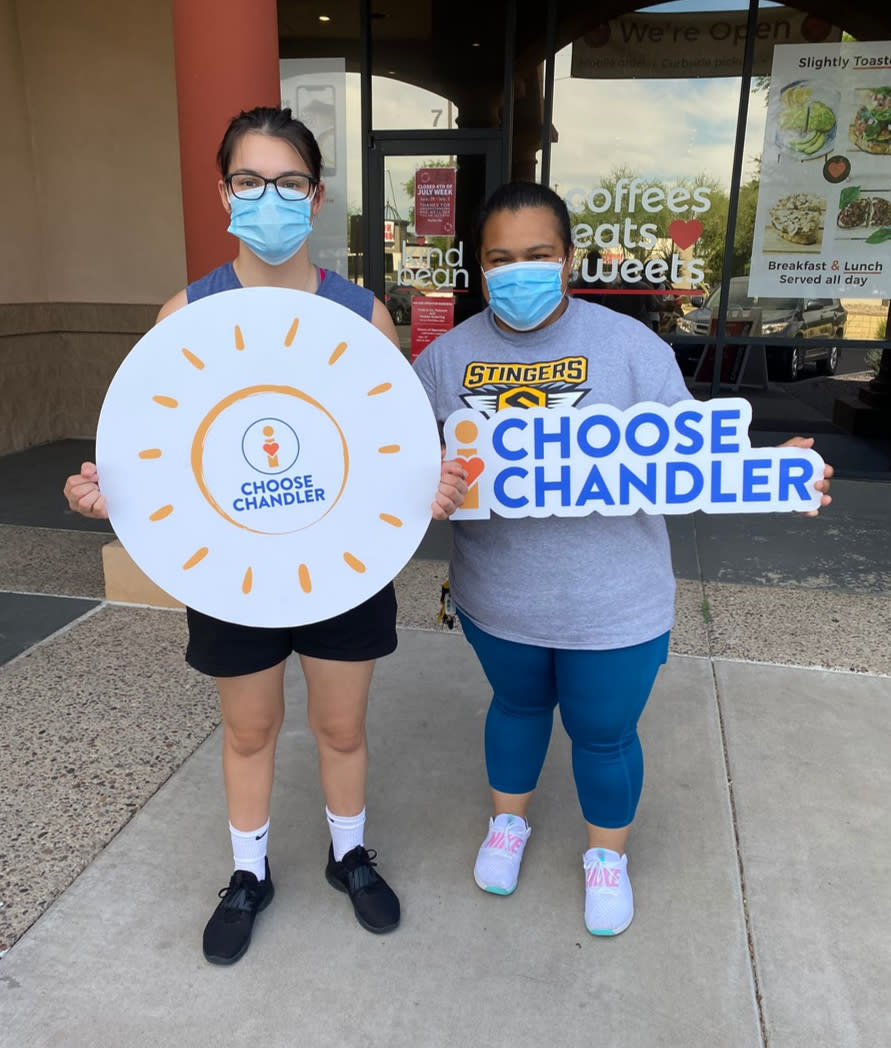 Lorena Riley
Lorena works at Champion School, where her son also is a student — so she's able to spend lots of time in Chandler during the school year. She commutes to work each day and appreciates how Chandler is such a "live city." In fact, Lorena prefers to do all of her shopping in Chandler, too! She loves how all the shops are conveniently located, so she can visit all of her favorites in one spot.
Favorite things to do in Chandler: Hang out with friends and co-workers in Downtown Chandler.
Since Lorena visits the Kind Bean (almost) daily, she was excited to receive a $25.00 gift card to fuel her mornings!
While we were out and about on Friday, some of the #iChooseChandler Team headed out earlier in the week for lunch with Councilmember Mark Stewart. The craving was: TACOS, and the group made their way to The Drowning Taco, located just north of Downtown Chandler. While there, they had the opportunity to meet a few more great individuals who were also enjoying lunch.
Here's who they were able to meet and chat with: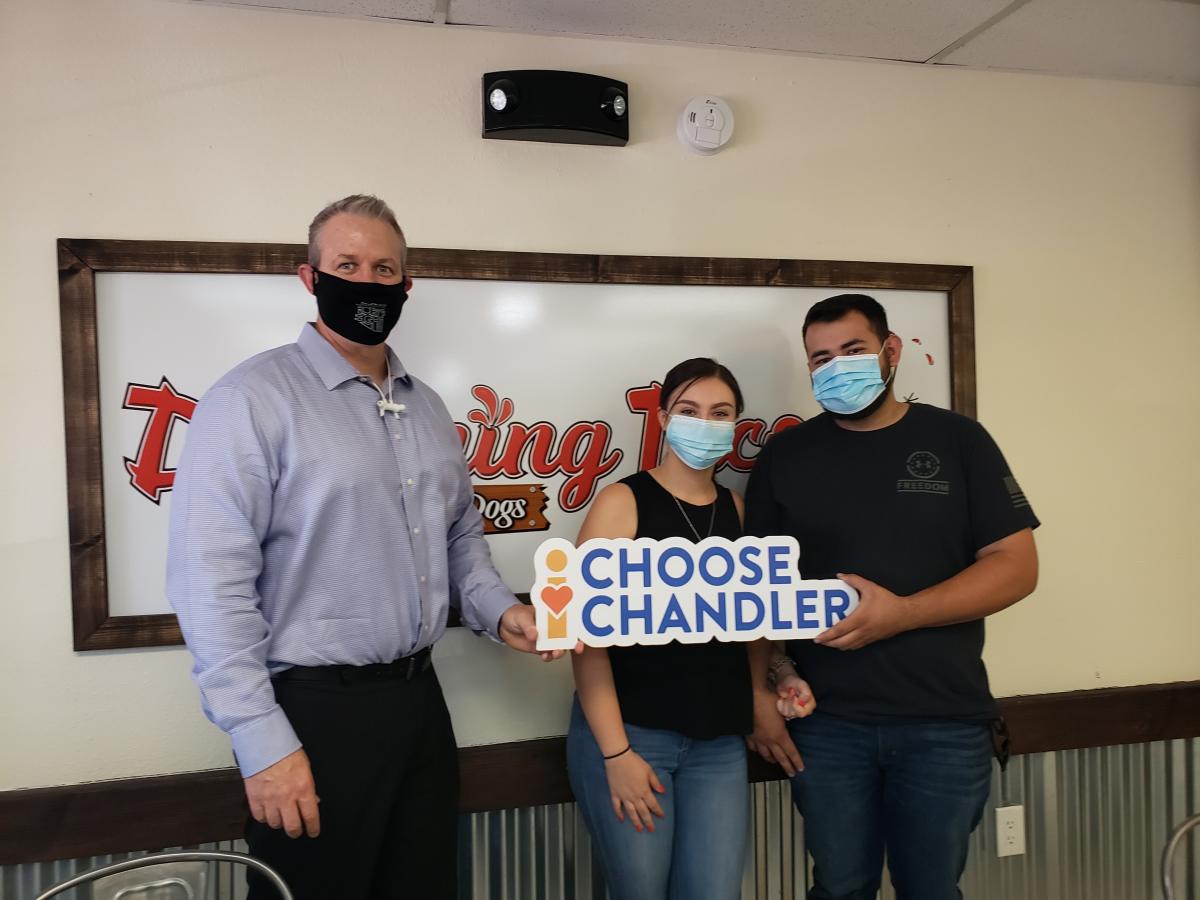 Roy Mendoza and Gabrielle White
Although Roy and Gabrielle live in San Tan Valley, they have family living in Chandler – and conveniently, just up the road from The Drowning Taco.  On Wednesday, they wrapped up an earlier appointment in Downtown Phoenix but included a must stop at one of their fave Chandler restaurants and to bring lunch to Roy's brother.
Favorite thing to do in Chandler: Eat at Chandler restaurants and visit family.
Roy and Gabrielle received a gift card for a new to them restaurant – HELLUVA Brewing Company, an industrial-style brewery located in west Chandler.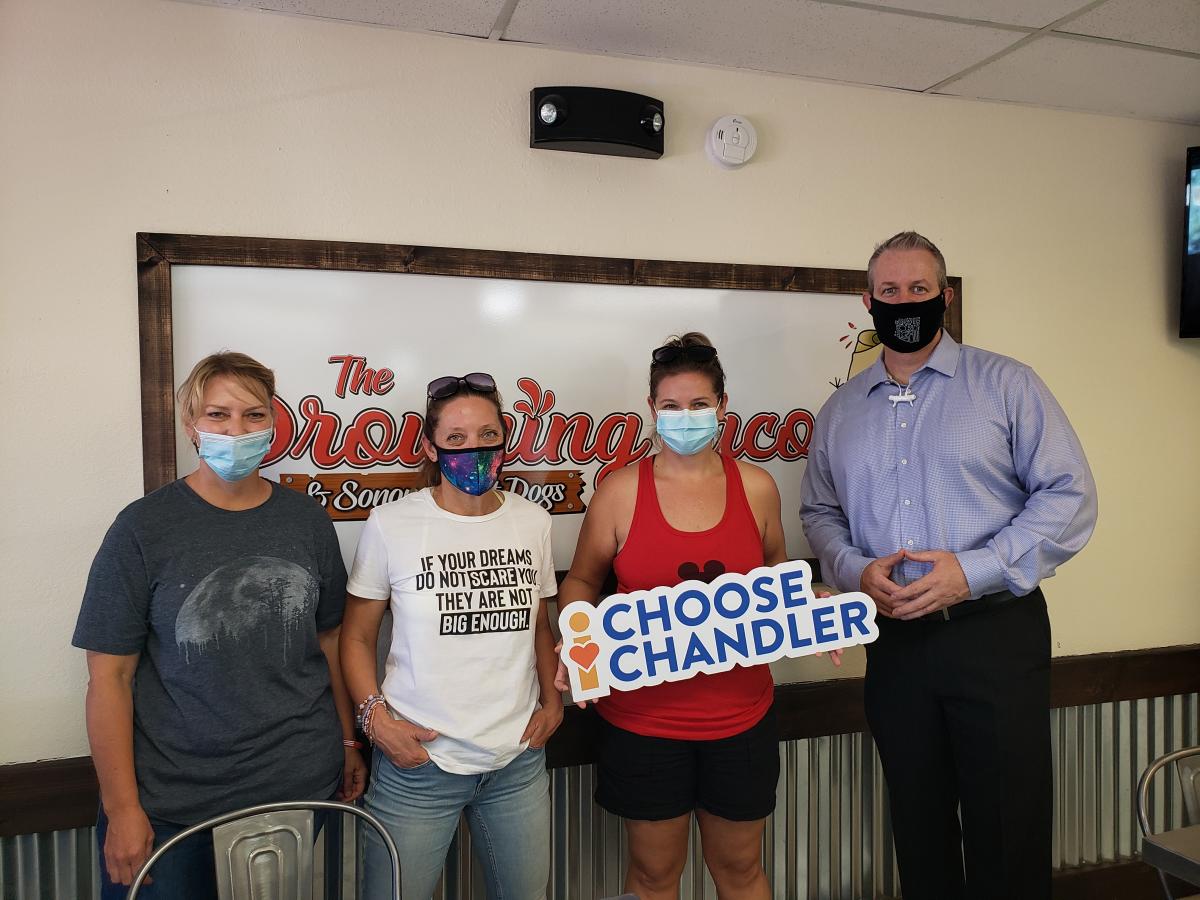 Callie, Brenda and Jennie
The next group was craving tacos after a fitness training session in Uptown Chandler at React Defense Systems.  Following their strenuous class, they made their way to The Drowning Taco to reward themselves.
While none of the ladies live in Chandler, they find themselves not only coming for their fitness classes, but for the variety of shops and restaurants located in Chandler.  In fact, one of the ladies is just visiting temporarily as her teaching career has her teaching abroad and is in town to visit parents who live in Mesa.
While their favorite activity in Chandler is dining, they also love the eclectic feel of Downtown Chandler.
The group of friends were surprised with a $25 gift card for Rewind – Ice Cream and Tea Bar in west Chandler known for its cool treats featuring small batch, cereal-infused soft serve ice cream.
All in all, it was another great week to get to know those who live, work and visit our community! We will be taking a break for the Independence Day (Fourth of July) Holiday weekend, but are looking forward to sharing more information with you in the coming weeks.
Be sure to follow us on social media: Instagram, Facebook, Twitter and LinkedIn to learn more about Chandler restaurants, stores and businesses and the importance of shopping local.
Until then, we hope you all are staying safe, healthy and supporting local!