Pete Deeley, a certified health coach and founder of A Well Run Life, doesn't want to preach to anyone the virtues of eating your fruits and veggies. He'd rather sit around the dinner table to start a thoughtful conversation about the benefits of a well-balanced diet, especially one crafted with local food.
Deeley enables that narrative at Grace Farms, a micro-urban farm and event space he runs in south Chandler, where he hosts pop-up dinners that feature products from local farmers, ranchers, distillers, winemakers and brewers across the state.
Even though the native New Yorker wasn't raised on a farm, he has a vested interest in reversing lifestyle diseases like obesity and diabetes by championing whole foods over pharmaceuticals to treat many of society's ills. The outdoor restaurant setting at Grace Farms allows Deeley to spread the word that the world's most nutritious food is also the world's healthiest food, via a unique dining experience.
"We're trying to do something more than create a memorable dinner experience. We're inviting people to a conversation about food, where it comes from and how it affects their health," says Deeley. "The primary message is that the quality of food you eat really matters. The way to find the healthiest food is to find the food that is grown locally to you. It's an opportunity for people to be exposed to agriculture and a point of connection to match farmers with people."
The farm-to-table, multi-course dinners, which average 50 to 60 people seated around a 60-foot table, are held primarily in collaboration with Farmboy Market (owner Oren Molovinsy and Deeley develop the menus) and Grace Farms head chef Chris Spears, who prepares meals with a theme using ingredients from a variety of community vendors and purveyors.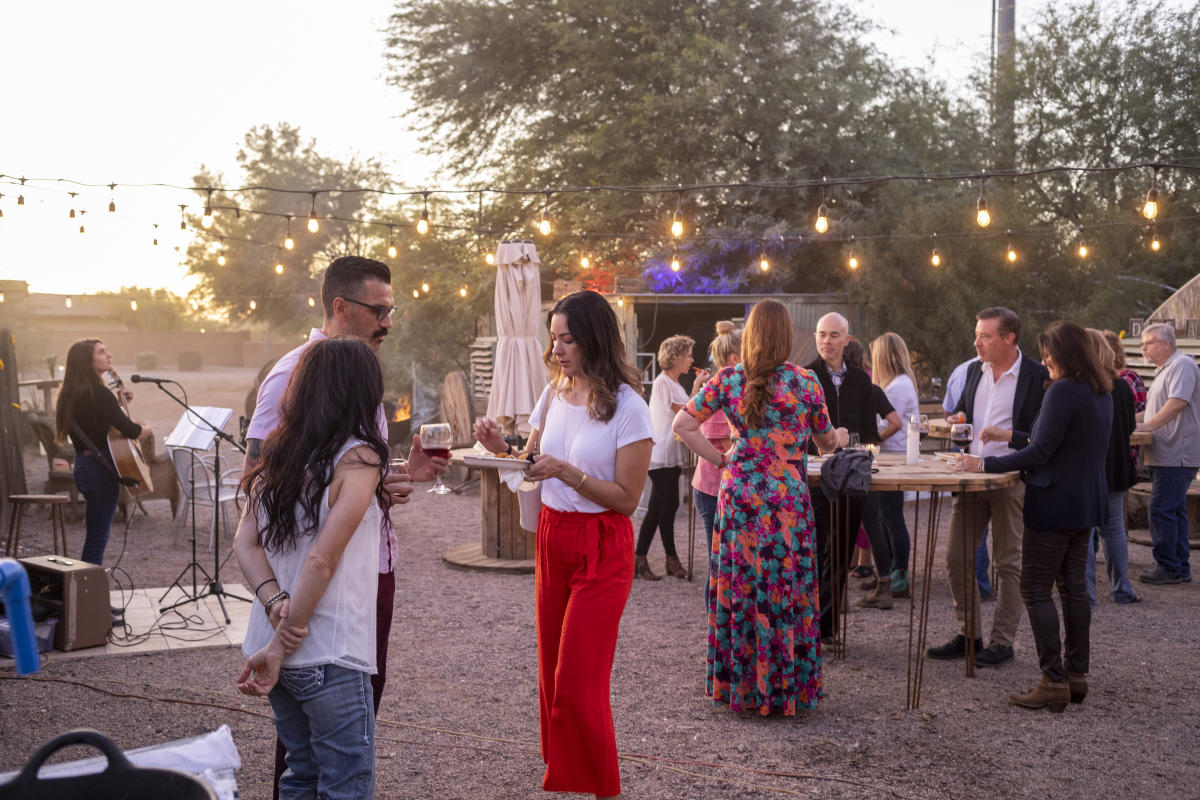 "If you look at what is going on in your own backyard, you'll find it's far better than what is made for a national audience," says Deeley of the focus on using agricultural goods from a diverse and abundant supply of Arizona farmers and other local growers who produce everything from meats, grains and cheese, to produce and spirits.
"We have no trouble finding amazing food," he adds.
For example, A Night in Tuscany spotlighted pasta made from Hayden Mills Arizona wheat and wines from Deep Sky Vineyard Wines. Or the Downton Abbey Pop-Up Dinner: A Night in England with the Beer Research Institute featuring Scotch eggs, Shepherd's pie and a variety of ales, stouts and IPAs.
Grace Farms also is the launching point for Deeley's long-term goal of developing a marketplace hub that provides locally-sourced food from around the state directly to customers.
"We're working on a more robust system where instead of buying a subscription to food that comes from out of state, we'll have the best local tomatoes, onions, spinach and other foods in one place. Farmer's markets shouldn't just exist on the weekend," he says. "It will reinforce the local food loop. It will make people healthier and the network of farmers stronger."